Trump thinks the GOP is trying to keep him from scoring The Deal of the Decade, or as the rest of us know it, the GOP nomination. Here is the predictable reaction in TrumpWorld from today's New Yorker: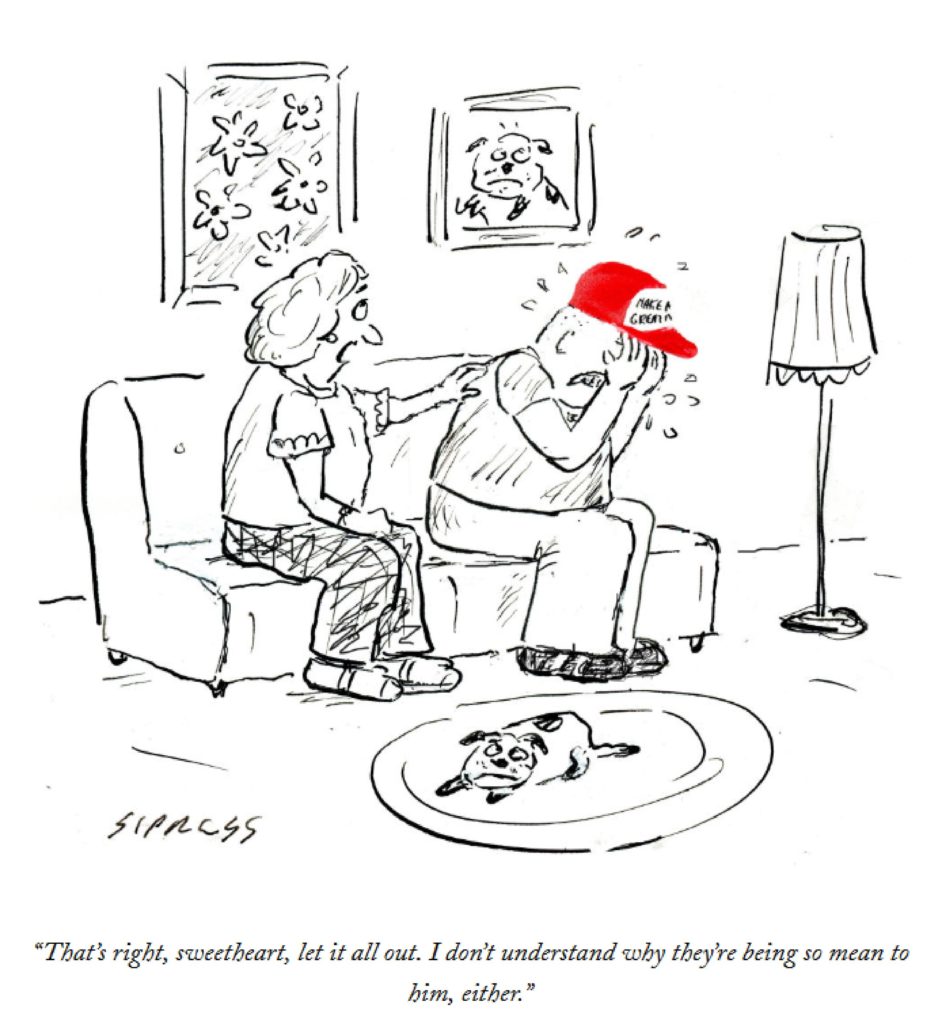 Wrongo got to spend time with the owner of his local PC repair company today. During the work on the PC, the talk turned to politics. The owner said quite a few things that everyone in America seems to feel, that politicians can't be trusted, that they do nothing to solve America's problems, and are just there to line their pockets.
He is a two-time voter for Obama, but is leaning this year towards Donald Trump. Two issues are fueling his thinking: First, that illegal immigration is a real issue, and that our economy, and to some extent our society, are being harmed by a large flow of immigrants. We live in Connecticut. Our county has the lowest population density of any county in Connecticut and is geographically, the state's largest county. We are the whitest county: The 2010 census shows our county to be 94% white, and 1.3% black or African American. People of Hispanic or Latino origin made up 4.5% of the population. So, we enjoy little diversity, although many of our lawn and construction workers are Hispanic.
My computer guy points to a neighboring city in another county which has had large increases in black and Hispanic populations since 2000, now with 25% of its population Hispanic, and 8% black, both up dramatically.
Second, he thinks that Obamacare hurts his business. Never mind that his healthcare comes through his wife's job, and that he has less than 5 employees, so his business isn't paying for health insurance.
He also gives Obama no credit for America's recovery from the Great Recession, saying that it took a really long time to recover, and the economy probably would have recovered on its own.
He is concerned that Trump would be an inappropriate president, a guy who can't speak civilly to foreign leaders. He isn't sold on Trump's foreign policy either.
It is a sample of one. A two-time Obama voter who doesn't think he has anywhere to go in November. He doesn't think Hillary is the one; he thinks Sanders is a fringe player, right along with Trump.
He's looking for a leader, and wonders why nobody who is truly great wants the job.
But that's easy to understand. Too many people pin their hopes on getting "the right person" in the presidency, not realizing that it takes much more than just the leader to get the wheels of change moving.
Without courage and support from both houses of Congress, government won't move an inch. Trump or Sanders could win, and be completely unable to steer the ship of state anywhere but where the oligarchs choose for to go.
Connecticut will be a reliable state for the Democrats in the fall, but they need to think again if they plan to use the same old interest group song and dance that worked to elect Obama in 2008 and 2012.
My PC guy isn't gonna buy it.
It's doubtful that he's alone.