There is a lot of talk that the 2016 election is the start of a political rebellion in the US. We see the large, enthusiastic Sanders/Trump crowds, and the candidates' relative success with winning primary elections, and have to ask:
Will it remain a political rebellion, one that expresses itself through the electoral process?
Will it continue beyond the 2016 election, assuming an Establishment candidate wins?
It began with the failure of the US economy to add permanent jobs for the middle class, and the lower classes after the Great Recession. Our column outlining that all jobs created since 2005 were temporary or contractor jobs showed that people are living paycheck to paycheck, but fewer have benefits, and all are afraid that they could be out of work with any personal or economic hiccup.
And wages are not rising the way corporate profits are, as this chart shows: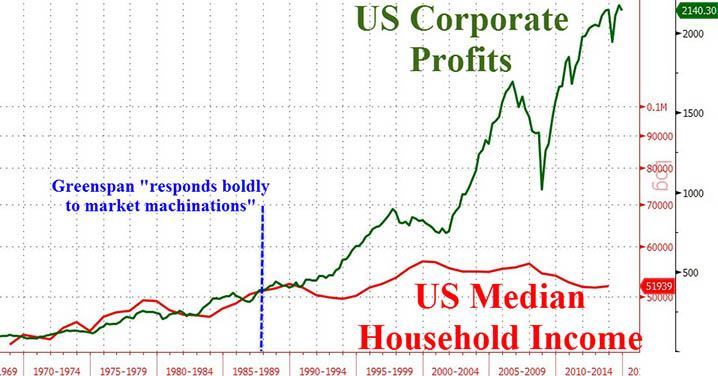 So, fewer jobs as an employee, and no change in household income. More risk, no more money. Life for the average person in the US is harder and more frightening for a large group of people. Maybe they are not yet a critical mass of voters, but there are enough angry people that the Establishment political machines may be disrupted.
Since many see the worsening of the life of the middle class to be permanent, there is little reason for hope if you are on the fringe of our society. So, we're watching that play out in the 2016 electoral race.  People are finally getting tired of one or the other of these two campaign pitches:
We are the greatest nation on earth, but only if we elect candidate X, because candidate Y will ruin us
Or, you can't have a good job with dignity, or good schools, or ask us to address any other of our serious problems, because we can't afford it and people won't pay more taxes
And as Gaius Publius says, there's no other way to see the Sanders and Trump insurgencies except as a popular rebellion, a rebellion of the people against their "leaders." On the Sanders side, the rebellion is clearer. Sanders has energized voters across the Democratic-Independent spectrum with his call for a "political revolution," and that message is especially resonant with the young. From The Guardian:
Analyzing social survey data spanning 34 years reveals that only about a third of adults aged 18-35 think they are part of the US middle class. Meanwhile 56.5% of this age group describe themselves as working class.
Fewer Millennials (who number about 80 million in the US) are describing themselves as middle class. The number has fallen from 45.6% in 2002 to a record low of 34.8% in 2014. Ms. Clinton will need to rely on Sanders supporters falling in behind her – and faced with the prospect of a Trump presidency, many may do so. She also intends to try to win over "moderate" Republicans, assuming that the Bernie voters have nowhere to go.
That might work, since as Benjamin Studebaker says, Clinton is arguably closer to the Republican establishment than are Trump or Cruz. In fact, the Democratic and Republican establishments are both closer to each other than either is to its own anti-establishment wing.  Consider that Clinton and the Republican Establishment both:
Support the Trans-Pacific Trade Partnership (TPP)
Support immigration reform
Support foreign aid
Oppose Medicare for all
Oppose tuition free college
Oppose a $15 minimum wage
It would not be unreasonable for moderate Republicans to conclude that Clinton is closer to their ideological needs than are Trump or Cruz. Clinton may play for the other team, but at least she's in their league.
The Establishments of both parties have no vision when it comes to solving income stagnation for the 99%, or solving our crippling health care cost increases, the trade treaty fiasco, and the military establishment's continued sucking of more and more money from our budget.
These cumulative burdens will break people's belief in a better, more secure future. Either policy changes are enacted by the next Establishment president and Congress, or things could start to come unglued.
Which means that for almost every one of us, this could be the most consequential electoral year of our lives.
So, the Establishment wings of both parties need a Monday wake-up call. Here to rouse them from slumber is Iris DeMent with "Livin' in the Waste Land of the Free":
Those who read the Wrongologist in email can view the video here.



Category:
2016 Election
,
Anger in Politics
,
Congress
,
Corporate Welfare
,
Corporatism
,
Demographics
,
Domestic Policy
,
Economic Policy
,
Employment
,
Globalism
,
Inequality
,
Monday Wake Up Call
,
Multinational Corporations
,
Playlist
,
Politics
,
Politics of Fear
,
Trust of Government