(Note: this week there will be no Sunday Cartoon Blogging, since Wrongo will be visiting MA and PA through Sunday, returning on Monday.)
Wrongo and long-time blog reader Terry engaged in a short email dialog on how to "fix" the US political system. We were concerned that there is no individual Congressperson accountability. A backbencher can follow an agenda that can imperil our nation (and a few have done just that) without consequence.
But in America, accountability is managed by election district. Your only alternative is to round up enough votes to replace poor representation. So, if you wanted to reform the impact that money has in our politics, or the way the filibuster works in the Senate, you have to reform Congress.
Yet, under our Constitution, only Congress can reform Congress. And today, there are three parties vying for control of it, and since they rarely are willing to work with each other, not much gets done. So you can completely forget about Reform.
And the parties have not been willing to deal with the not-so hidden desperation in America that shows up in statistics like increasing opioid addiction and suicide rates. The political class ignores how lethal the US economy is for the less fortunate: The New York Times reported this week that US death rates have risen for the first time in a decade.
The increase in death rates among less educated whites since 2001 is roughly the size of the AIDS epidemic. One reason is the use of opioids. And, despite Mr. Obama's speech in Elkhart, IN where he said our economy is doing well, there has been a spike in suicides to levels higher than during the 2008 financial crisis.
The little people know that the economic policies followed by both parties have brought income inequality to Gilded Age levels. They know that all of the post-crisis income gains have accrued to the top 1%. Unlike in China which continues to grow, our economic expansion has brought with it high unemployment and underemployment, particularly among the young.
As a result, people feel powerless. In fact, a RAND survey in January found that 86.5% of GOP voters who strongly identified with the statement "people like me don't have any say about what the government does" were Trump supporters.
And, since so much of politics is about corralling money into the bank accounts of our politicians, your Congresspersons have no intention of listening to you unless you have given at least $10,000 to their campaign fund, or are the CEO of a major employer in their district or state. In US politics, money=speech. But, there is little meaning to free speech without free access to influence the political process.
Many of us feel nihilistic about our politics and our government. So the Pant Load's support seems a lot like a form of public political vandalism where The Donald is the can of spray paint.
Most people can see that a large portion of Americans are poorer with each new election cycle. After all, the reason Trump (and Sanders) are doing well is because many, many workers are seeing their job security, income security, and retirement security all go up in smoke. That's no mystery, just the natural outcome when the government fails to represent the people in favor of the rich who fund their campaigns. It's no wonder the Pant Load is easily corralling the frustrated.
But can the Pant Suit reverse the Democratic Party's abandonment of the working class in America?
We know that she needs to focus on drawing more potential working class and young supporters, but so far, Democrats are content to run only in their municipal strongholds, following a strategy of stitching together interest groups, largely in states with big urban populations.
Energizing people around the fact of our corrupt political system is both a way to get higher turnout, and a way to elect members of Congress and state legislatures to fix the corrupt system. That is Bernie's message, what he calls a "political revolution." But Sanders is not the person to bring this about. Consider Sanders just the messenger.
Strategically, the Pant Suit needs to figure out how to get folks energized enough to vote for her and against Trump for reasons that don't so paralyze them with fear that they stay home. If she is successful, it could be the start of re-establishing the New Deal coalition, and a re-installation of the principles of the civil rights movement.
That's a huge job that will not be completed in one election cycle.
This threat is the GOP's worst nightmare. They have worked for 40 years to eliminate these ideas, so expect the GOP to unanimously support the Pant Load: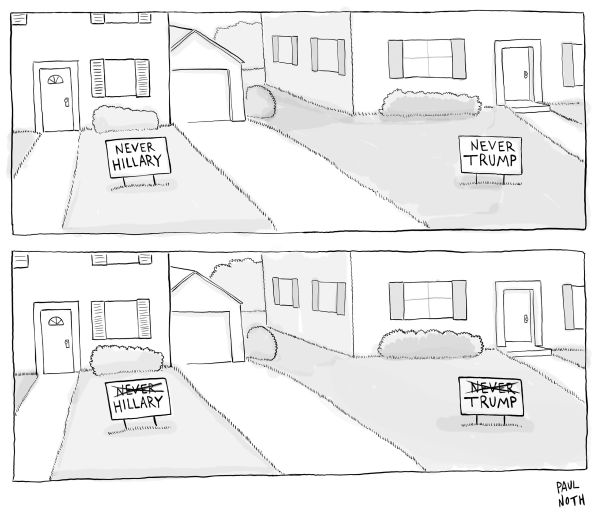 The Bernie Dems will rally behind Hillary for similar reasons.
Trump/Arpaio 2016: Because immigrants are the greatest threat to the nation.