What do you think when Trump appoints so many retired generals to cabinet-level posts in his administration? The positive side of the argument is that these are talented, well-educated individuals who bring a worldview and experience on the global stage that Trump himself lacks.
The other side of the argument is that the authoritarian president Trump risks making his government much more authoritarian than it needs to be. This from Roger Cohen in the NYT:
A quarter-century after the post-Cold War zenith of liberal democracies and neoliberal economics, illiberalism and authoritarianism are on the march. It's open season for anyone's inner bigot. Violence is in the air, awaiting a spark. The winning political card today, as Mr. Trump has shown…is to lead "the people" against a "rigged system,"…The postwar order — its military alliances, trade pacts, political integration and legal framework — feels flimsy, and the nature of the American power undergirding it all is suddenly unclear.
We sound like a nation that is ripe for political upheaval. Citizens are not only more critical of their political leaders, they have become more cynical about the value of democracy as a political system, less hopeful that anything they do might influence public policy, and more willing to express support for authoritarian alternatives.
Yascha Mounk, a lecturer in government at Harvard, has spent the past few years challenging one of the bedrock assumptions of Western politics: That once a country becomes a liberal democracy, it will stay that way. That bedrock assumption is called "democratic consolidation" in political science, but Mounk's research suggests that isn't correct anymore.
In fact, he suggests that liberal democracies around the world may be at serious risk of decline. Data from Freedom House, an organization that measures democracy and freedom around the world, showed that the number of countries classified as "free" rose steadily from the mid-1970s to the early 2000s.
But since 2005, Freedom House's index has shown a decline in global freedom each year. According to Mounk and his research partner Roberto Foa, who reviewed the data, early signs of democratic destabilization exist in the US and in other Western liberal democracies. They found that the percentage of people who say it is "essential" to live in a democracy has plummeted, and it is especially low among younger generations. The survey was based on 2014 data. Here is a graph from the Mounk-Foa study: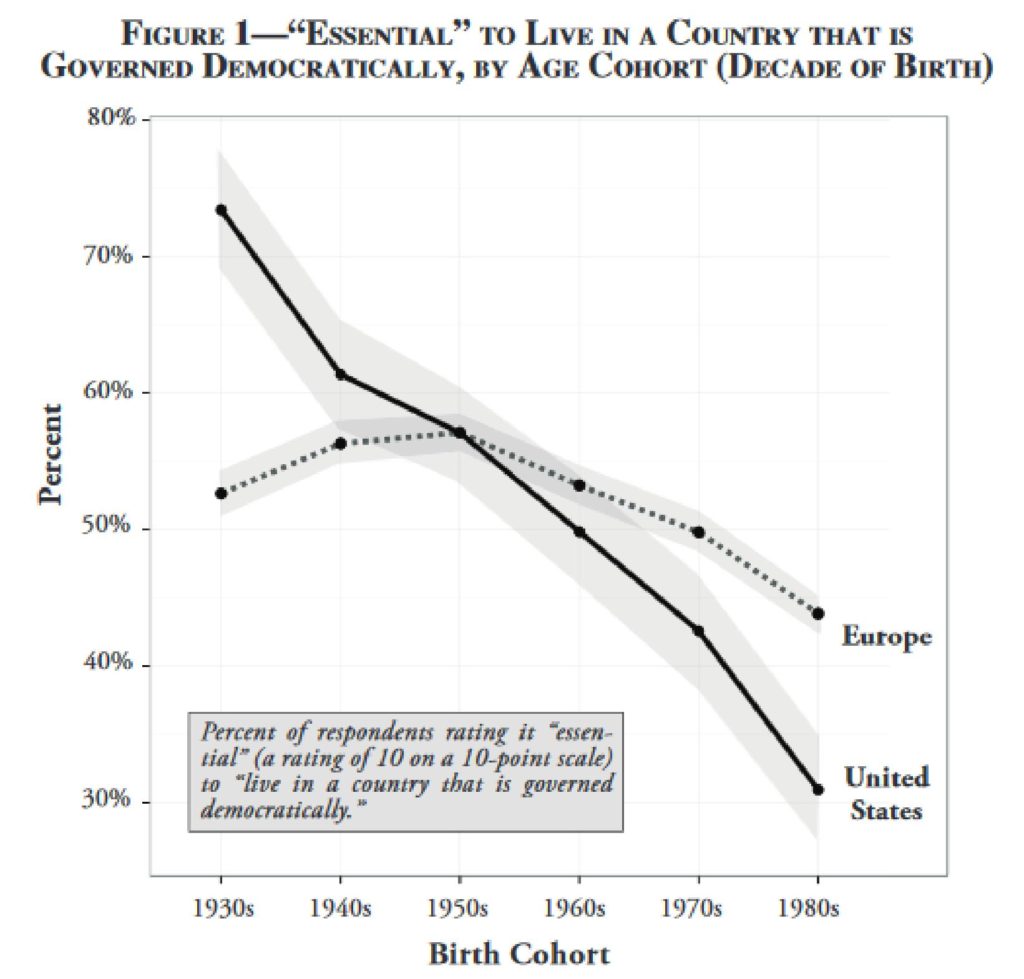 The graph shows responses by age cohort. Younger Americans have substantially less need to live in a democratic society than do older individuals. (The grey shaded part of graph is the 95% confidence limit for the responses to the survey). Remarkably, the trend toward acceptance of nondemocratic alternatives is especially strong among citizens who are both young and rich.
Mounk and Foa found that support for autocratic alternatives is also rising. Drawing on data from the European and World Values Surveys, they found that the share of Americans who say that authoritarianism would be a "good" or "very good" thing had risen from 18% in 1995 to 35% of rich Americans: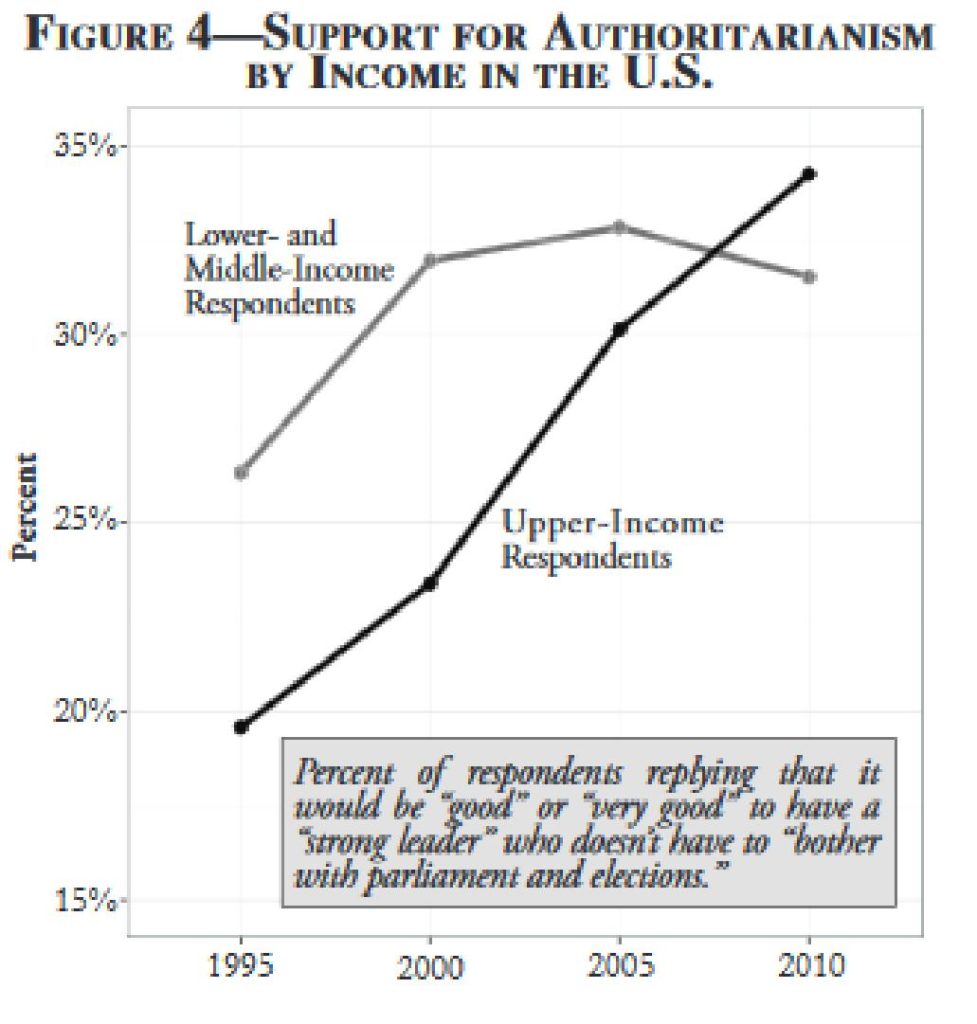 While citizen support for authoritarian rule remains in the minority, it can no longer be dismissed as a fringe group. They support "a strong leader who doesn't have to bother with parliament and elections" and they want "experts" rather than the government to "take decisions" for the country. (In the study, "Upper income" is defined as the top 20% of income. "Lower Income" was defined as the bottom 50% of income.)
Overall, the rich are also now more likely than lower income citizens to express approval for "having the army rule." While 43% of older Americans, including those born between the world wars and their baby-boomer children, do not believe that it is legitimate in a democracy for the military to take over when the government is incompetent or failing to do its job, the figure among millennials is much lower at 19%. In the US, only 5% of upper-income citizens thought that army rule was a "good" or "very good" idea in 1995. That figure has since risen to 16%, so the young rich are much more autocratic than their rich elders.
The clear message is that our democracy is now vulnerable. What was once unthinkable should no longer be considered outside the realm of possibility. This is partially the result of an educational system that does not teach even basic civics, much less the meaning of the Constitution.
Generations have grown up believing that they can casually read the document and understand what constitutional law is. Young Americans have never known the threat of an undemocratic system, so their fear of autocracy is far less than it is in the minds of their elders.
Trump is the prime example of this. And according to Mounk's findings, he has a receptive audience in the young and the wealthy.
Would that be enough to undermine democracy in the US?



Category:
2016 Election
,
Abandonment of Middle Class
,
Demographics
,
Distrust of Government
,
Education in America
,
Geopolitics
,
Globalism
,
Military State
,
Millennials
,
Politics
,
Society
,
The Presidency
,
Transformational Ideas
,
Trust of Government
,
US Constitutional Issues