Wrongo can't lie, Democrats are in dire straits, and are barely able to put up any sort of defense against the coming Trump disaster. Obama will not save us. Schumer and Pelosi have no clue how to save us. We're going to have to do the hard work to build a foundation strong enough to get back in the game, and that's going to mean lots of time, resources, and people willing to spend them effectively.
Speaking of effective spending: Politico reports that the Trump campaign struck a deal with Sinclair Broadcast Group during the campaign to try and secure better media coverage, his son-in-law Jared Kushner told business executives Friday in Manhattan. Kushner said the agreement with Sinclair, which owns television stations across the country in many swing states and often packages news for their affiliates to run, gave them more access to Trump and the campaign.
In exchange, Sinclair would broadcast their Trump interviews across the country without commentary, Kushner said. Kushner highlighted that Sinclair, in states like Ohio, reaches a much wider audience — around 250,000 listeners — than networks like CNN, which reach somewhere around 30,000.
"It's math," Kushner said. Apparently, Hillary Clinton turned down a similar offer by Sinclair.
El Jefe appointed Mick Mulvaney (R-SC) as head of the Office of Management and Budget. Mulvaney is a founding member of the House Freedom Caucus, and a budget hawk. It will be interesting to see how Mulvaney reacts if Trump really planned to spend a quarter-trillion dollars on infrastructure. Mulvaney was a leading player in the debt ceiling fights.
Here are a few reactions: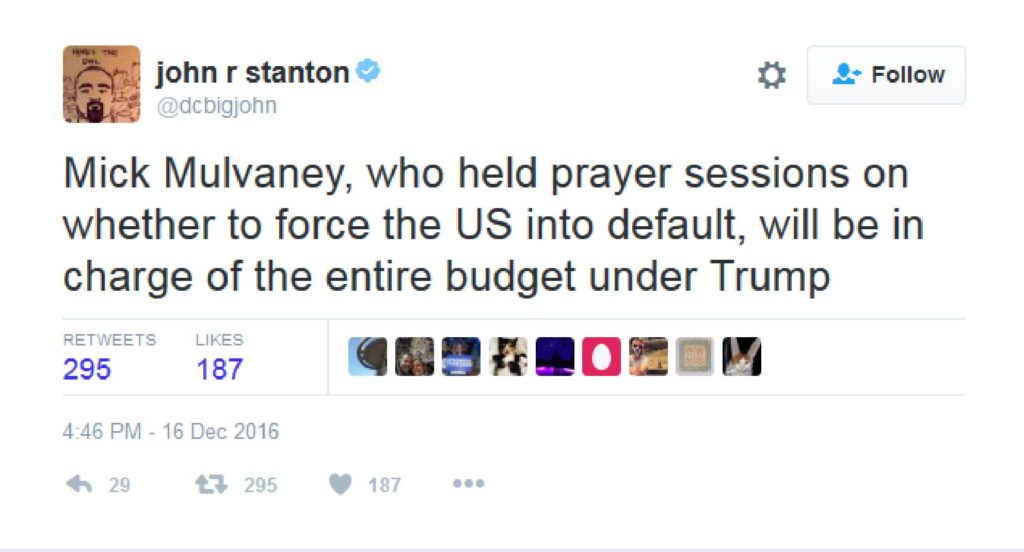 Or, this from Lizzie O'Leary, a reporter for NPR's Marketplace: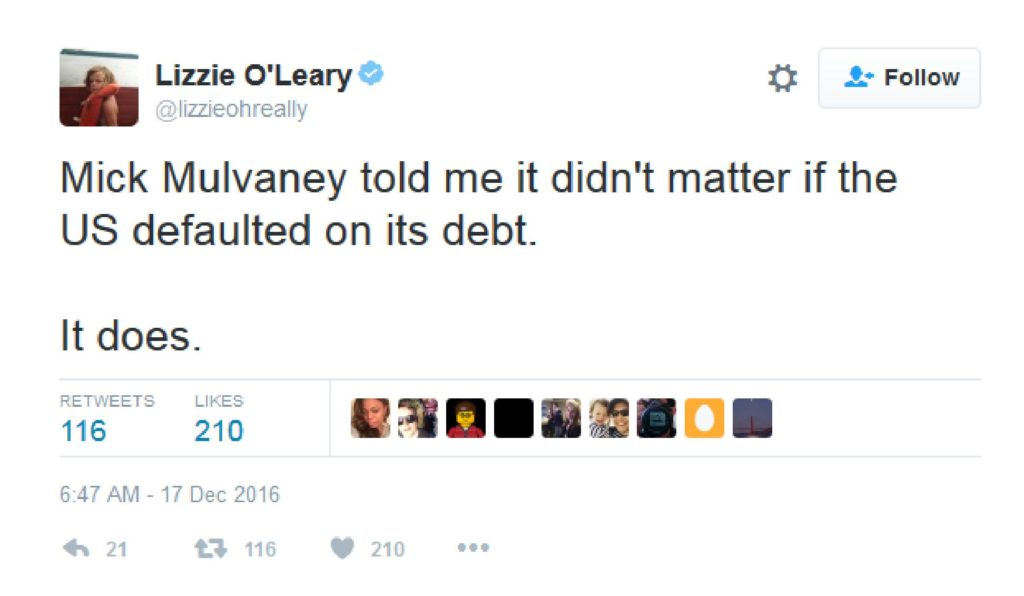 Another Trump appointment was Monica Crowley, Fox commentator, to be senior director of Strategic Communications for the National Security Council. Crowley sent this tweet in October: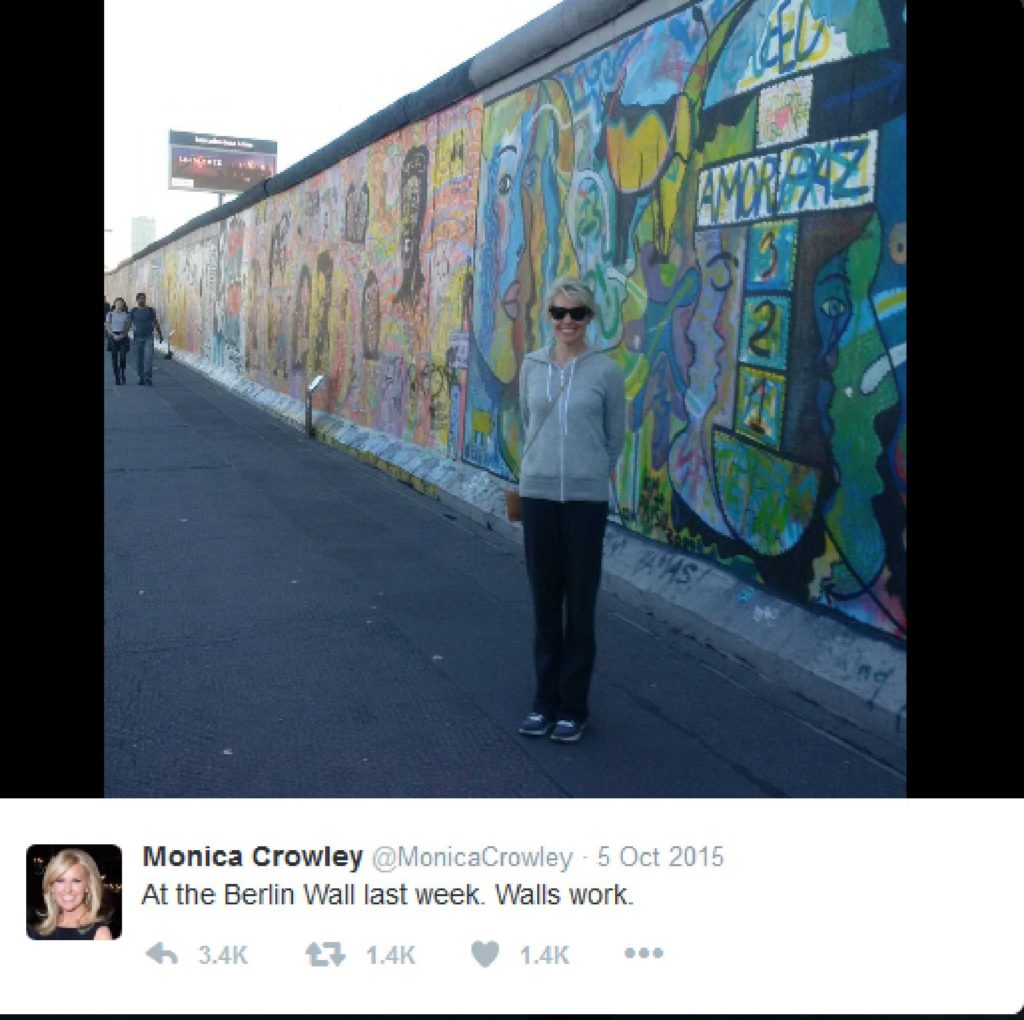 She apparently has no clue about the Berlin Wall, the purpose of which WAS TO KEEP PEOPLE INSIDE. CNN reported that Crowley repeatedly pushed an unfounded conspiracy theory that claimed Hillary Clinton's aide Huma Abedin has ties to Islamic extremists. Now she will be on the inside, influencing the National Security Council. But, on the plus side, Trump's draining the Fox News swamp of one of its morons.
We have our first capture of the Trump administration, and it is Donald himself. Even by Republican standards, some of these picks are embarrassingly bad (We mean you, Michael Flynn). He is now completely in thrall with the hard right members of the GOP. Within a few months, there won't be even nominal opposition to Trump from within the Republican Party.
So, time to wake up America! You need to roll up your sleeves and get to work building a party that can defeat the hard right. It might not be the Democrats.
Fortunately, you get a hall pass until New Year's Day.
To help you relax about the horrible things that you can't control, here is Affinití, an Irish group of three women who play a fusion of classical, Celtic and rock music. They have a Kickstarter that you may want to support. Here is Affinití with "Oh, Holy Night":
Consider yourselves soothed.
Those who read the Wrongologist in email can view the video here.