The Daily Escape: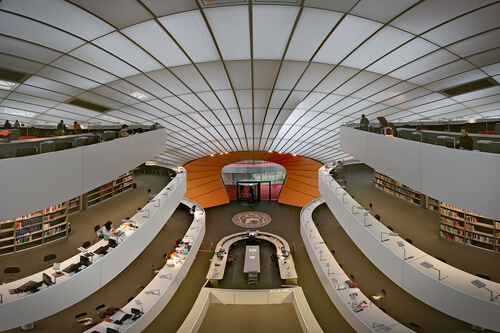 (The Philology library at Berlin's Free University. Designed in the shape of the human brain)
Trump's National Security Adviser Mike Flynn is out. His lies or charitably, his misremembering whether his communications with the Russian ambassador included discussing the sanctions that had recently imposed by the outgoing Obama administration, were too much even for the fact-challenged Trump administration. That became patently obvious after the WaPo dropped the bombshell that Trump was warned about Flynn's ties by the Justice Department before the inauguration.
Who notified them? Then-acting attorney general Sally Q. Yates. You remember that Yates was later fired by Trump for advising the President that his Muslim ban was unconstitutional.
She informed the Trump White House late last month that she believed Michael Flynn had misled senior administration officials about the nature of his communications with the Russian ambassador to the US, and warned that the national security adviser was potentially vulnerable to Russian blackmail.
When she notified the White House that the FBI had Flynn on tape talking with the Russian Ambassador, she also told then-Director of National Intelligence James Clapper and then-CIA Director John Brennan.
So the Trumpets had more than enough of Ms. Yates by the time she advised them that the Muslim ban wouldn't fly.
Flynn resigned Monday night. Most Republicans say there is nothing more to see here, and that we should move along. Democrats want an independent investigation.
Whether this issue is over or not probably depends on whether you believe that Flynn was a rogue actor, operating without any cooperation or involvement by others in the Trump administration. Was something larger at work? Was it just Flynn lying to Pence, and then Flynn lying to Trump?
That's possible, but considering the character of some of the people in this administration, from Trump to Bannon, to Miller and Conway, it seems unlikely that Flynn was acting alone.
And on Tuesday, Trump tweeted, after accepting Flynn's resignation, that:
The real story here is why are there so many illegal leaks coming out of Washington?
We all know that isn't the real story. Thank you Sally Yates!
Here is The Who with "Behind Blue Eyes" from their album, "Who's Next". It was recorded in March, 1971. It describes the Orange Overlord to a "T":
https://www.youtube.com/watch?v=BfuWXRZe9yA
Those who read the Wrongologist in email can view the video here.
Sample Lyrics:
No one knows what it's like
To be a rich man
It's a bitch, man
Behind blue eyes
No one knows what it's like
To be hated
To be baldpated
Telling only lies
No one knows what it's like
To be the bad man
To be the sad man
Behind blue eyes
No one knows what it's like
To be hated
To be fated
To telling only lies
But my dreams
They aren't as empty
As my conscience seems to be
I have hours, only lonely
My love is vengeance
That's never free
No one knows what it's like
To feel these feelings
Like I do
And I blame you