The Daily Escape: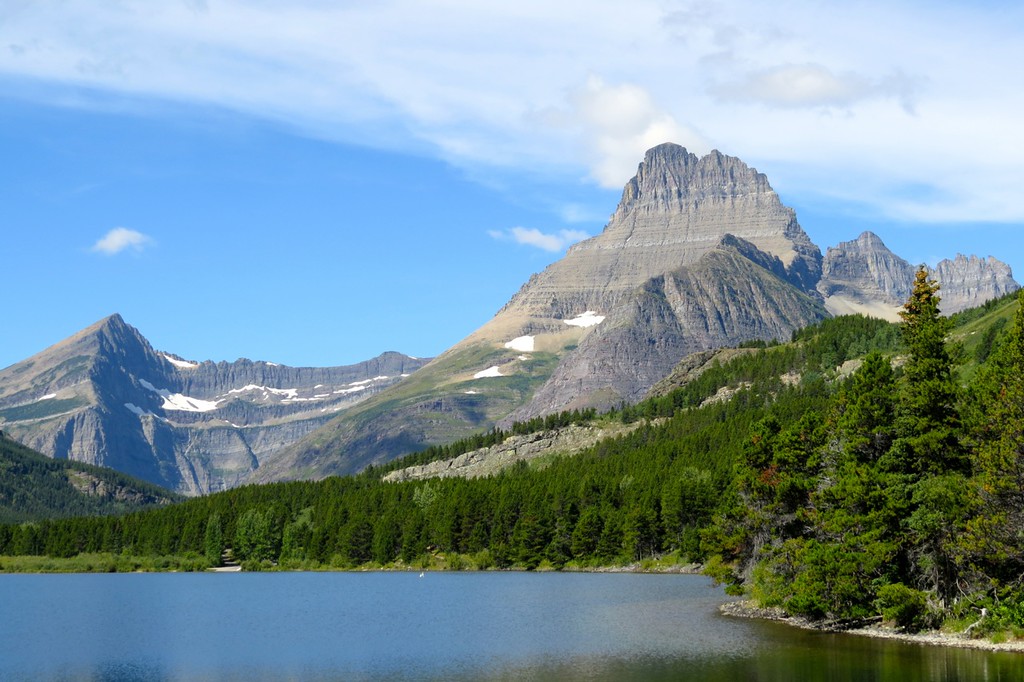 (Many Glacier, Glacier National Park, August 2016 – photo by Wrongo)
What's next for the White House? Many are saying that the collapse of the Republicans' failed effort to pass Trumpcare demonstrated that the ideological cleavage within the House and Senate Republicans will not be easy to overcome. This could make it more difficult for Trump to get much of his agenda passed in the immediate future.
Trump wants to move on many things, including tax reform and passing a budget, but the biggest challenge facing Republicans is the Debt Ceiling. The clock started ticking on the need to raise the debt limit, because it already expired on March 15th. That was a "soft" deadline, since the Treasury department can fire up a well-used arsenal of "extraordinary" measures to delay a reckoning, meaning that Congress can take until the early fall to enact a debt ceiling increase.
More time may not mean that a solution will be forthcoming, since the main adversaries to increasing the debt ceiling are the same people who helped derail Trumpcare. The House Freedom Caucus and their allies in the Senate have in the past, expressed a willingness to let the country default, rather than increase the level of the Treasury's debt.
Since they were able to face down Trump on health care, they may well be emboldened to stand up to the president and Congressional leadership again on an issue that is so close to their hard hearts.
If America were to default on its debts, Trump would be presiding over the Bananaization of our Republic, and our ability to lead in the world would be eclipsed. Wrongo plans to write more about this in the future, but it will take real management by Trump to head this off, at a time that his management skills have been called into question.
So far, he has shown himself to be little more than a salesman for his ideas.
The famed management guru Peter Drucker, who wrote about management for corporations, non-profits and governments, at one point wrote management rules for presidents, in a 1993 article for the WSJ:
It's hard to imagine a more diverse group than Bill Clinton's predecessors in the American presidency — in abilities, personalities, values, styles and achievements. But even the weakest of them had considerable effectiveness as long as they observed six management rules. And even the most powerful lost effectiveness as soon as they violated these rules.
Wrongo has condensed Drucker's management rules for presidents for your convenience:
What Needs to be Done? Is the first thing the President must ask. He must not stubbornly do what he wants to do, even if it was the focus of his campaign
Concentrate, Don't Splinter Yourself. There usually are half a dozen right answers to "What needs to be done?" Yet unless a president makes the risky and controversial choice of only one, he will achieve nothing.
Don't Bet on a Sure Thing…Roosevelt had every reason to believe that his plan to "pack" the Supreme Court…would be a sure thing. It immediately blew up in is face – so much so that he never regained control of Congress
An Effective President Does Not Micromanage…the tasks that a President must do himself are already well beyond what any but the best organized and most energetic person can possibly accomplish
A President Has No Friends in the Administration…they are always tempted to abuse their position as a friend and the power that comes with it
Sixth rule? Harry Truman advised JFK: "Once you're elected, stop campaigning"
(h/t Barry Ritholtz)
Just how many of these rules does Trump follow, and how many does he violate? Discuss.
Perhaps if he followed all of them, the country would avoid Trumageddon, be less divided, and get a middle of the road agenda enacted.
So here's a wake-up call for Donald Trump and his advisors: FOCUS!! To help them wake up and get focused, here is the Canadian group Bachman Turner Overdrive with their big hit (#12 in the US) from 1973, "Takin' Care of Business":
Wrongo used to take the 8:15 in to the city. Working from home is a major improvement.
Those who read the Wrongologist in email can view the video here.
Sample Lyrics:
And I'll be taking care of business (every day)
Taking care of business (every way)
I've been taking care of business (it's all mine)
Taking care of business and working overtime, work out