The Daily Escape: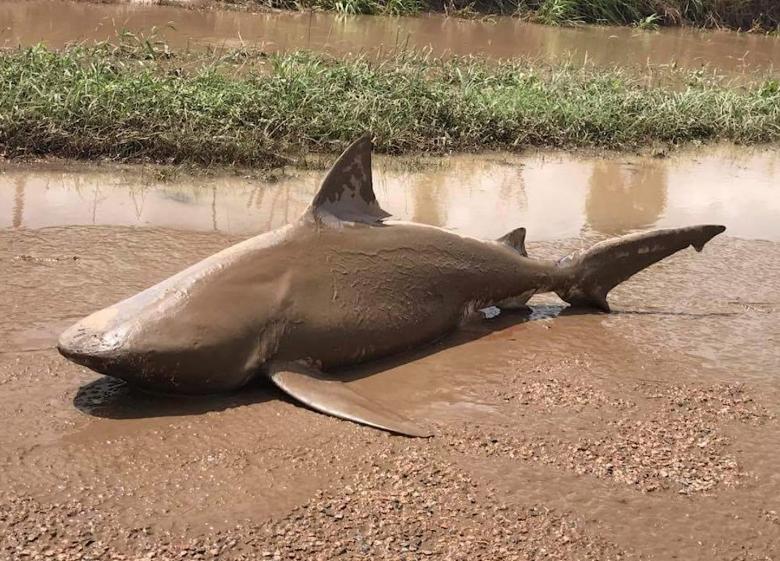 (Stranded bull shark found after flooding from Cyclone Debbie in Australia – photo from Reuters)
In an interview with "CBS This Morning" House Speaker Paul Ryan says he doesn't want to negotiate with Democrats on health care. Ryan, speaking to co-host Norah O'Donnell:
I don't want that to happen. You know why? I want a patient-centered system, I don't want government running health care…The government shouldn't tell you what you must do with your life, with your health care. We should give people choices.
Ryan centers his defense of the failed Trumpcare bill on the notion of individual freedom. He said he fears that Trump might move to work with Democrats so that he can make good on campaign promises to redo Obamacare, and "that's not, that's hardly a conservative thing."
Ryan's idea of freedom for the American people is the right to choose whether to have health insurance or not, and if they choose health insurance, to be free to choose expensive or cheap insurance.
But he sees life as a monetary transaction. In this appearance on Face The Nation March 12, 2017: (hat tip Ed Walker)
DICKERSON: How many people are going to lose coverage under this new —

RYAN: I can't answer that question. It's up to people. Here — here's the premise of your question. Are you going to stop mandating people buy health insurance? People are going to do what they want to do with their lives because we believe in individual freedom in this country. So the question is, are we providing a system where people have access to health insurance if they choose to do so…We're not going to make an American do what they don't want to do. You get it if you want it. That's freedom.
Ryan's freedom will get rid of the Essential Health Benefits that are mandated under the ACA in his Trumpcare bill. The Essentials set the minimum coverage for any policy offered on the exchanges. They include lab tests, drugs, maternity care, treatment for substance abuse and mental illness, and others.
If insurance companies can issue policies that don't cover these mandated benefits, policies will be cheaper. That will increase the number of people with policies that won't cover treatment they suddenly need.
So when Ryan says "freedom" he means: You have the freedom to give money to an insurance company to buy any policy you can afford; you can shop around for a policy that may or may not provide the coverage you eventually need; or you can take the risk of bankruptcy and/or denial of health care when you get sick.
But, in Ryanworld, individual freedom to choose doesn't extend to abortion, despite it being the law of the land.
Ryan assumes that if the government were involved, it couldn't negotiate better drug prices. He assumes government wouldn't regulate against the predatory excesses of health insurers, health care providers, and drug companies. Government involvement does violence to his Randian wish for a perfect and omniscient free market. He assumes that people with limited resources would choose to forego rent, food, or education to buy inadequate health insurance.
Let's give Paul Ryan the benefit of the doubt: Say he knows that this is horseshit, but he needs to legislate. The alternative is that he is the worst kind of ideologue.
Conservatives spill the word "socialism" like beer at a frat party. They think it coats everything and makes everything smell, at least politically.
It's hard to believe that the GOP has a true notion of what socialism is, or how it works.
It's all around us, and Republicans are expert practitioners. Their negative talk about socialism is another example of their constant projection onto Democrats and progressives. Is it socialism when Ivy League admissions favor the rich? Or when the rich help other rich people get into the country club? Or when they all appoint the same people to corporate boards?
They despise it when the rest of us use collective action; when voters get their government to combat anti-labor and anti-monopoly practices, when voters work together for better schools, safer foods, clean water and safe working conditions.
That's bad socialism, not the good socialism practiced in Boston's Back Bay or on NYC's Upper East Side.
It's good socialism when companies work together in the US Chamber of Commerce, share information, and spend millions influencing government to increase their bottom lines.
Its bad socialism when people fight for practical affordable access to health insurance.
Paul Ryan's vision of freedom has a lot in common with Kris Kristofferson's "Me and Bobby McGee":
Take away lyric:
Freedom's just another word for nothin' left to lose,
Nothin' ain't worth nothin' but it's free.
Those who read the Wrongologist in email can view the video here.