Bombs Away! Another week of American Trumpceptionalism is in the books. Dropping the largest non-nuclear bomb ever used in combat left 36 ISIS fighters dead in a tunnel complex in Afghanistan. The so-called Massive Ordinance Air Blast bomb (MOAB) used 11 tons of explosives in one shot. One MOAB costs about $16 million, and 20 have been produced. $16 million for 36 ISIS fighters.
That's $444.4k per dead fighter if you are keeping score.
The MOAB looks mostly like another "boys and their toys" deal. It is hard to see this kind of weapon doing much against the Taliban or ISIS in Afghanistan. It seems more likely that our military has run out of better ideas.
We are in the final countdown to Tax Day on April 18th. Tax preparation at the Mansion of Wrong is the reason for the skimpy column production this week. By the way: about 22% of taxpayers wait until the last two weeks before the deadline to file.
So you and Wrongo need a Soother today at least as much as we did last week, and today's Soother is a feel good story from Croatia, where a pair of Storks have become a national obsession. From the Daily Mail:
A stork has melted hearts in Croatia by flying to the same rooftop every year for 14 years – to be reunited with its crippled partner. The faithful bird, called Klepetan, has returned once again to the village of Slavonski Brod in east Croatia after a 5,000 mile migration. He spends his winters alone in South Africa because his disabled partner Malena cannot fly properly after being shot by a hunter in 1993. Malena had been found lying by the side the road by schoolteacher Stjepan Vokic, who fixed her wing and kept her in his home for years before helping her to build a nest on his roof. After placing her there, she was spotted by Klepetan 14 years ago. And now every year they are reunited in the spring. Klepetan keeps a very strict timetable, usually arriving back at the same time on the same day in March to be welcomed by locals.
Here is Klepetan's flight plan: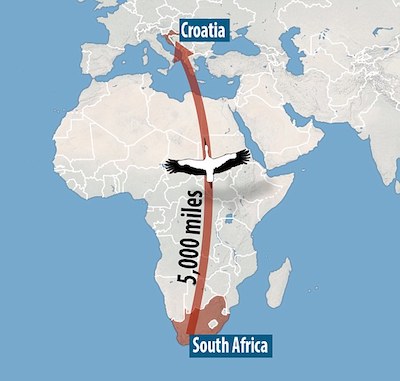 Klepetan didn't arrive on time this year, but things worked out for the love birds:
But this year he was running six days late, causing panic among local media and fans of the stork couple. Such is the popularity of the pair that there is even a live feed on the main square in the capital Zagreb showing the two storks. There was huge excitement when stork-watchers saw what they thought was Klepetan circling over the nest, and then coming in to land. But the new arrival turned out to be a different stork that was attempting to woo Malena. She quickly attacked him and drove him off and continued to wait for Klepetan. Stjepan Vokic, whose roof the couple nest on, said: 'She was pretty clear about the message, I doubt he will be back again.' Vokic has taken care of Malena since she was first injured by hunters and says that she – like her partner – is now part of the family.
But he's back, and on the case! They are raising this year's brood of little storks: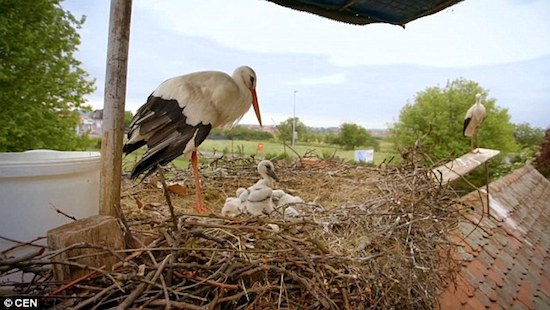 And what about Malena in the winter? She goes indoors:
During the winter, Vokic keeps her inside the house, and then lets her go to the roof each spring where she patiently waits for her partner. This year, Malena made a rare flight and the couple were reportedly inseparable for hours. She does have the ability to make very short flights but her wing has not healed well enough for her to make the trip to Africa, or even to properly feed herself. Every summer, the pair bring up chicks, with Klepetan leading their flying lessons in preparation for the trip south in summer. The oldest recorded living stork was 39. Locals are hopeful the couple's long relationship will continue for years to come.
This is proof that some animals live their lives by a higher moral code than some humans.
Hat tip to Raul Ilargi for posting this.
Here is Fleetwood Mac's "Wish You Were Here", a 2016 remastered version of the song from 1982, a song the storks might sing, if they could play guitar:
Those who read the Wrongologist in email can view the video here.
Takeaway Lyric:
There's distance between us
And you're on my mind
As I lay here in the darkness
I can find no peace inside
I wish you were here holding me tight
If I had you near it would make it alright
I wish you were here
'Cause I feel like a child tonight