The Daily Escape: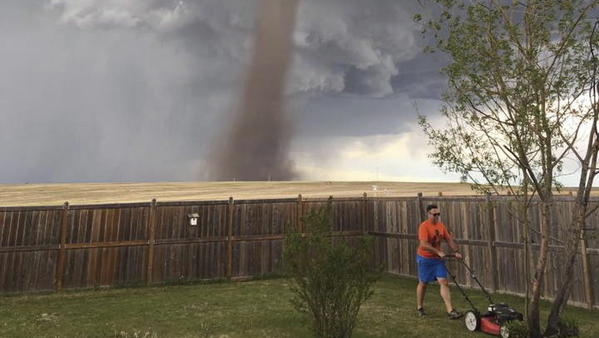 Lawn mowing in a tornado, Alberta Canada – June 2, 2017 – photo by Cecilia Wessels
Wrongo was only dimly aware of Ariana Grande before the bombing at her show in Manchester on May 22. He knew that her audience was largely young girls and women, and that her songs were affirming for young women.
He did not know that her music videos have been viewed more than seven billion times online. Then came the bombing at the conclusion of her concert in Manchester, and the rest of the middle-aged male world knew of her too.
On Sunday, Ariana Grande was back in Manchester at a different venue, the Old Trafford stadium, to give a concert to memorialize the victims of the bombing. Grande visited injured fans in the hospital before the concert, and met the mother of Olivia Campbell, one of those killed during the Manchester attack.
She also offered 14,000 free tickets to those who had attended her May 22 concert. About 50,000 attended Sunday's sold-out One Love Manchester concert, and $13 million was raised for the We Love Manchester Emergency Fund, the AP reported.
Millions watched around the world on a variety of platforms. The concert averaged 10.9 million viewers on BBC One, peaking at just under 15 million. The concert was also streamed over various commercial radio stations and broadcast in over 50 countries around the world. Facebook, Twitter, and YouTube also hosted various streams.
The concert, like Live Aid and others before it, showed how uniquely powerful pop music can be, a space where emotions are expressed, processed and worked through. Pop music is often read as shallow, but events like this show how valuable it can be in the healing process for many young people.
The concert came less than 24 hours after another terrorist attack rocked London, which is about 200 miles away. It was impossible not to be moved by Grande's duet with Miley Cyrus, re-creating their version of "Don't Dream It's Over" by Crowded House. In it, they showed that it's ok for singers who are friends to play it a little loose:
After singing with Cyrus, Grande said:
I want to thank you so much for coming together and being so loving and strong and unified…I love you guys so much, and I think that all the love and unity you're displaying is the medicine the world needs right now.
Those who read the Wrongologist in email can view the video here.
She closed the show Sunday night with a tearful rendition of "Somewhere Over the Rainbow," a fittingly desperate plea for a better tomorrow. She breaks down a bit, and the British audience rallies around her and she is able to finish the song. Wrongo loves European audiences, they are the best thing about live concerts online:
Those who read the Wrongologist in email can view the video here.
So, give Ariana Grande a listen. She is creating a forthright kind of R&B pop, and has shown herself to be socially engaged. Her conduct after the attack, bringing together this concert and hosting it with élan, provides another reason to get acquainted.