The Daily Escape: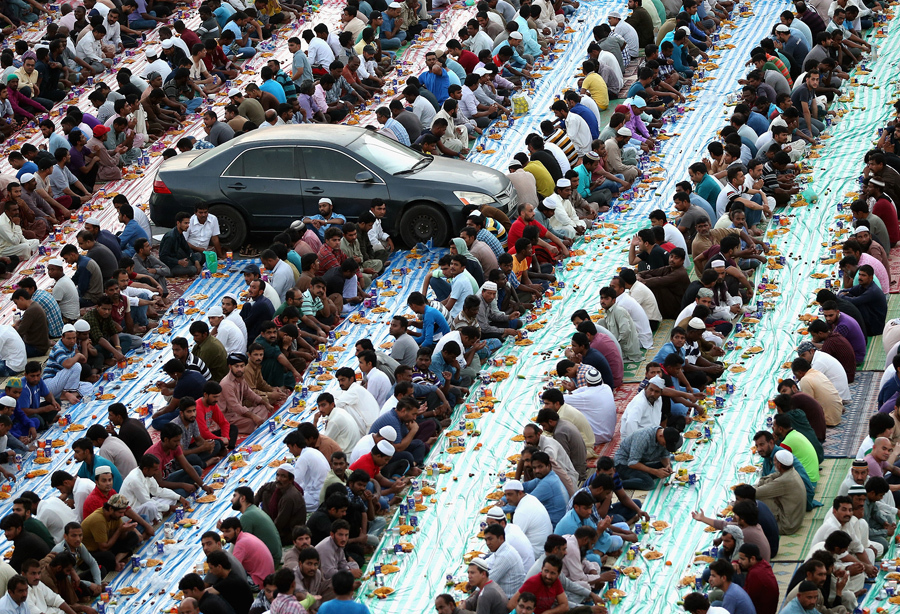 Breaking the Ramadan fast, Dubai – photo by Francois Nel
From Sarah Kliff:
Nevada, with little fanfare or notice, is inching toward a massive health insurance expansion — one that would give the state's 2.8 million residents access to a public health insurance option.
The Nevada legislature passed a bill Friday that would allow anyone to buy into Medicaid, the public program that covers low-income Americans. It would be the first state to open the government-run program to all residents, regardless of their income or health status.
This is "Medicaid for All", not "Medicare for All", which several Democrats have proposed over the years. Medicare for all has always fizzled out, due to a lack of political support.
Medicaid for all offers an interesting alternative. Medicaid coverage generally costs less than Medicare for all because the program pays doctors lower rates. This could make it cheaper for low-income price-sensitive consumers who can't afford the Obamacare monthly premiums. More from Sarah Kliff:
Nevada's bill to allow a broader Medicaid buy-in is short, running just four pages. It would allow any state resident who lacks health insurance coverage to buy into the state Medicaid program, which would sell under the name the Nevada Care Plan.
Under the Nevada bill, people who qualify for tax credits under the Affordable Care Act would be able to use those credits to buy Medicaid coverage instead. People who don't qualify for credits would be able to use their own money to buy in. It is likely that the plan would be sold on Nevada's health insurance marketplace, making it a public option that competed against the private health insurance plans selling there.
Early versions of the Affordable Care Act included a buy-in provision. But the Senate was forced to drop the Medicare buy-in from its bill when it couldn't get the entire Democratic caucus behind the idea. Health insurers fought aggressively against the idea, which disadvantages insurers by reducing their market share.
After Trump's election, health policy experts started to explore whether it might make more sense to build a national health care system around Medicaid rather than Medicare.
Medicaid and Medicare are similar programs in that they are large and publicly run, covering 62 million and 43 million Americans, respectively. They use their large membership to negotiate lower prices with hospitals and doctors. Medicaid tends to have the lowest payment rates. On average, Medicaid pays 66% of what Medicare pays doctors. In Nevada, Medicaid pays 81% of Medicare rates.
This means Medicaid is a relatively lower-cost program, but some doctors do not accept Medicaid's lower rates. A recent federal survey estimates that 69% of doctors are accepting new Medicaid patients, compared to 85% accepting new patients with private insurance.
States have significant control over how their health insurance programs work and whom they cover. Thirty-two states participate in a Medicaid buy-in program that lets certain disabled Americans who don't otherwise qualify for coverage, buy into the program.
This flexibility provides an opportunity for states that want to experiment with a public program by tacking on a buy-in option. If Nevada's bill does become law, it will show other states how such a program might work, and if it works well, other states may be inclined to try it.
States that want to enroll new populations into their Medicaid programs will need permission from the federal government. This means that the Trump administration — which has proposed slashing the Medicaid budget in half — would need to get on board with a significant expansion of the program, perhaps a doubtful possibility. But as Kliff says: (brackets by the Wrongologist)
The Nevada idea in theory shouldn't expand federal costs. Individuals would be responsible for paying their own way onto the program, although it will likely be a challenge to set the right premium [rates] to ensure this outcome.
California is considering a single-payer bill as well. Whether other states might follow the Nevada example will depend on what outcomes it produces.
Here is another tune from the One Love Manchester concert. Watch "Happy" by Pharrell Williams and Miley Cyrus, who turn the song into a soul number, something closer to Motown than to Disney. They make it something more than it was when it was so popular. Also, the whole audience sings along, and that's fun:
Those who read the Wrongologist in email can view the video here.