The Daily Escape: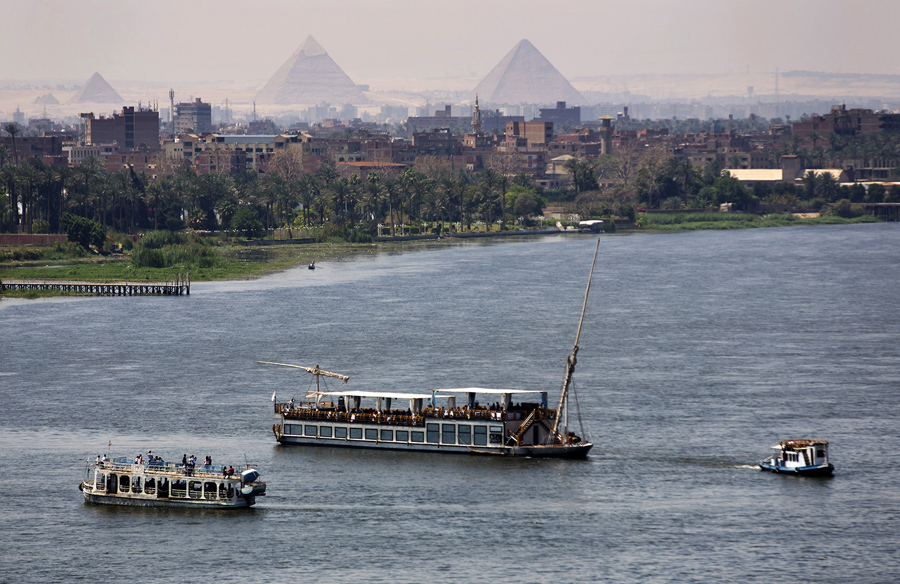 Nile River, Cairo, April 2017 photo by Amr Nabil
"Politics is the art of looking for trouble, finding it everywhere, diagnosing it incorrectly and applying the wrong remedies." – Groucho Marx
How true Groucho, how true. There is a power play underway in the Middle East. Saudi Arabia, the UAE, Egypt, and Bahrain all cut ties with Qatar:
Saudi Arabia and three other Arab countries severed diplomatic and some commercial links with Qatar Monday, a dramatic move that exposed divides among US allies in the Middle East over policy toward Iran and the role of political Islam in the region.
This is a complex situation since the US's primary air base (al-Udeid) for striking ISIS targets is based in Qatar. We have more than 10,000 people stationed there. When Trump was in Riyadh, he boasted that the US-Qatari relationship was "extremely good" and that he and the Emir would be discussing the purchase of "beautiful military equipment" made in the US.
That was just a few weeks ago. Yesterday, Our Orange Flake tweeted:
Just to be clear, Trump tweeted his support for a blockade of a country that hosts one of US's largest military bases. He is trying to take credit for an avoidable and potentially dangerous regional crisis that may undermine our current effort to destroy ISIS, and might possibly even put Americans at risk.
It's worth remembering that the first Gulf War originated in Saddam Hussein's misinterpreting comments by the GW Bush administration as a green light to go into Kuwait.
Do the Saudi's think Trump gave them a green light? Maybe. Today, Al Jazeera is reporting that the Saudis issued an ultimatum for Qatar to comply with 10 demands. These are the Saudi demands:
1. Immediately break diplomatic relations with Iran
2. Expel all Hamas members
3. Freeze bank accounts of Hamas members and stop dealing with them
4. Expel all Muslim Brotherhood members from Qatar
5. Expel anti-GCC elements
6. End support of "terrorist organizations"
7. Stop interfering in Egyptian affairs
8. Cease broadcasting the Al Jazeera news channel
9. Apologize to all Gulf governments for 'abuses' by Al Jazeera
10. Pledge not to carry out any actions that contradict the policies of the GCC and adhere to its charter.
If the list of demands as published are real, it's hard to see how the Qatari's can back down. For starters, Qatar and Iran share the world's largest natural gas field. It is doubtful that Qatar will break diplomatic relations with their partner.
It looks like the Chinese and Russians are urging Qatar to make some concessions – no doubt they are prepared to do so, but in effect, that list requires unconditional surrender. That will be a bridge too far for Qatar. The pace at which this situation is unraveling is astounding: Turkey is fast-tracking a bill approving troop deployment in Qatar.
Will this situation go hot? If the Qataris don't back down, then at best, this will lead to a massive disruption of LNG shipments. At worst, it could mean a regional war, aimed at regime change in Qatar.
If it were to go hot, the Qataris have no real military options. Their military is very small, and their outdated French Mirage fighters and older generation tanks are no match for what the Saudis have. Most of the Qatari soldiers are Pakistani mercenaries, who aren't stupid. They do have very good air defense systems, which means the Saudi's would most likely shoot from a distance, causing lots of collateral damage.
The biggest question is what will the friends of the Qataris do. The Chinese, Russians and Europeans will be urging compromise, but the Iranians (and the Turks) may be angry enough to try to confront Saudi Arabia.
And the Saudis are probably thinking that they need to take action before foreign troops can make landfall in Qatar. It is difficult to see how the Saudis back down, since they've just put everything on the line. And if Trump keeps tweeting support for the Saudis, that will keep emotions high.
This doesn't look like it will end well.
Perhaps the Saudis are trying to goad Iran into closing the Straits of Hormuz. They (along with the Israelis and the Trump administration) have been spoiling for a fight with Iran, or to be more precise, spoiling for an excuse to drag Iran into a confrontation with the US.
The Saudis may be calculating that with Trump in charge, they finally have a chance to persuade the US to engage, assuming they can engineer the closing of the Straits as an excuse.
This shows how easily our regional clients can influence US policy when the leader of the free world has so few fixed positions.