The Daily Escape: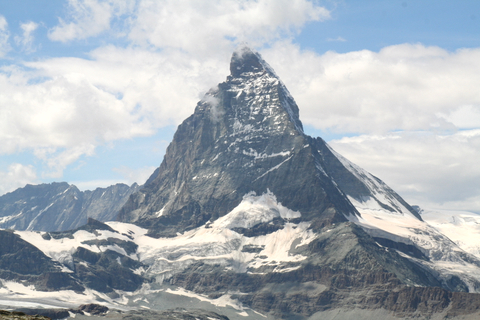 Matterhorn – 2008 photo by Wrongo
Overnight guests at the Mansion of Wrong started a discussion about how parenting styles have changed since the 1950's. The primary focus of our near-geriatric group was on how our children parent their kids, as differentiated from the way our parents parented us. We talked about the difference between yesterday's "free-range" parenting, where the kids were (relatively) unscheduled, and free to play outside until dark, and today's helicopter parenting, where the kids are highly scheduled and the parents monitor their every move.
Today, Wrongo read an article by Pratik Chougule in the American Conservative entitled, "Is American Childhood Creating an Authoritarian Society?" Its sub-title, "Overprotective parenting is a threat to democracy" gives the article's viewpoint:
American childhood has taken an authoritarian turn. An array of trends in American society are conspiring to produce unprecedented levels of supervision and control over children's lives. Tracing the effects of childrearing on broad social outcomes is an exercise in speculation. But if social scientists are correct to posit a connection between childrearing and long-term political outcomes, today's restrictive childhood norms may portend a broader regression in our country's democratic consensus. 
That is way much too much speculation for Wrongo, but Chougule offers some interesting facts:
The amount of free time school-aged children enjoyed plummeted from 40% in the early 1980s to 25% by the mid-1990s.
The time young children spend in school jumped from 5-6 hours in the early 1980s to almost 7 hours beginning in the early 2000s.
By 2006, some 40% of schools had either eliminated recess or were considering doing so.
Chougule also offers the following:
More so than any other factor—identity, religiosity, income etc.—it was voters' attitudes on childrearing that predicted their support for Trump. Those who believe that is more important for children to be respectful rather than independent; obedient over self-reliant; well-behaved more than considerate; and well-mannered versus curious, were more than two and a half times as likely to support Trump than those with the opposite preferences.
This leads to the conclusion that voting for Trump = Authoritarian tendencies in the family. Wrongo disagrees. He fails to see the link between helicopter parenting and authoritarianism in today's kids. He isn't even sure that today's kids are little authoritarians.
Overprotective parenting has more to do with parental anxiety that started in the 1970's when our kids were growing up, seeing high-profile incidents of abducted children. Then there were (and still are) the hyperventilating pundits warning about freak accidents affecting kids.
Most of all, it is driven by two trends: First, the two-career family has created guilt and fear that at least one parent won't be around if something terrible happens. Second, the increasingly prevalent one-child family means that the psychic investment in the precious single offspring is huge, and by definition, fragile. If all your eggs are in the basket of one kid, it makes sense for him/her to wear a helmet at all times, and never speak to strangers.
When Wrongo's kids were growing up, it was safe to send kids out to play in the neighborhood, because you knew there were going to be a dozens of adult eyes watching whatever was going on, as opposed to today's  neighborhoods, which are vacant from 8am – 6pm.
Today, overprotecting is achieved largely in the form of monitoring where the kids are via cell phones. Parents do this in the name of protecting their kids. This is a major difference, as these devices didn't even exist until the 1990s.
An unfortunate reality is that many kids today get too little direct supervision from their parents. The slack is being taken up by day-care centers and schools, neither of which should be the primary source of guidance for today's kids.
An argument can be made that today's parents have become more authoritarian and conformist because they are fearful in a world that seems to be getting more dangerous. It may be a fear of physical danger, like terrorism, but it can also be fear of downward mobility. The perception is that good jobs and other economic opportunities are getting fewer, so that only the highest-performing young people will have a shot at getting them.
We know that in times of peace and prosperity, society loosens up. People become more tolerant and trusting. When opportunities are limited or when external enemies threaten, tolerance erodes. People want their neighbors, their kids and their kids' teachers to hew to their world view.
The politics of fear breeds ever more fear. We need to break the cycle.
Here is a tune. It is London Grammar doing a cover of Fleetwood Mac's "Dreams", recorded on June 9, 2017:
Takeaway Lyric:
Now here you go again, you say
You want your freedom
Well who am I to keep you down?
Those who read the Wrongologist in email can view the video here.