The Daily Escape: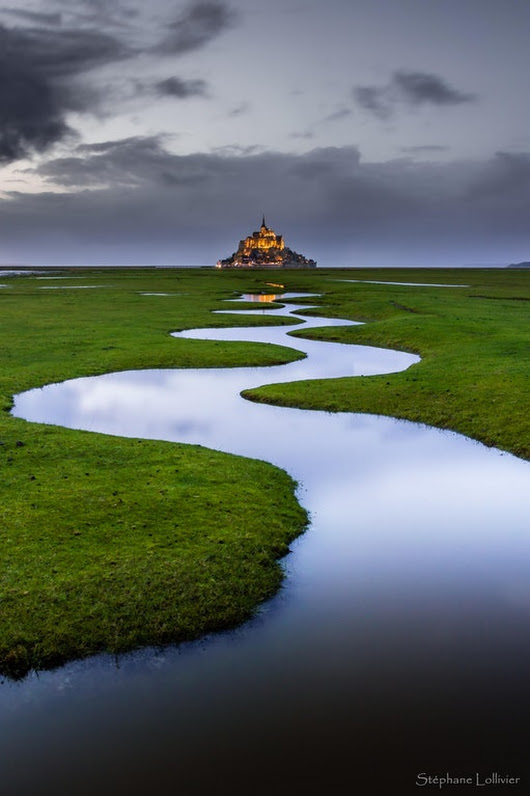 Mont Saint-Michel, France – photo by Stephane L'olliver
We start this week like all the others in the past six months, staring at the latest shiny thing that the Trump-obsessed media produced for our inspection. But we need to shift our focus to what Der Donald is doing with his nominations to the federal judiciary. From the Fiscal Times:
When it comes to nominating judges to the federal bench, Trump is moving at a breakneck pace. And the number of nominees for vacant US attorney positions, a crucial area, is dwarfing that of the past administration this early on.
The media tells us that Trump isn't getting his nominations for key posts either submitted or approved, but that's not true for the federal bench. Here, Trump is rushing to fill what are lifetime appointments.
More from the Fiscal Times:
Through July 14…he had nominated 18 people for district judgeship vacancies, 14 for circuit courts and the Court of Federal Claims, and 23 for US attorney slots. During that same time frame in President Barack Obama's first term, Obama had nominated just four district judges, five appeals court judges, and 13 US attorneys. In total, Trump nominated 55 people, and Obama just 22.
Of those 55 nominees, 45 are from, or are nominated for, jobs in states Trump won outright in the election. If you remove the positions based in Washington, DC, that number becomes 45 of 48, a remarkably high 94%. Just 64% of Obama's initial nominees hailed from states he carried in the 2008 presidential election. And there's a reason for that:
It's known as the "blue slip," or the consent of both home-state senators. And it's a Senate tradition to not advance any judicial or US attorney nominee without having the blue slip.
In states with two Republican senators, Trump has made 30 of the total 55 nominations. In states with two Democratic senators, he has nominated just five.
Trump has an impressive number of vacancies to fill. The federal bench has 136 vacancies. Trump fired half of the 93 US attorneys in March, creating a need for nominations, though seeking to quickly replace US attorneys is not uncommon at the start of a new administration. In August 2009, Obama faced 85 vacancies on the federal bench.
One of Trump's most controversial nominees, John Bush, was confirmed last week to the 6th US Circuit Court of Appeals. Bush, a Kentucky lawyer, cleared the Senate with unanimous Republican support and unanimous Democratic opposition. Bush came under fire for his past blog posts, written under a pseudonym that compared abortion and slavery and called them "the two greatest tragedies in our country." Bush had also promoted the Obama birther conspiracy.
Trump's targeting the low-hanging fruit first, but ultimately he will need support from the Democratic side of the aisle to fill appointments where Dems might put a "hold" on a nomination.
Maybe the partisan chickens will come home to roost when that happens.
So, time to wake up America! Stop browsing just the mainstream media and work a little harder to get educated about what's going on in the background. To help you wake up, here is Mick Jagger.
You are saying "Wrongo, why music from another old guy?"
But, just when you think Mick Jagger has become old and irrelevant, he writes two new things with overtly political messaging. Could he become relevant again? Today, listen to "Gotta Get a Grip". He released this as a straight video, with great production value, but it was boring. Luckily, he also worked with young artists to make a series of cool remixes of the songs, all with the same crummy video, but all are compelling listening. Here is "Gotta Get a Grip", the Seeb remix:
Gotta Get A Grip (Seeb Remix) by Mick Jagger & on VEVO.
Takeaway Lyrics:
Everybody's stuffing their pockets
Everybody's on the take
The news is all fake
Let 'em eat chicken and let 'em eat steak
Let 'em eat shit, let 'em eat cake
I tried diversion and I tried coercion
Mediation and medication
LA culture and acupuncture
Overeating and sex in meetings
Induced insanity, Christianity
Long walks and fast drives
And wild clubs and low dives
I pushed and I strived
But I can't get you, can't get you
Can't get you out of my mind
Immigrants are pouring in
Refugees under your skin
Keep 'em under, keep 'em out
Intellectual, shut your mouth
Chaos crisis instability, ISIS
Lies and scandals, wars and vandals
Metadata scams and policy shams
Put 'em in a slammer
Those who read the Wrongologist in email can view the video here.