The Daily Escape: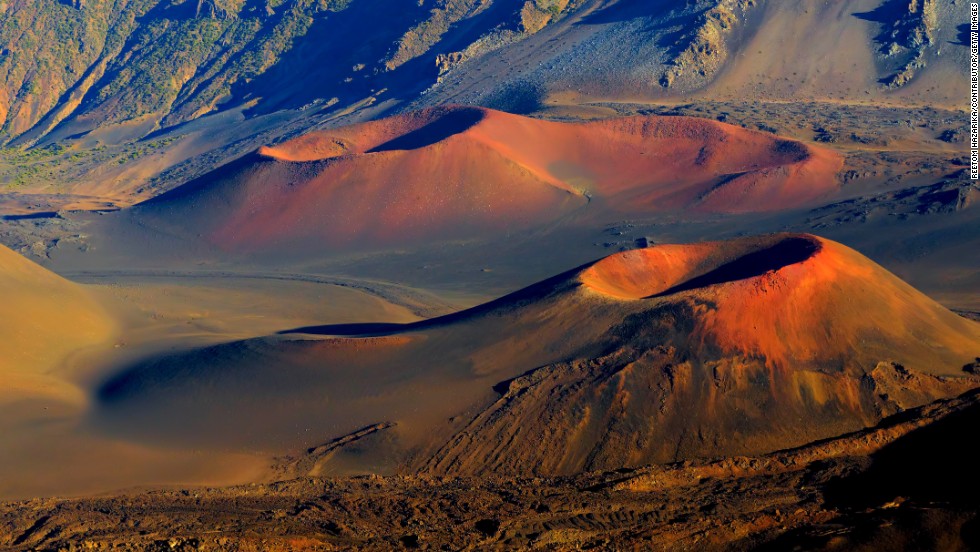 Haleakala Crater, Maui
Is it the best of times or the worst of times? This is no longer a partisan discussion. We have an economy in the midst of a long expansion, the third longest since 1850. The statistics say we are close to full employment. But, our mortality rate is moving in the wrong direction, and we have an opioid epidemic that is serious enough to cause jobs to go unfilled. The NYT reports that in Youngstown Ohio, middle class factory jobs go begging:
It's not that local workers lack the skills for these positions, many of which do not even require a high school diploma but pay $15 to $25 an hour and offer full benefits. Rather, the problem is that too many applicants — nearly half, in some cases — fail a drug test.
The Fed's regular Beige Book surveys of economic activity across the country in April, May and July all noted the inability of employers to find workers able to pass drug screenings.
So the best of times? Probably not. Bloomberg reports that the International Monetary Fund (IMF) looked at the US economy. This is what they see:
For some time now there has been a general sense that household incomes are stagnating for a large share of the population, job opportunities are deteriorating, prospects for upward mobility are waning, and economic gains are increasingly accruing to those that are already wealthy. This sense is generally borne out by economic data and when comparing the US with other advanced economies.
The IMF then goes on to compare the US with 23 other advanced economies in the Organization for Economic Cooperation and Development (OECD) in this chart: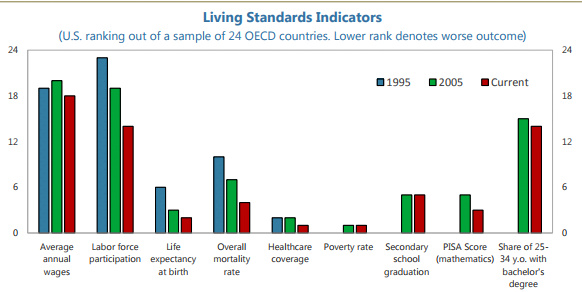 The chart is a bit of an eye test unless it's viewed on a big monitor, but its overall point is that the US has been losing ground relative to its past OECD reports by several measures of living standards. 35 countries make up the OECD. The members include all of Western Europe, Russia, Japan, Australia, and several developing nations like Korea and Panama.
This from Bloomberg:
And in the areas where the US hasn't lost ground (poverty rates, high school graduation rates), it was at or near the bottom of the heap to begin with. The clear message is that the US — the richest nation on Earth, as is frequently proclaimed, although it's actually not the richest per capita — is increasingly becoming the developed world's poor relation as far as the actual living standards of most of its population go.
This analysis is contained in the staff report of the IMF's annual "consultation" with the U.S., which was published last week. The IMF economists haven't turned up anything shocking or new, it's just that as outsiders, they have a different perspective than what we hear from our politicians and economists.
For example:
Income polarization is suppressing consumption…weighing on labor supply and reducing the ability of households to adapt to shocks. High levels of poverty are creating disparities in the education system, hampering human capital formation and eating into future productivity.
What is to be done? Well, the IMF report concludes:
Reforms should include building a more efficient tax system; establishing a more effective regulatory system; raising infrastructure spending; improving education and developing skills; strengthening healthcare coverage while containing costs; offering family-friendly benefits; maintaining a free, fair, and mutually beneficial trade and investment regime; and reforming the immigration and welfare systems.
In other words, they suggest substantial reform. It's doubtful that America can take care of these things anytime soon.
The subtext to most of their suggestions is that other affluent countries have found ways to improve in these areas, while the US has not. We don't have to look too far into the past to see when those countries were modeling their economies on ours. But today, on all sorts of issues, like taxation, labor markets, health care, and education, the opposite is now true.
One major difference between the US and the rest of the developed world is ideological: Voters and politicians in the US are less willing to raise taxes to finance a better life for our citizens.
Other wealthy countries have figured out how to raise revenue, provide quality education, help the the unemployed, reduce poverty, and keep their citizens healthier than America has.
We must catch up, or admit our time as the world's indispensable economy is over.
Today's music (dis)honors the turmoil in the White House. See 'ya Mooch! Remember that in just six months, Trump has gone through two National Security Advisers, two Chiefs of Staff, two Communications Directors, two Press Secretaries, and two Directors of the FBI.
Here is "Disorder in the House" by the late Warren Zevon and Bruce Springsteen:
Those who read the Wrongologist in email can view the video here.



Category:
Abandonment of Middle Class
,
American Exceptionalism
,
Corporatism
,
Daily Escape
,
Debt Ceiling Debate
,
Divided Government
,
Domestic Policy
,
Economic Policy
,
Education in America
,
Employment
,
Health Policy
,
Playlist
,
Political Gridlock
,
Society
,
Tax Policy
,
Trade Policy