The Daily Escape: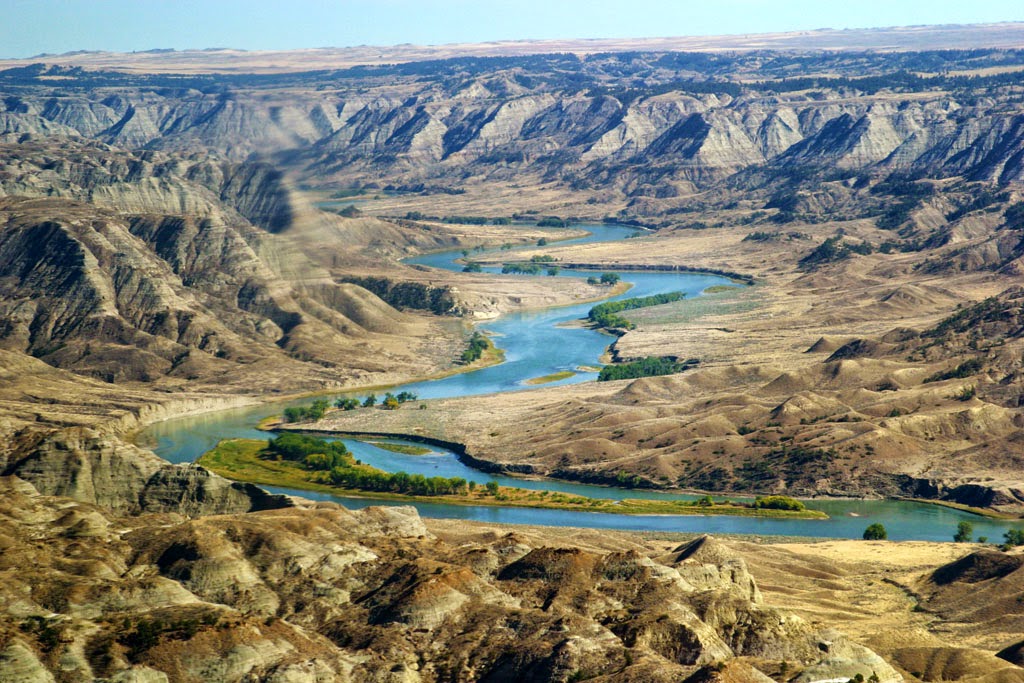 Missouri Breaks, MT – photo (via)
US Interior Secretary Ryan Zinke announced that there would be no change for the Missouri Breaks National Monument. Zinke is from Montana, so saving one for his peeps isn't a big surprise.
Missouri Breaks is one of 27 monuments established during the previous 20 years by presidents using the Antiquities Act. The Antiquities Act allows presidents to set aside objects of historic or scientific interest to prevent their destruction. The law was created in 1906 to guard against looting of sacred American Indian sites.
In April, Trump ordered the Department of the Interior to review the status of every national monument designated since 1996. As a result of the review, these cultural and/or natural treasures could be significantly reduced in size or even eliminated, and the Antiquities Act itself could be severely limited. The land would remain owned by the federal government, but might lose its protected status, and be contracted to private enterprises. When you allow corporations to 'lease' land for oil, fracking, mining, ranching, etc. fences go up, private police forces are hired to keep people out for their 'safety'.
Not everyone agrees that Trump has the authority to do what he wants. From the Washington Times:
If President Donald Trump or any successor desires the authority to revoke national monument designations, they should urge Congress to amend the Antiquities Act accordingly. They should not torture the plain language of the Act to advance a political agenda at the expense of regular constitutional order.
Indeed, those who claim that the Antiquities Act does not grant a reversal power cannot find a single case in another area of federal law that supports that contention. To override the norm, legislators have to clearly limit reversal powers in the original law; the plain text of the Antiquities Act includes no such limits.
Who knows? Next, Der Donald will lease the Grand Canyon to China for use as a landfill.
But the bigger picture is that behind the smoke and mirrors of Trump's pathological lying and the media's obsession with Russia, his cabinet appointees are working like industrious termites, eating away much of the support beams of our nation's rules-based edifice.
Consider Attorney General Jeff Sessions. From the New Yorker: (brackets and editing by the Wrongologist)
He [Sessions] has reversed the Obama Administration's commitment to voting rights…He has changed an Obama-era directive to federal prosecutors to seek reasonable, as opposed to maximum, prison sentences for nonviolent drug offenders…he has revived a discredited approach to civil forfeiture, which subjects innocent people to the loss of their property. He has also backed away from the effort…to rein in and reform police departments, like the one in Ferguson, Missouri, that have discriminated against African-Americans.

Although candidate Trump promised to protect LGBT rights, President Trump last week vowed to remove transgender service members from the armed forces, and Sessions…took the position in court that Title VII, the nation's premier anti-discrimination law, does not protect gay people from bias. Most of all, Sessions has embraced the issue that first brought him and Trump together: the crackdown on immigration…
All across the government, Trump appointees are busy chewing through the existing regulatory edifice, ending not just Obama-era rules, but others that have been in place for decades.
Another truly damning thing is Trump's surrogates' efforts to undermine foreign policy. The WaPo reports:
Trump signed off on Iran's compliance with profound reluctance, and he has since signaled that when Iran's certification comes up again — as it will every 90 days, per a mandate from Congress — he intends to declare Iran not in compliance, possibly even if there is evidence to the contrary.
According to the New York Times: (brackets by the Wrongologist)
American officials have already told allies they should be prepared to join in reopening negotiations with Iran or expect that the US may [unilaterally] abandon the agreement, as it did the Paris climate accord.
It is difficult to see how this ends well for the US. Imagine, Iran and North Korea both pursuing nuclear weapons to deploy against the US. Why would we want to engage on two fronts, when one (North Korea) is already so problematic?
What is the Trump agenda? Are there any articulated goals? What are the strategies to achieve them?
Have we heard a concrete proposal for any of his big ideas (health care, tax reform, or infrastructure)?
We have not, but his termites keep chewing, and soon, our whole building will be compromised.



Category:
2016 Election
,
Congress
,
Corporate Welfare
,
Daily Escape
,
Domestic Policy
,
Environmental Issues
,
Health Policy
,
Immigration Policy
,
Iran Deal
,
National Parks
,
Paris Climate Accord
,
Tax Policy
,
The Presidency
,
Trumpcare
,
US Constitutional Issues