The Daily Escape: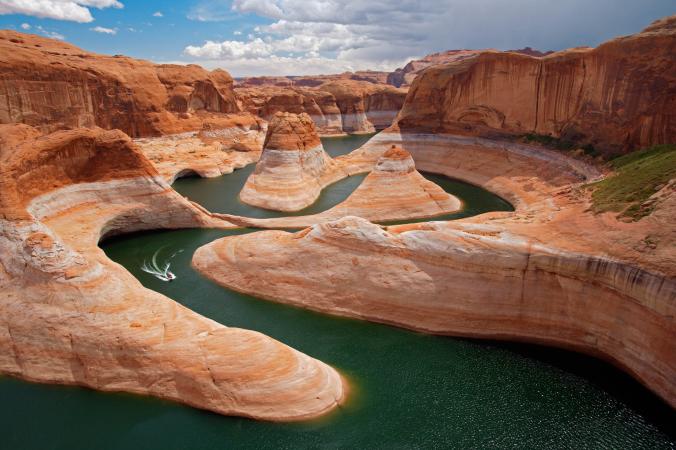 Reflection Canyon, in the Glen Canyon National Recreation Area, Utah. This spot became popular with hikers after Apple used it to promote its Mac Book Pro high resolution with retina display. People first learned about the location after this photograph was taken by Michael Melford in 2006.
Texas has a $10 billion rainy day fund. Now, you would think that when the rains came to Houston, Gov. Greg Abbott would say "It's a rainy day fund, let's send some to Houston".
Nope. The Texas Observer reports: (brackets and emphasis by the Wrongologist)
On Tuesday, after Turner [Houston's Democratic mayor, Sylvester Turner] made a public request for money from the rainy day fund, Governor Greg Abbott joined in, telling reporters that the fund wouldn't be touched until the 2019 legislative session. Turner "has all the money that he needs," Abbott said. "In times like these, it's important to have fiscal responsibility as opposed to financial panic." The governor went on to accuse the mayor of using Harvey recovery efforts as a "hostage to raise taxes."
This is an epic statement of Evil. The Texas rainy day fund has $10 billion. The bill for Harvey is estimated at $180 billion, but Houston has all the money needed.
The Observer also quoted Lt. Governor Dan Patrick from early August, less than a month before Hurricane Harvey made landfall:
Where do we have all our problems in America?…Not at the state level run by Republicans, but in our cities that are mostly controlled by Democrat mayors and Democrat city council men and women. That's where you see liberal policies. That's where you see high taxes. That's where you see street crime.
Ideology always comes first in Texas. You would think that these ultra-conservative chimps would be looking for ways to help Houston, if not its mayor. But, it's business as usual: Everything good in Texas is to the credit of the brave GOP legislators in Austin, and everything bad is the fault of county commissioners, mayors, city councils and school boards.
Oh, and the immigrants.
Six of the nation's 20 largest cities are in Texas. And those six have half of the state's population, and they generate most of its economic activity. But, Republicans consider them a threat, either because of their "liberal" values or the demographic, and thus, the political threat they represent to the Texas Republican Party.
This could be a real problem for the entire country in the future. Increasingly, we are seeing the GOP in red states using their control of the political system to make war on the blue cities in their states. Think about Flint, MI where local interference by the governor and state-level Republicans partly brought about the lead-in-the-water crisis that remains unresolved, and which the state won't pay for.
Maybe this is a good time to remember that Greg Abbott received a multi-million dollar settlement for an accident that paralyzed him, and put him in a wheelchair. He is also the guy that subsequently proposed, sponsored and shepherded tort reform in the Texas legislature.
He's the guy that acts as if tort reform doesn't keep present day accident victims from getting the kind of compensation that he received. He closed the door after he got his millions in a settlement.
Texas is dominated by right-wing extremists determined to turn everything to advance their ideological agenda. Forget that Texas already has massive disparities between whites and non-whites in terms of social services, policing, and most other government functions.
Turning their back on Houston just makes the ideology more visible.
In Texas, they just do everything bigger and badder.
Time to relax and think about summer being over. Fall is officially here, the leaves are turning and falling onto the fields of Wrong. Time to brew up a Vente-sized cup of Durango Coffee Company's Costa Rica Las Lajas Perla Negra ($16.95/lb.), put on the Bluetooth headphones, and watch the leaves fall.
While you do, listen to "Woods", the second cut on the 1980 album "Autumn" by George Winston. It was his second solo piano album. Wrongo chose this because of the great fall-inspired video that accompanies the music:
Those who read the Wrongologist in email can view the video here.



Category:
Anger in Politics
,
Banana Republic
,
Cities
,
Daily Escape
,
Demographics
,
Distrust of Government
,
Domestic Policy
,
Hurricane Harvey Aftermath
,
National Parks
,
Playlist
,
Politics
,
Rigt Wing Ideologues
,
Saturday Soother
,
Social Conservatism