The Daily Escape: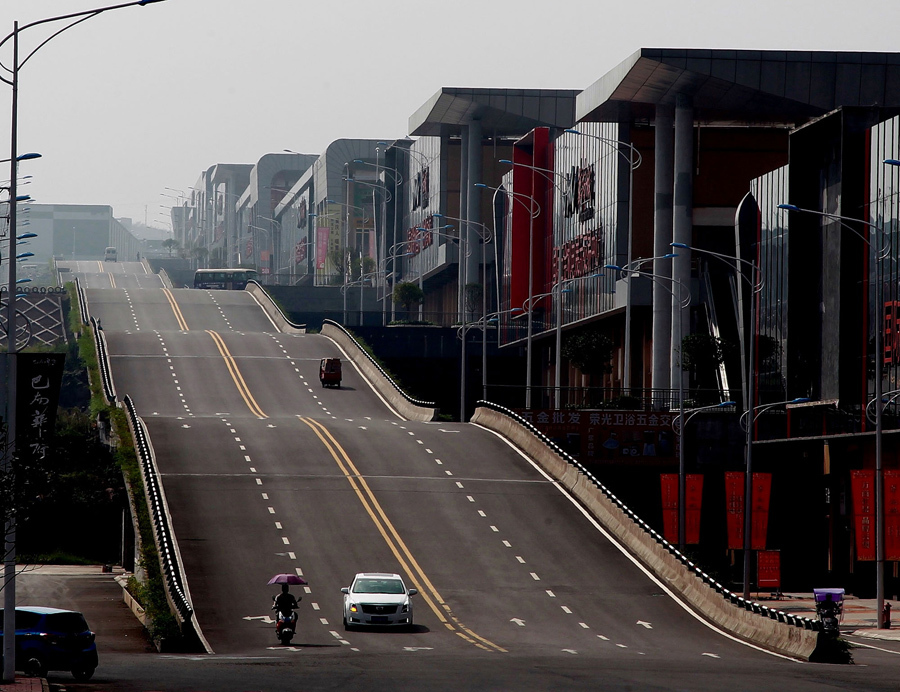 Road in Chongqing, China – photo by Reuters
We have been watching Trump clap Pelosi and Schumer on the back, as Democrats declared victory. But in background, the administration was busy announcing their seventh Wave of Judicial Candidates, including three appellate judge nominations, and 13 district court appointments. All are to vacant judgeships.
These are lifetime appointments, and most will serve long past Trump's tenure as President. Business Insider quotes Sen. Chris Coons (D-DE):
This will be the single most important legacy of the Trump administration….They will quickly be able to put judges on circuit courts all over the country, district courts all over the country, that will, given their youth and conservatism, will have a significant impact on the shape and trajectory of American law for decades.
Coons went on to say these appointments will lead to "a wholesale change among the federal judiciary."
Part of the reason Trump's been able to nominate so many federal judges is that an unusually large number of these positions were unfilled. From Business Insider:
The furious pace of nominations come as Trump faces an impressive number of vacancies to fill. As of [July 27], the federal bench had 136 vacancies…. In August 2009, Obama faced 85 vacancies on the federal bench.
It is possible to attribute the big discrepancy in vacancies to obstruction by Senate Republicans during the last few years of the Obama administration.
Democratic senators have started using a 100-year old procedure to block some Trump nominees. This process is called the "blue slip". Since 1917, the Senate has followed a process whereby a state's senators traditionally must return a blue slip of paper, endorsing any federal judicial nominee from their home state, in order for the nomination to proceed. If the senator fails to return the blue slip, or does so with some indication of disapproval, the nomination may be delayed, or possibly, blocked.
This system is old, but it isn't absolute. Some Senate Judiciary Committee chairs won't schedule hearings without receiving positive blue slips, while others think they do not necessarily disqualify a nominee. In recent years, the blue slip has given individual senators virtual veto-power over a federal judicial nomination, if the individual was from the state the senator represents.
Will this tradition continue? Last week, Sen. Al Franken (D-WI) did not return a blue slip for David Stras, a nominee from for an open spot on the US Court of Appeals for the Eighth Circuit.
 Justice Stras's professional background and record strongly suggest that, if confirmed, he would…reliably rule in favor of powerful corporate interests over working people, and that he would place a high bar before plaintiffs seeking justice at work, at school, and at the ballot box… I fear that Justice Stras's views and philosophy would…steer the already conservative Eighth Circuit even further to the right.
Later, Senators Ron Wyden (D-OR) and Jeff Merkley (D-OR) wouldn't return blue slips for Ryan Bounds, a nominee for a seat on the US Court of Appeals for the Ninth Circuit, because they will not green-light any candidate that had not been previously approved by the state's bipartisan judicial selection committee. More from Politico:
Unfortunately, it is now apparent that you never intended to allow our longstanding process to play out…Disregarding this Oregon tradition returns us to the days of nepotism and patronage that harmed our courts and placed unfit judges on the bench…
So, will Republicans end the blue slip process? Sen. Charles Grassley (R-IW), chair of the Senate Judiciary Committee, reportedly thinks the blue slip process is less important for district court judgeships than for appellate positions.
But, nobody knows if Grassley will schedule hearings on appellate court nominees who do not secure blue slip approval. Republicans have majority control of the Senate and could confirm judges even over strenuous Democratic objections.
OTOH, tradition is strong. While the denial of a blue slip does not legally restrict a judge from being approved, Business Insider reports that:
No circuit court nominees have been confirmed over objection of one (or two) home state senators — including under Obama.
Even if the blue slip process remains in place, Democrats aren't in a position to stop more than a handful of Trump's nominees. Most will probably soon be confirmed, since it is relatively easy to pick nominees that are not in a state with a Democratic senator.
Another example that elections matter.