We have entered a new Dark Age. Wrongo is reminded of the famous quote from the movie, "Blade Runner" where the replicant Roy Batty says just before he dies: "all those moments will be lost in time, like tears in rain."
Is it all over for the America that walked on the Moon? That explored the planets, and funded basic science? That passed Social Security in 1935, and Medicare and the Civil Rights Act in the 1960's?
Elections have consequences. Trump gave his supporters "their country back," and his idea of making America great again is a resurgence and normalization of base comments, ignorance, and hatred of the "other". Think about what actually happened with the Trump/General Kelly grieving widow moment:
A soldier died in combat. His widow, stricken with grief, gets a call from the President. The call upsets her.
That's what happened. It doesn't matter who is right or wrong, both Trump and Kelly should swallow their pride, and put the feelings of a war widow above their own. In Kelly's talk in the White House Briefing Room, there was no apology to the wife, not an ounce of "we're sorry she took it the wrong way, we of course meant to comfort her". It's all about: "That black congresswoman, what a fraud. Why was she there anyway"?
Wrongo served in the Army. He knows that generals are well-educated people, a part of whose job description causes other people to die. Kelly isn't the worse person in the world; he had a kid killed in combat. That should lead him to take a hard look at what he did in the briefing room. He stood in front of the nation and told us all how sympathy for the next of kin has historically been done, how Trump did it correctly, and how unfair it is to criticize how Trump did it.
And that showed us EXACTLY what not to do.
And we didn't need a lecture about how our professional military are the best people on earth. Kelly apparently believes that the professional military have higher citizenship status than citizens who haven't served. Kelly stated the apparent orthodoxy among the top echelons of our military: That soldiers are the best part of America, and that they look down on the rest of us who are not soldiers.
Could anything be more depressing and scary?
Yes. It is WH Press Secretary Sarah Sanders telling the press corps: "Do not challenge the Generals" when it turned out that some of what Kelly said about Rep. Frederica S. Wilson was wrong. That theme will be repeated frequently during the Trump presidency.
Democracy has started its downward slide. It's the start of our Dark Age. On to cartoons, assuming you feel you can smile today.
This is what the White House and Kelly are really telling us: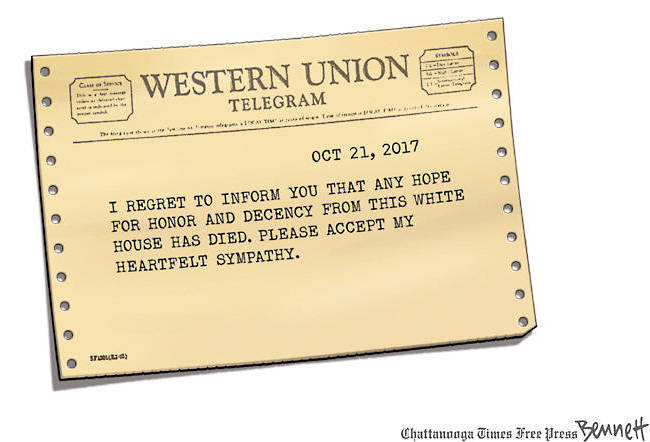 Maybe Next of Kin would rather just get a form letter instead of a call from the Donald-in-Chief: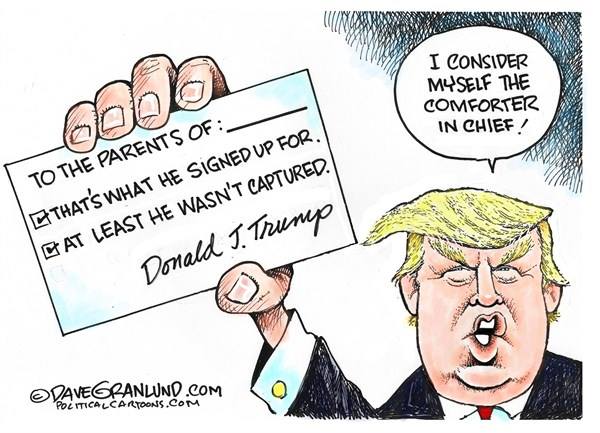 Is this what we signed up for?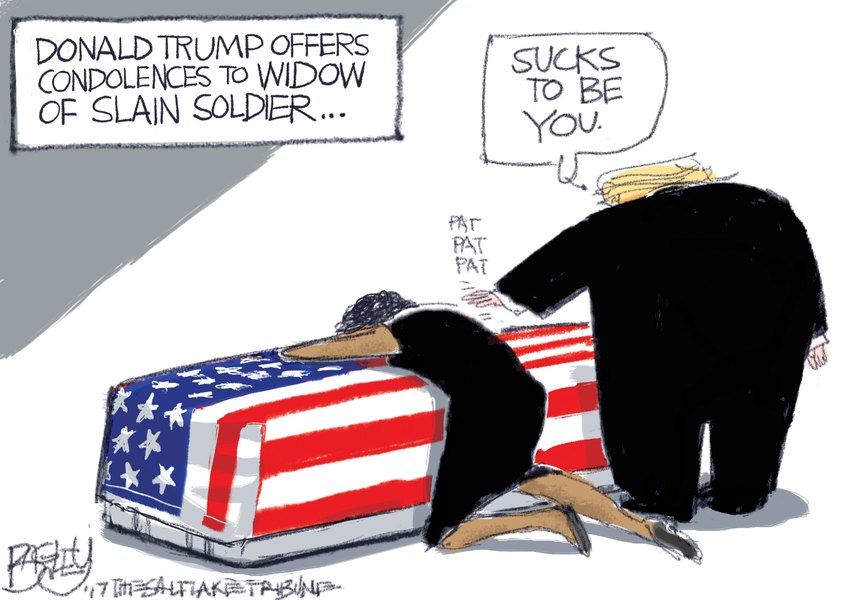 Kelly's recruiting message isn't real strong: