The Daily Escape: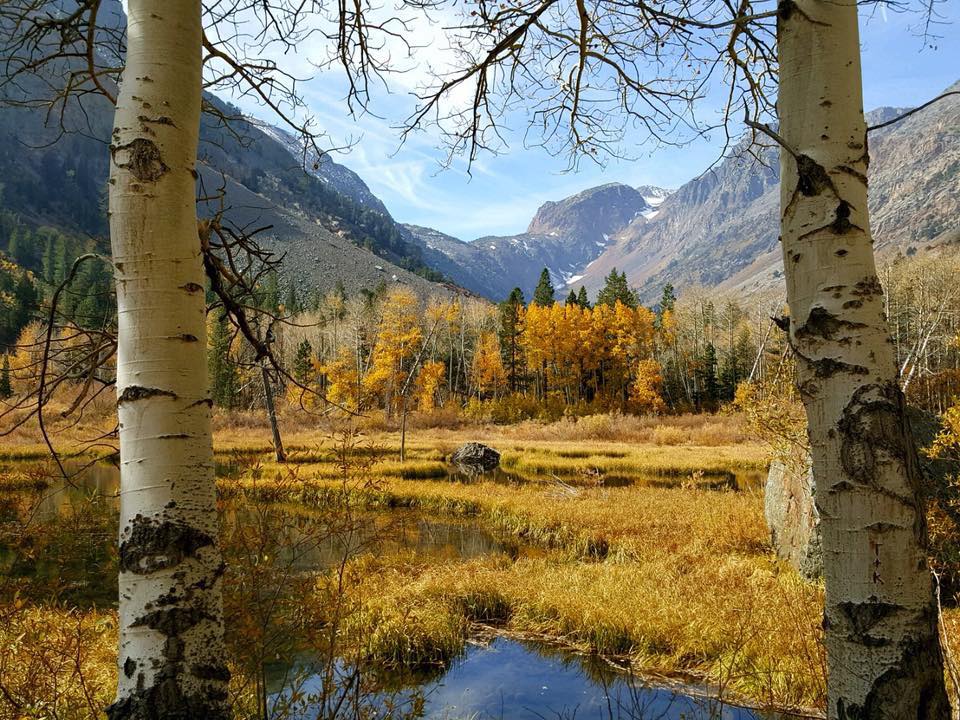 Fall in the Eastern Sierras – photo by Deirdre Harb
You may not remember the tangled history the US has with Iran, but you know that Trump decertified the Iran deal that was developed by the US and 5 other major powers (Russia, China, Germany, England and France). In his decertifying speech, Trump said:
We will not continue down a path whose predictable conclusion is more violence, more terror and the very real threat of Iran's nuclear breakout…
Just three countries publicly support Mr. Trump's decision: Israel, Saudi Arabia and the United Arab Emirates. We all know that Iran calls the US "the great Satan", but we forget how we earned the title. Here is a quick review from the BBC:
In 1953, the US overthrew Iran's elected government. We (and the UK) were not going to stand by and let their Prime Minister, Mohammad Mossadeq nationalize Iran's oil industry. The CIA led a military coup, and re-installed the Shah.
In 1979, a coup overthrew the Shah, and Ayatollah Khomeini took control of the Iran government. In November 1979, Iran took over the US embassy and held 52 Americans hostage for what was 444 days, until 1981.
In 1985-86, the US secretly shipped weapons to Iran in exchange for Tehran's help in freeing US hostages held by Hezbollah in Lebanon. The profits were channeled to rebels in Nicaragua, creating a political crisis for President Reagan.
In 1988, a US warship shot down an Iranian Airbus A300 killing all 290 people on board. We said it was a mistake, and Iran apparently forgave us.
In 1999, Iran's new president Katahimi called for "a dialogue with the American people" that went nowhere.
In 2002, GW Bush denounced Iran as part of an "axis of evil" with Iraq and North Korea.
Now, nothing in the above excuses Iran's efforts to destabilize parts of the Middle East, or their deep, abiding hatred of Israel. Nothing excuses Iran's role in developing and introducing the IED's that were so lethal to US troops in Iraq.
Time has done little to heal the wounds that each country has inflicted on the other. Mutual enmity remains on full display.
But Trump, like Obama and GW Bush, searched for a way to reduce our presence in the Middle East and shift attention to Russia and China. The solution for all three Presidents was to pit Middle Eastern governments against one another creating a balance of power, attempting to prevent any single country from becoming too influential.
If they make war against each other, that's an acceptable outcome, as long as Israel remains unscathed.
In that context, Iran's pursuit of nuclear weapons was something that the US and its European allies couldn't allow. The Joint Comprehensive Plan of Action (JCPOA), provided a means of halting the program's progress without risking the outbreak of war. The deal prevented the possibility of an Iranian nuclear bomb destabilizing the region.
By attempting to reopen the JCPOA by withdrawing, Trump hopes to either rein in Iran's regional meddling, or persuade Tehran to broaden the deal to include restrictions on its ballistic missile program, and on its support for militant groups, such as Hezbollah and Hamas.
Neither of Trump's goals are reachable. Iran gains nothing by agreeing to them. And the US and the International Atomic Energy Agency (IAEA) agree that there is no evidence to suggest that Iran is not complying with the deal. So, as long as Iran upholds its end of the bargain, the Europeans plus China and Russia, are unlikely to agree with any US attempt to reinstate broad sanctions.
And Trump is making his negotiations with North Korea more difficult. Walking away from the Iran deal justifies North Korea's belief that negotiation with the US on nuclear issues is futile. Particularly when one president's agreement can be so easily torn up by his successor.
The American Right has considered Iran one of the "axis of evil" since 9/11. In that context, Trump's desire to replace diplomacy with sanctions and eventually regime change, is ideologically consistent. The Right is simply using its electoral victory to advance a long-held policy.
We should remember that most of the GOP presidential candidates in 2016 were against the Iran deal, and probably would have acted similarly to Trump.
We are at a crossroads in our relationship with Iran. With the Iran deal, our long-term antipathy could have been moderated, and ultimately replaced by alignment of goals in the Middle East. Peace might have broken out.
But Trump has insured that will now take decades longer than it might have.