The Daily Escape: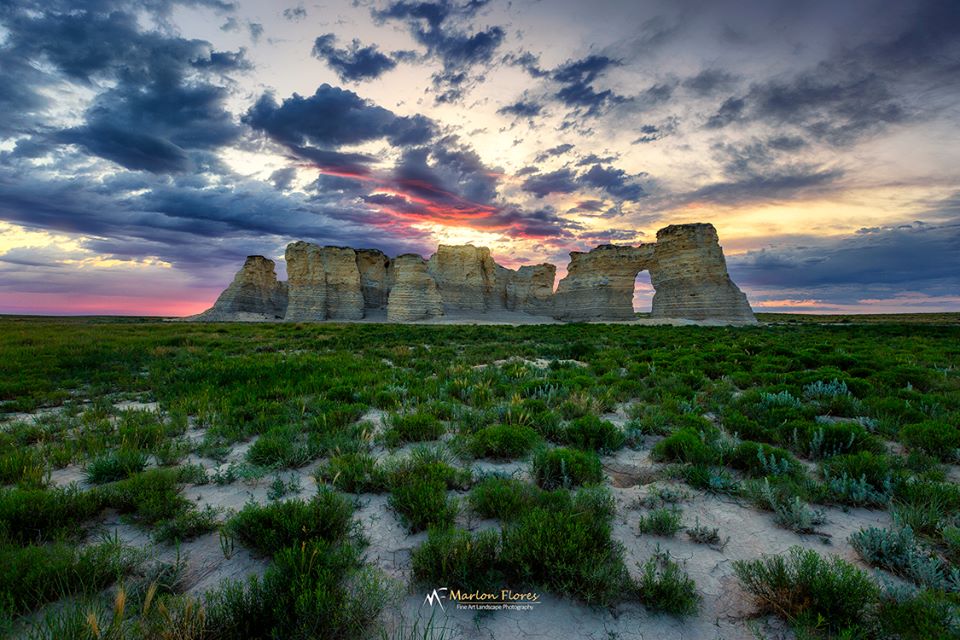 Chalk Pyramids, Oakley Kansas – photo by Marlon Flores
(Wrongo is writing this on Election Day, and will not know any national or local results before you read the column on Wednesday. Two years ago, Wrongo's hometown turned out 20+ years of Republican control in a deeply Republican county. The subsequent efforts by local Republicans to block change mirrors exactly what we have seen on a national level. Despite that, much was accomplished. We'll know on Wednesday if vision or blockage controls the town's next two years.)
We are one year into the Trump administration. Many of us are still dealing with the reality that the country elected someone who is incapable of empathy, who has very little understanding of how the world works. Someone who treats women, minorities, and people who disagree with him so appallingly.
The worst thing is how bad behavior (by Trump and many in his administration) has become normalized in the eyes of the press and the people. It started immediately with the administration lying about the size of Trump's inaugural crowd. Martin Longman took a look back and sums it up perfectly:
Looking back a year later, it's a struggle not to succumb to a well-earned cynicism. We don't like to repeat our mistakes, which makes it tempting to over-correct for them.

There were…times when President Obama stood up and told the American people that we're better than this, that we can do better and be better. It's not a good feeling to know that the response [by voters in 2016] was, "No, we're not, and no we can't."

…But one giant mistake doesn't condemn us in perpetuity. I actually find comfort and a cause for optimism that so many people were unable to imagine a Trump victory. It means that I wasn't alone in having some standards or in believing that we can be better than this. It's just going to be harder and take longer than I was willing to imagine.
Wrongo thinks Martin is too optimistic, and we shouldn't expect any real change in his lifetime. Why? One reason is that the Democrats can't stop playing inside baseball long enough to have a winning vision for the country. The Donna Brazile kerfuffle tells all we need to know: There is no leadership in the Democratic Party.
So, no leadership and no vision. The Dems are like your kids fighting in the back seat of the SUV. While the GOP is a well-oiled machine, staying on message, even when they don't agree with whatever it is that the Donald just did.
The Democratic Party leadership has to go, we can't stand by them, not even for another election cycle. Mike Allen at Axios suggests we look to mayors for the next Democratic leaders:
Here's something unusual and refreshing: There are two highly ambitious Democrats who don't even bother hiding their strong desire to run [for president] in 2020 — and to reshape the party: Los Angeles Mayor Eric Garcetti and New Orleans Mayor Mitch Landrieu, president of the US Conference of Mayors.
Allen thinks that Democrats could be led back from the wilderness by a mayor:
Garcetti: "We're too busy talking to ourselves, and about ourselves…People don't care about our inner workings, or even our inner leadership battles…We've got to get back to speaking plain English. We are so inside baseball right now…Are you a Bernie person? Are you a Hillary person?"
Landrieu, speaking about the bipartisanship of the Conference of Mayors: "The one thing we never do in any of our meetings is think about what the Democratic caucus or the Republican caucus in Washington, DC, is doing. It never enters our mind…People in America are feeling unbalanced right now."
Allen asked top Dem donors and operatives about possible candidates like Garcetti and Landrieu, and heard that they think DC experience is a vulnerability not an asset for a presidential candidate.
Wrongo agrees. America's mayors actually do things, and getting things done energizes them. Wrongo has seen this from up close in his hometown. Mayors don't talk like DC pols, they seem to love their jobs.
And it's a level of government where Democrats have a deep bench.
The GOP's goal is to destroy the New Deal, the environmental legislation passed during the Nixon administration and all of Johnson's domestic achievements.
We won't defeat their goals without a new message and a new messenger.