The Daily Escape: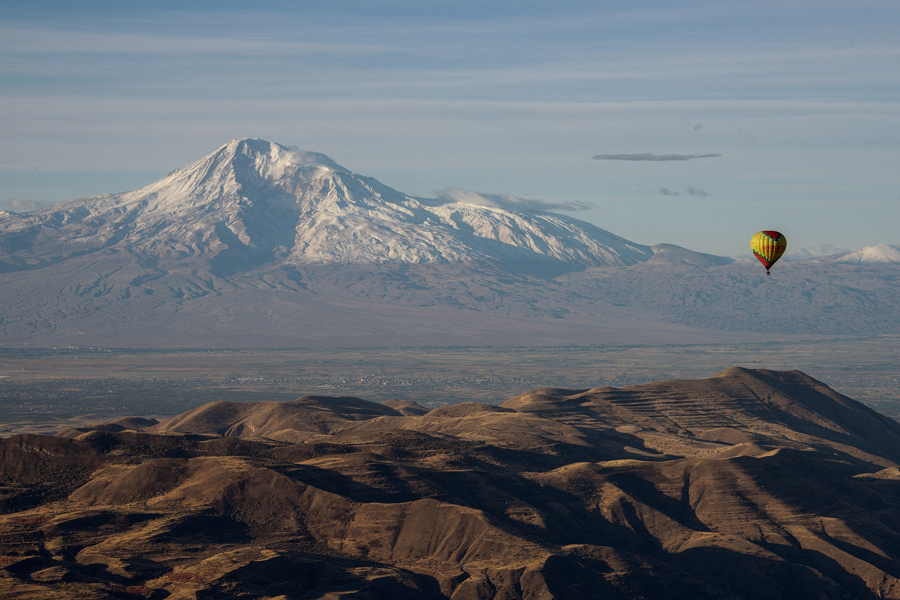 Balloon Festival, Armenia. In the background is Mt Ararat – photo by Karen Minasyan
As bad as you think it is in Trumpland, it's actually worse.
It's likely that you missed the letter that 84 members of Congress sent to Attorney General Jeff Sessions last Monday. The letter suggests to Sessions that those engaged in activism disrupting or damaging pipeline operations should face criminal prosecution as an act of terrorism under the Patriot Act.
The letter's broad definition of terrorism, if adopted, would allow prosecutors to treat people who chain themselves to pipelines or construction equipment involved in pipeline projects as terrorists. This would treat climate activists in a harsher way than Charleston killer Dylann Roof, or the congressional baseball shooter James Hodgkinson were treated under existing laws.
Interestingly, Rep. Steve Scalise (R-LA), a victim of Hodgkinson's attack, co-signed the pipeline terrorism letter.
While the letter cites a series of pipeline-cutting operations by radical environmentalists that occurred last October as its principal motivation, its language would include even the nonviolent resistance tactics employed by the Standing Rock Sioux to halt the Dakota Access Pipeline.
The 80 Republicans who co-signed the letter are from states with significant oil and gas industry activity. Four Texas Democrats also signed the letter.
Two days after the Congressional letter to AG Sessions was published, the Energy Equipment and Infrastructure Alliance's (EEIA) announced the creation of an "Energy Infrastructure Incident Reporting Center." The initiative also is a reaction to pipeline protests. Their database initiative says its purpose is tracking:
Incidents of eco-terrorism, sabotage, arson, vandalism, and violence are on the rise as severe actions have become a regular feature of pipeline protests, endangering public safety, the environment, jobs, and leaving taxpayers on the hook for millions of dollars…
Annie Leonard, executive director for Greenpeace USA, denounced the database. Leonard told the AP:
Corporations and their governmental enablers are desperate to silence dissent every way they can… [the database is] more fear-mongering by corporate bullies hoping to see what they can get away with in Trump's America.
Peaceful protest = terrorism.
Attacking peaceful protesters with rubber bullets and water cannons = law enforcement.
Sentencing peaceful protesters as terrorists = the end of the First Amendment
Should our elected and non-elected co-conspirators be able to say peaceful civil protests against pipelines are an act of terrorism under the Patriot Act?
Time to wake up America! We need to fight to keep our Constitution or face the Orwellian future that Jeff Sessions and Trumplandia want so badly for all of us. To help you wake up, here is Neil Young and Crazy Horse with "Rockin in the Free World" from his 1989 album "Freedom":
Takeaway Lyric:
There's colors on the street
Red, white and blue
People shufflin' their feet
People sleepin' in their shoes
But there's a warnin' sign
on the road ahead
There's a lot of people sayin'
we'd be better off dead
Don't feel like Satan,
but I am to them
So I try to forget it,
any way I can.
Those who read the Wrongologist in email can view the video here.



Category:
2016 Election
,
Civil Rights
,
Congress
,
Corporatism
,
Daily Escape
,
Domestic Policy
,
First Amendment Freedoms
,
First Amendment Issues
,
Monday Wake Up Call
,
Playlist
,
Terrorism
,
US Constitution Under Threat
,
US Constitutional Issues