The Daily Escape: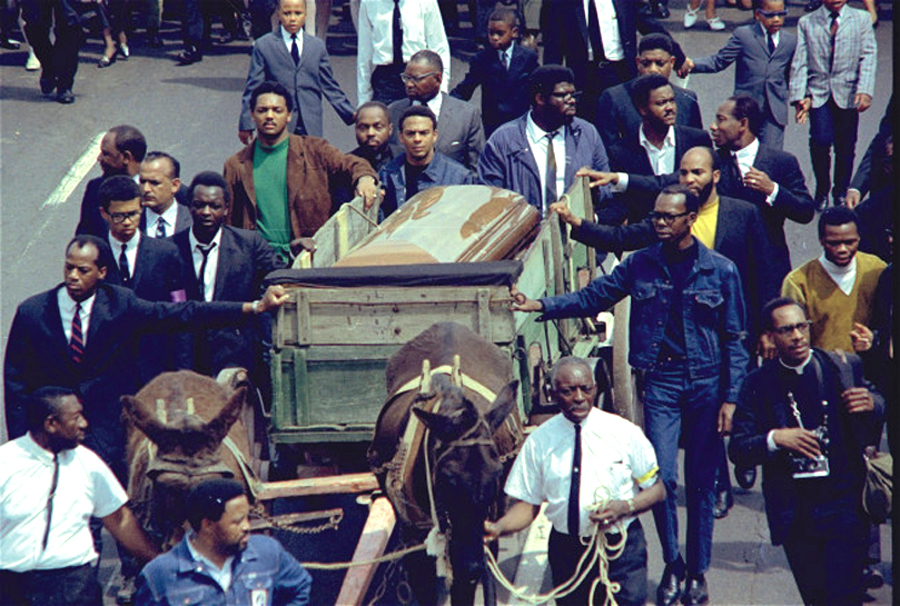 Two mules draw a farm wagon bearing the casket of Rev. Martin Luther King, Jr. April 9, 1968.
From Katie Mitchell at Bustle:
This year marks the 50th anniversary of Martin Luther King Jr.'s assassination on April 4, 1968. But as a country, in the half-century since King's death, we haven't come as far as many involved in the Civil Rights Movement would have hoped. Martin Luther King Jr. Day 2018…comes in the midst of a turbulent social climate, where white nationalists can openly march on college campuses and the president of the United States calls Haiti, which has a majority Black population, a "sh*thole country"…
So true. But Wrongo wants us to focus today on the role of music in the 1960's. Dr. King described how significant and liberating that music had been to activists in the Freedom Movement:
Much of the power of our Freedom Movement in the United States has come from the music. It has strengthened us with its sweet rhythms when courage began to fail. It has calmed us with its rich harmonies when spirits were down.
Wrongo was reminded of this by a NYT article describing a collaboration between Carnegie Hall and Robert Caro, the historian who has spent much of his lifetime chronicling president Lyndon Johnson. Together, they are hosting a 10-week festival about the 1960's. Caro says this about the music of the time: (emphasis by Wrongo)
I've written about what to me, is the supreme moment showing the power of music to create social change, which was when Johnson took the title of the most important anthem in his 1965 televised address to Congress a week after the Selma march, when he called for passage of a voting rights act. "It's not just Negroes," he said, "but really it's all of us, who must overcome the crippling legacy of bigotry and injustice. And we shall overcome." The president of the United States takes the key line of the anthem, and uses it to help push the bill through. That's the power of music.
Today's wake up is for all of us who remember the political role that music had in the 1960s. It was a call to action, it was a healing salve on wounds, and it united many behind an idea.
And where is today's protest music? It exists, and has tried to land a few blows, like music did in the '60s. But where politically charged music comes from, what it sounds like, who performs it, and how someone identities with it is radically different.
Unlike earlier eras of American popular resistance, there is no single centralized scene for protest songs. Today, protest music travels in a wide range of styles. And today, "protest music" seems like a redundant term; when all identities are politicized, all music feels political.  From Pitchfork:
Joey Bada$$ lamented the "Three K's, two A's in AmeriKKKa," and Kendrick Lamar parsed the prejudice pulling at society's ever-tenuous seams. The punk band Downtown Boys, led by Latinx frontwoman Victoria Ruiz, flung their stones against "A Wall." The electrosoul twins Ibeyi remixed Michelle Obama's wisdom into an elegy, and Hurray for the Riff Raff's Alynda Segarra, a queer Puerto Rican singer-songwriter, refracted Trump's hostility towards minorities into a bilingual cry for courage. Perfume Genius' Mike Hadreas, who is gay, reveled in the euphoria of self-acceptance and teased the zealotry that would blithely stomp his civil rights.
Check out some, or none. Things are different in a different time.
Back to the 1960's. Here are two selections from the first few days after Dr. King's assassination. First, Otis Spann and his "Blues for Martin Luther King". Spann, arguably the greatest blues pianist, and a feature in Muddy Waters' band, performed this in a storefront church in Chicago, even as buildings were burning all around the church from the riots that erupted after the fatal shooting:
Those who read the Wrongologist in email can view the video here.
Second, listen to Nina Simone playing "Why? (The King of Love is Dead)". The song was written by Simone's bass player, Gene Taylor. Here it is performed live on April 7, 1968, three days after the death of MLK at Long Island NY's Westbury Music Fair. At 12 minutes long, it is outstanding, and well worth your time:
Those who read the Wrongologist in email can view the video here.
Voting rights, Medicare and Medicaid are all under assault right now. They were passed in the 1960s. Every day, the GOP is trying to dismantle them.
Reflect on that on the 50th anniversary of Dr. King's death.