The Daily Escape: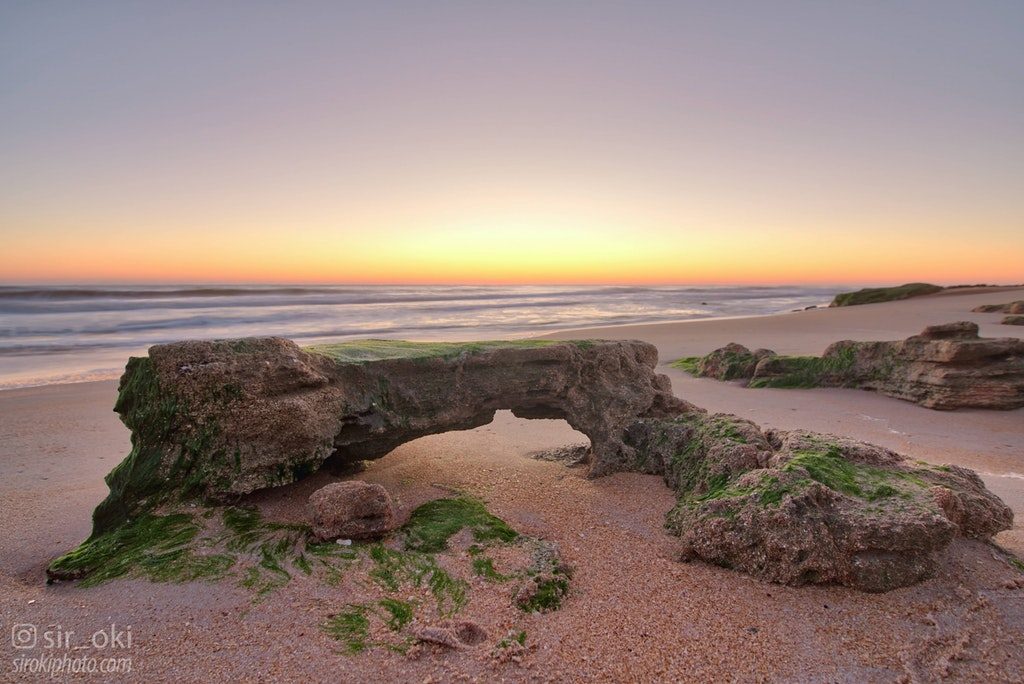 Coquina Rock outcropping, early morning, Flager Beach FL – 2017 photo by sir_oki
(By the time you read this, you may know if the US Congress has willfully kicked another own goal by allowing another government shutdown. If it has happened, it will be because Republicans couldn't keep their factions in line in the House, and that the Democrats wouldn't help the GOP in the Senate. As Wrongo writes this, there's no sign that either are in place, but Wrongo thinks they will avert a shutdown.)
Secretary of State Tillerson visited Stanford University, and spoke about our threadbare geopolitical strategy. From the Guardian:
The US intends to maintain an open-ended military presence in Syria, not only to fight Isis and AL-Qaeda but also to provide a bulwark against Iranian influence, ensure the departure of the Assad regime and create conditions for the return of refugees…
This is laughable. Think about the results to date on our Syrian strategy: US-backed jihadis along with the Assad regime have wrecked Syria, and changed the politics in Europe because of massive refugee migration. And the politics on the ground in Syria are unchanged.
Tillerson's speech was more of the same old, same old about challenges and threats, some of which are unrelated to a grand strategy of US in the Middle East. But the most basic question, why the US remains in Syria, (and in the Middle East in general), were not addressed, much less answered.
It doesn't take a 6'3" 239-pound geopolitical genius to figure out that the Trump administration's prime ME directive is the containment and roll back of Iran's influence in the region. But our partners are unreliable, and in some cases, disagree with this strategy. Wishful thinking is a bad basis for strategy, it is really a recipe for yet another ME disaster.
The hidden hands enabling America's obsession with Iran, a country that presents zero military threat to us, are Israel and Saudi Arabia. Israel wants Iran-friendly Hezbollah neutralized in Syria and Lebanon, and is willing to fight to the last American in pursuit of that objective. The Saudis are fighting Iran for dominance in the region.
By carving out territory in Syria, we are creating a fundamentally weak situation, both militarily and politically. Over the next few months, Assad will prevail, and that will be the end of the Syrian civil war. Then, something entirely new will emerge. The Northeast of Syria, the Kurdish-controlled areas where we are placing our 2,000 ground troops, will become a main focus for Syria, Turkey and Syria's allies, Russia and Iran.
And here, we enter uncharted political territory. We have no legal right to occupy a portion of Syria, and we must expect that at some point, Syria and Russia will call us on that. What will be our response? Is Trump willing to head-to-head with them, and possibly see US troops killed? For what?
Tactically, we have aligned with the Syrian Kurds to try and check a regional grouping who will surround our position. Worse, our policy is opposed by our ally, Turkey, who wants us to stop helping (and arming) the Kurds.
We are engaging in more superficial thinking about the ME, once again attempting to reshape the region. And to help us, we are counting on a rapprochement between Saudi-Arabia and Israel. It also requires them to commit military support to American efforts to block the combined interests of Russia, Iran, Iraq, Syria and Turkey.
When you listen to Tillerson, you would think that the US had defeated ISIS, and our troops are there for the mop-up, that the Syrians, Russians and Iranians were hardly involved. Little of that is true.
Tillerson's Syrian manifesto requires that Assad step down, now by losing an election, because evicting him by force proved impossible. Yet, it seems probable that Assad would win a fair election.
Isn't Tillerson's plan just more neo-con regime change? Think about Iraq. The US wanted Saddam out, and thus handed the country to Iran. In Syria, the goal was to oust Assad. Now, Assad is staying, and Russia has an unprecedented footprint in the region.
Under Trump, we have no end-game in Syria, or in Afghanistan. We choose to sit in the middle of a divided region: Arab vs. Persian, Kurds vs. Turks, Sunni vs. Shia, Saudi Arabia vs. Iran, Israel vs. Palestine, and remnants of ISIS vs. everyone else.
It is a powder keg waiting to go off.
Has Tillerson come up with a sound strategy? Definitely not.



Category:
2016 Election
,
Congress
,
Daily Escape
,
Debt Ceiling Debate
,
Foreign Quagmires
,
Geopolitics
,
Iran Deal
,
Israel
,
Middle East Strategy
,
The Presidency
,
Turkey/US Relationship
,
US/Russia Relationship