The Daily Escape: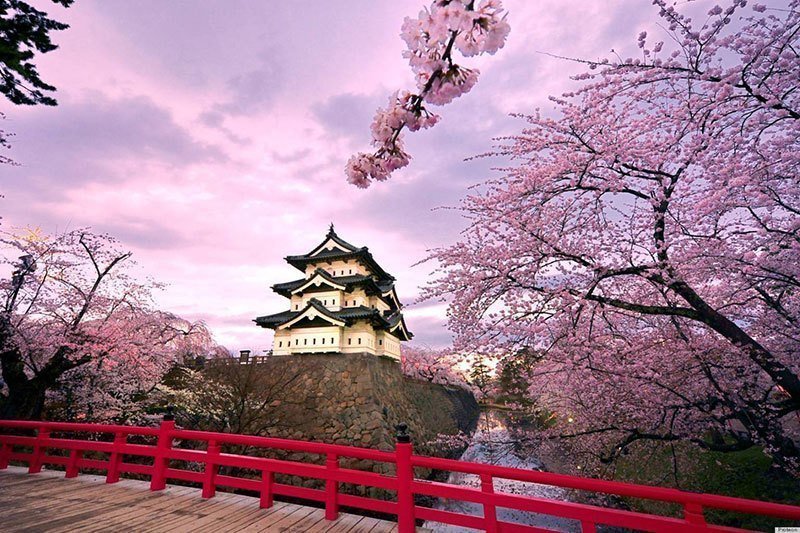 Cherry blossoms at Hirosaki Castle, Aomori Prefecture Japan. It was built in 1611. Photo by Huffington Post

Spring is in full flower on the fields of Wrong. Our pear, plum, cherry, quince and crab apple trees all bloomed on Monday. By Friday, most began shedding their flowers. While they were in full bloom, honey and bumble bees swarmed the flowers, making each tree sound as if tiny motors were running on every branch. We also had both Baltimore and Orchard Orioles working hard to strip the crab apple trees of their setting fruit. It was a delight to watch and listen while standing under the trees.
But now, the birds and the bees are moving on to more promising targets, just like Trump is doing with his foreign policy. He's leaving behind the so-called "bad deal" in Iran, for what will almost certainly turn out to be a similar deal with North Korea. Some have started a victory lap on North Korea, saying that only Trump could have brought Kim Jong-Un to the table. Maybe, but declarations of victory are certainly premature. We have been at least this far with North Korea before.
Wrongo doesn't buy the outrage in Washington about CIA Director-designate Gina Haspel. Few of us who work inside large organizations have the strength to stand up and refuse to take an action simply because it offends our moral sensibility. We balance the thought that it could cost our job, or our next promotion. And besides, the boss is telling me it's OK to do it.
Wrongo despises the idea of torture, and believes that America must provide the world with leadership that, by our example, shows that torture is wrong. OTOH, at the time, Haspel was part of a large system that said torture was legal. She was faced with a dilemma: to choose between what she was ordered to do, and what she now says she wouldn't do again. And don't trot out that "only following orders" is no defense. Often, in a large system, not following orders leads automatically to dismissal.
Try not to have knee-jerk outrage for someone who, like you, hasn't always been in a position with sufficient power to use their sense of morality as their guide to all actions.
And we can't let the week end without a comment on Trump's lawyer, Michael Cohen. The WaPo has internal company records that show Cohen's $600,000 deal with AT&T: (emphasis by Wrongo)
Three days after President Trump was sworn into office, the telecom giant AT&T turned to his personal attorney Michael Cohen for help on a wide portfolio of issues pending before the federal government — including the company's proposed merger with Time Warner, according to documents obtained by The Washington Post.

The internal documents reveal for the first time that Cohen's $600,000 deal with AT&T specified that he would provide advice on the $85 billion merger, which required the approval of federal antitrust regulators.
You may remember that Trump said he opposed the ATT/Time Warner merger, so who better to retain than his personal lawyer?
You might ask, what insight Cohen, a real estate attorney and taxi cab owner could provide AT&T on complex telecom matters? And AT&T has now admitted they messed up by trying to use Cohen as a way to reach Trump.
Trump hasn't drained the swamp, he's simply released his own critters into it.
So on this Saturday, relax and see if you can get soothed before starting your yard work, or whatever other spring project awaits. Begin with a strong cup of "Thanks Mom" coffee ($20/12oz) for Mother's Day from Bird Rock Coffee Roasters in La Jolla, CA. They say its decadent flavors of caramel, red cherry and apple blossom will surely create a Mother's Day to remember.
Your mom's mileage may vary. She may prefer dinner at a fancy restaurant.
Now, put on your Bluetooth headphones, sit in the sun and listen to "Moorland Elegies: No. 1. Come, Walk With Me" by Estonian composer, Tõnu Kõrvits. The Moorland Elegies is a nine-part cycle for mixed choir and string orchestra. The texts are poems by Emily Bronte. It is a sonic tone painting.
It is performed here by the Estonian Philharmonic Chamber Choir and the Tallinn Chamber Orchestra, conducted by Risto Joost in Tallinn's St. John's Church in October, 2015:
Those who read the Wrongologist in email can view the video here.



Category:
2016 Election
,
Congress
,
Daily Escape
,
ForeignPolicy
,
Iran Deal
,
Mueller Investigation
,
North Korea
,
Nuclear Weapons
,
Playlist
,
Russia Investigation
,
Saturday Soother
,
The Presidency
,
Trump's Fixers