The Daily Escape: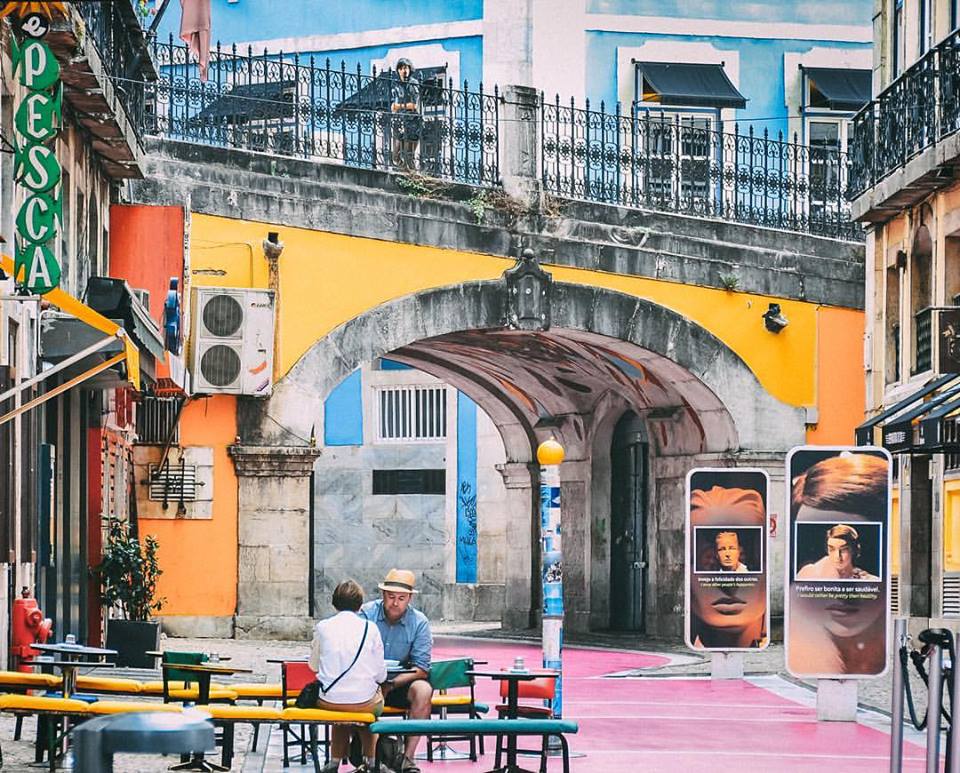 Rua Nova do Carvalho, Lisbon Portugal – 2016 photo by Brotherside. Formerly a part of the red light district, but when the street was painted pink in 2011, it quickly became the epicenter of a vibrant party scene.
In a week with a Hawaiian volcano's eruption, Bibi's nuclear song-and-dance, and Rudy's confessions on Fox that Trump had indirectly paid hush money to Stormy, you may have missed the report that the fired House Chaplain is back at work. The WaPo reported:
House Speaker Paul D. Ryan (R-WI) reversed course Thursday and agreed to keep the Rev. Patrick J. Conroy on as House chaplain after an extraordinary showdown that included the priest alleging anti-Catholic bias among Ryan's staff.

Ryan defended his original decision and continued to question whether Conroy was delivering sufficient "pastoral services" to the entire House. "I intend to sit down with Father Conroy early next week so that we can move forward for the good of the whole House," Ryan said.
That is how it ended. His return started when Rev. Pat Conroy rescinded his resignation in a letter to Ryan. Conroy wrote:
While you never spoke with me in person, nor did you send me any correspondence, on Friday, April 13, 2018 your Chief of Staff, Jonathon Burks, came to me and informed me that you were asking for my letter of resignation. I inquired as to whether or not it was 'for cause,' and Mr. Burks mentioned dismissively something like, 'maybe it's time that we had a Chaplain that wasn't a Catholic.'
Great job, Mr. Burks! Did you know that there have been exactly two Catholics as House Chaplain?
Fr. Conroy continued:
At that point, I thought that I had little choice but to resign, as my assumption was that you had the absolute prerogative and authority to end my term as House chaplain.
This was mostly about the tin ear that some Republicans have when it comes to social issues. One House member, Rep. Mark Walker (R-NC), who is also a Baptist pastor, apparently said that the next House chaplain needed to have a family.
That would rule out anyone who, like Fr. Conroy, had taken a vow of celibacy. Why do some people continually use their religion to bludgeon others?
Democrats and a few Republicans have said they believed that Speaker Ryan was facing pressure from evangelicals within the GOP conference to find a chaplain whose politics more closely aligned with theirs, but for now, this little "holy war" in the House is over. Maybe the next House Chaplain should be a Zen warrior priest who roams the halls, hitting Congress critters with his sword, you know, in a pastoral manner.
Spring has sprung with a vengeance in the Northeast. Today, Wrongo has battled a love sick bird that is trying to build a nest above the kitchen door at the Mansion of Wrong. The determined bird tried three times before finally bowing to Wrongo's will.
It's Saturday, and we need to downshift, to turn our focus from all that is wrong with the world, to all that's right. To help you make the change, start by brewing a cup of Taiwan roaster Kakalove Café's Mandheling Onan Ganjang sourced from the northern part of the Indonesian island of Sumatra ($18.50/16 oz.). The roaster says it is deeply sweet with vibrant acidity, and a syrupy mouthfeel.
Now, sit outside, take in the nature surrounding you, and listen to Sierra Boggess singing "The Lusty Month of May" from Camelot. It is performed live in 2012 at the BBC Proms:
Those who read the Wrongologist in email can view the video here.