The Daily Escape: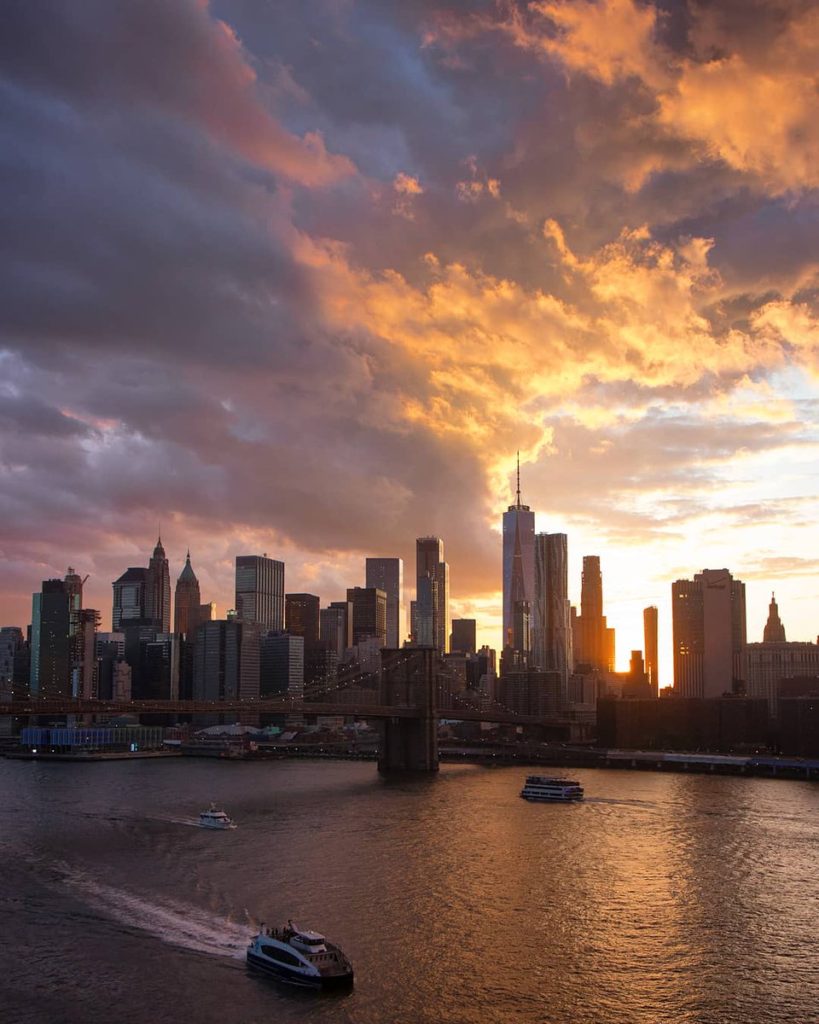 Manhattan, NYC skyline viewed from Brooklyn – 2018 photo by Max Guilani
The gay wedding cake ruling was absurd. If a wedding photographer didn't want to take photos at the wedding, it would be understandable, because then they'd be present at the ceremony, in some way, participating.
But a person baking and decorating a cake? The baker isn't participating in the event, and the cake isn't usually at the ceremony either. The cake can't represent a religious belief unless it's actually a religious cake.
There's a difference between freedom "from" and freedom "to". This case, and a few others, notably Hobby Lobby, have swung the pendulum in the direction of "freedom to". That could be the freedom to refuse to serve a customer, to refuse to provide health coverage, to claim an infringement of your religious rights, to say that baking the cake causes undue harm to your right to believe as you do. Much of what the Right touts as freedoms fall under this category, like the freedom to bear arms.
But at the same time, will the court protect those groups who need freedom "from" something, like freedom from discrimination, or harassment?
So, here we are in 21st century America: Stuck, this time by the Supreme Court.
And most of the time, we are stuck by the House and Senate's inability to move the country forward. The question is: How long will the majority of Americans consent to be governed by the minority?
This, from David Brooks:
Now the two-party system has rigidified and ossified. The two parties no longer bend to the center. They push to the extremes, where the donor bases and their media propaganda arms are. More and more people feel politically homeless, alienated from both parties and without any say in how the country is run.
Our system of democracy must evolve. Under our winner take all rules, the minority can control the country with say, 20 million votes, representing about 6% of the population.
Consider that every state has two senators. The 22 smallest states have a total population less than California.  If the Senate's filibuster remains in effect, just 21 States can stop any presidential appointment, or any legislation. Even without the filibuster, it takes 26 states to stop legislation.
And the smallest 26 states have a population of about 57 million, less than the population of California and the New York metro area. And today, neither major political party commands more than 30% of the voters.
How long can the country sustain this lack of balance and democratic fairness? The competing interests that the framers tried to balance in 1789 have been overtaken by newer competing interests that they never envisioned.
Maybe it's time to seriously rethink our electoral processes.
In a recent column in the NYT (quoted above), David Brooks recognizes the problem, and argues for multi-member House districts and for ranked-choice voting (RCV). Russell Berman explained how it works in The Atlantic:
Ranked-choice voting, which cities like San Francisco, Minneapolis, and Portland, Maine, use to elect their mayors, has been likened to an "instant runoff": Instead of selecting just one candidate, voters rank their choices in order of preference. If no candidate receives a majority of first-place votes, the candidate with the fewest votes is eliminated, and whoever their voters chose as their second choice is added to the tally of the remaining contenders. That process continues until there are only two candidates left, and the one with the most votes wins.
Supporters say RCV ensures that candidates with the broadest coalitions of support will win, and that it allows voters to choose the candidate they prefer, without splitting the vote and handing the election to the other party. They also say RCV will inspire more positive campaigning, because candidates will aim to become voter's second and third choices instead of targeting each other with negative advertisements. Further, they hope that RCV could create room for third-party candidates to succeed.
Wrongo thinks something needs to change. We can't keep a system that allows the minority to run the country, especially if it is persistently a racist minority, a misogynist minority, a fundamentalist minority, and a cruel minority.
Wrongo grew up believing that having public education, public housing, public transportation (including roads) and human services paid for by the public in proportion to their income or wealth, was what created a civilized nation, an educated populace, a world-class work-force. Now, Wrongo really worries about our current political situation. He worries about his grandchildren. Unless there is political change, their future looks grim.
Herbert Stein said: "If something can't go on forever, it won't."
We have to change our electoral process.