The Daily Escape: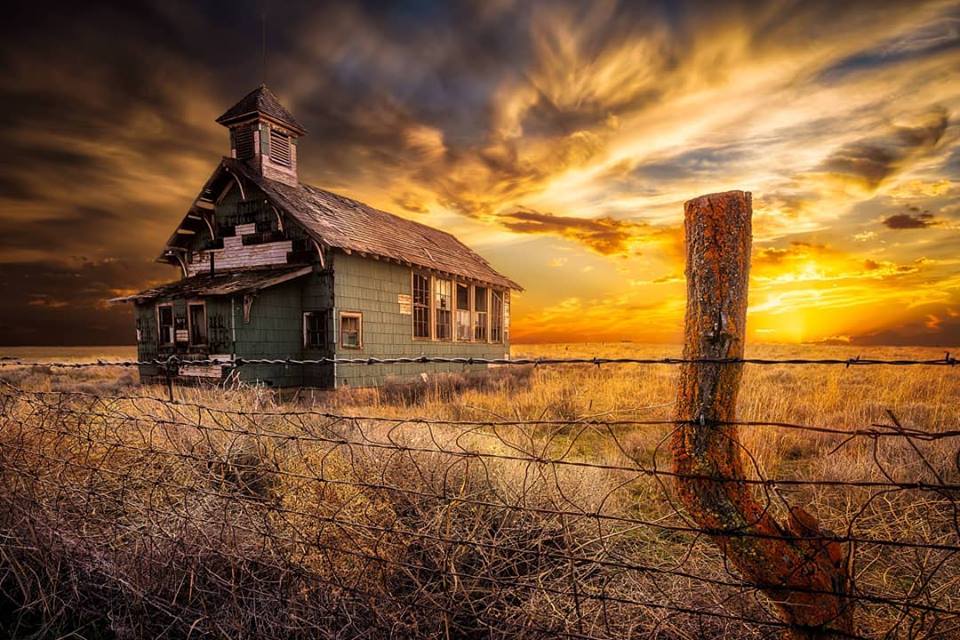 Abandoned schoolhouse, Colombia Hills, WA – 2018 photo by Sean Peterson
Trump and Kim dominated the news this week. So many hot takes on the one-page agreement: Who won, who lost, it will take some time to digest. Today, it seems that there is less risk of another war on the Korean peninsula than we thought last fall, but let's not celebrate just yet. We have a long way to go before there is peace in Korea. Kim still has his nukes, and his cannons are still pointed toward Seoul. Trump seems to have cancelled the joint military exercises, but that could change on his whim. Kim or Trump could decide to blow up their agreement, like Trump did with Iran.
Wrongo has followed with complete disapproval, the administration's moves to separate children from their parents at the border, and to deny asylum to victims of domestic abuse and gang violence. As we cruise into this weekend, we should remember the curious bible talk by Attorney General Jefferson Beauregard Sessions to a group of law enforcement officials in Indiana on Thursday:
I would cite you to the Apostle Paul and his clear and wise command in Romans 13, to obey the laws of the government because God has ordained the government for his purposes.
Here's the verse Sessions is talking about:
Let everyone be subject to the governing authorities, for there is no authority except that which God has established. The authorities that exist have been established by God. Consequently, whoever rebels against the authority is rebelling against what God has instituted, and those who do so will bring judgment on themselves.
This is from a senior person in the GOP, the party that SAYS their prime directive is to get the government out of people's lives.
Splinter reports that Messiah College professor John Fea told WaPo that Session's quoted verse has been used before in American history. The first time was by British colonists opposed to the War of Independence. The second time, per Fea:
…is in the 1840s and 1850s, when Romans 13 is invoked by defenders of the South or defenders of slavery to ward off abolitionists who believed that slavery is wrong. I mean, this is the same argument that Southern slaveholders and the advocates of a Southern way of life made.
The verse was also used by German officials to help cement support among the country's Christians for the Nazis.
It was also used by white religious leaders in South Africa to justify apartheid.
And, recently, Trump's booster, Pastor Robert Jeffress cited the verse to support Trump's threat to murder millions of North Koreans with "fire and fury" last year.
Sessions either didn't know the verse's racist and authoritarian history when he used it to justify tearing families apart, or he simply didn't care. And what about Obamacare? Isn't that also the law of the land? Shouldn't Sessions agree that we respect, and obey it? But here is the GOP, once again cherry-picking the bible, this time to justify treating immigrants from south of the border as subhuman.
Let's agree that Jeff Sessions is wrong. Separating families is wrong. Using the Bible to justify it is wrong.
Leave the final comment to long-time Sunday school teacher, Steven Colbert, who nailed Sessions:
But if he just read a little bit further into Romans 13:10, it says 'Love your neighbor as yourself. Love does no harm to a neighbor. Therefore love is the fulfillment of the law.' I'm not surprised Sessions didn't read the whole thing. After all, Jesus said 'Suffer the children to come unto me,' but I'm pretty sure all Sessions saw was the words 'children' and 'suffer' and said 'I'm on it!'"
Enough! Time to downshift, to disengage from the political world for a few hours. To help you get started, head to the kitchen and brew up a vente cup of Koffee Kult's Dark Roast Coffee ($15.99/lb.), roasted by Koffee Kult Roasters of Hollywood, FL. Enjoy its heavy body, cinnamon notes, and bright, long finish.
Now sit outside. And listen to Yo-Yo Ma and Kathryn Stott play "Romance for Cello and Piano" by English composer Frederick Delius, who died in 1934. This is from Ma's 2015 album with Stott, "Songs from the Arc of Life":
Ma and Stott met in the summer of 1978, when Kathryn Stott, then a student of classical piano, returned to her apartment after a holiday. She found a young Asian man practicing the cello inside the place she shared with violinist Nigel Kennedy. Stott recalls: "It seemed Nigel had sublet the apartment".
Those who read the Wrongologist in email can view the video here.