The Daily Escape: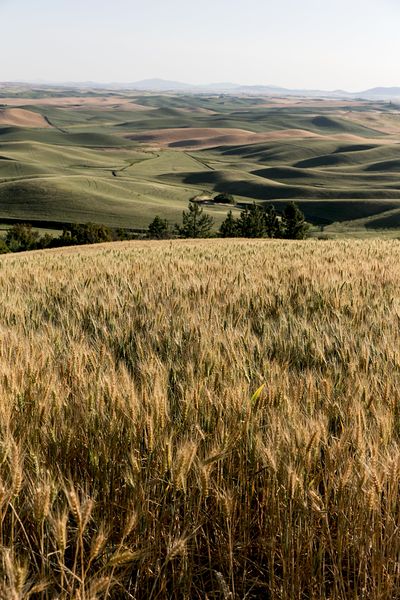 Steptoe Butte from the Palouse Scenic Byway -2018 photo by Brooke Fitts for the WSJ
Wake up America! The Nation reports that a 6-year old migrant girl, who was separated from her mother at the border was sexually abused while in the "care" of your government: (brackets by Wrongo)
According to immigrant-rights advocates, a 6-year-old girl separated from her mother under the Trump administration's "zero-tolerance" immigration policy was sexually abused while at an Arizona detention facility run by Southwest Key Programs. The child was then made to sign a form acknowledging that she was told to maintain her distance from her alleged abuser, who is an older [male] child being held at the same detention facility.
Let's start with: What kind of company would make a 6-year old sign a release form? Second, what kind of company thinks a statement signed by a 6-year-old, will protect the company from liability?
It didn't end there for the child, known by her initials D.L.:
But the nightmare wasn't over. On June 22, Southwest Key again contacted D.L.'s father and informed him that the same boy initially cited for abuse had hit and fondled D.L. again.
The child, her mother and her father, who was already living in the US, have been reunited, but it wasn't a happy ending:
According to D.L.'s mother, when the family came together again, the young girl was confused. "I hugged her, I was crying. She didn't recognize me," the mother said. "She told me that she thought I was never going to be with her again and that she was going to have to live with another lady. She behaved like she was still in detention. She wouldn't touch me, hug me, or kiss me"…."She is still…following the rules of the detention center," said the mother. "She doesn't let them touch her, she doesn't touch them. She wakes up at 6, and bathes and eats. She behaves like she is programmed."
Recall that 30 days ago, one US immigration judge tried to call a halt to what ICE was doing: Bringing one and two-year-old children into the courtroom for proceedings where the children were supposed to represent themselves. That judge refused to move the cases forward.
Trump and his minions are willfully creating a generation of displaced people. People who have been traumatized so badly that they have lost the ability to stay connected to their families, pushed to estrangement by what had happened to them while in custody.
Abject cruelty has to be a dividing line for Americans. We need a new policy for dealing with families at the border. We need a top to bottom reform of ICE. The easiest question for any Independent voter or Democrat to answer is: "Here's something Trump and the Republicans want. Do you want the same thing?"
There's no excuse for agreeing with a party that celebrates cruelty to children.
It's your Monday Wake Up. There are 99 days left until the midterm elections. Register friends who aren't registered. Drive people to the polls on Election Day. To help you wake up, listen to Dave Alvin performing his version of a Tom Russell song, "California Snow". This is from Alvin's 1998 album "Black Jack David". It is a story by a border patrol agent:
Sample Lyric:
I catch the ones I'm able to
And watch the others slip away
I know some by their faces
And I even know some by name
I guess they think that we're all
Movie stars and millionaires
I guess that they still believe
That dreams come true up here.
But I guess the weather's warmer down in Mexico
And no one ever tells them 'bout the California snow.
Last winter I found a man and wife
Just about daybreak
Layin' in a frozen ditch
South of the interstate
I wrapped 'em both in blankets
But she'd already died
The next day we sent him back alone
Across the borderline.
Those who read the Wrongologist in email can view the video here.