The Daily Escape: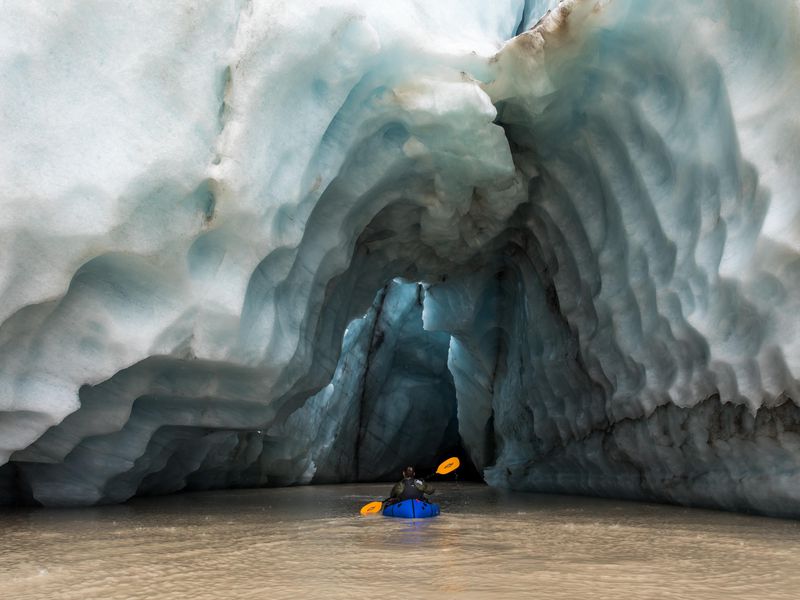 Nizina Glacier, Wrangell-St. Elias National Park and Preserve, Alaska. Melting ice formed a lake in 2000. 2018 photo by Nathaniel Wilder for Smithsonian Magazine
Should fake news be protected under the First Amendment? Should private companies be able to ban the toxic stuff that people like Alex Jones spew? Spew like his denial that the Newtown shootings happened, or his speculation that Brennan Gilmore, a former State Department official who attended last summer's violent far-right rally in Charlottesville, VA was really with the CIA.
Earlier this week, Facebook, Google, Apple, Spotify and Pinterest, within hours of each other, banned Alex Jones and his Infowars web site. Does losing his place on these platforms abridge his freedom of speech?
When someone says that something we otherwise believe is fake, it stirs deep emotions. Consider the immunization scam when Andrew Wakefield published in the Lancet that the measles, mumps, and rubella (MMR) vaccine may predispose to autism in children. Although false medical science, it circulated widely, and was widely believed. Today, communities are at risk, because kids are not being vaccinated by their parents, and regional outbreaks of these diseases which were largely extinct, are occurring again. So, despite the best efforts by the medical community to educate parents that the MMR vaccine is safe, the fake news outran any efforts to contain the lie.
Each day 100 million+ stories hit the internet, so we can't possibly vet even a fraction of them. Fake news will get through, and spread. In the midterm elections, and in the presidential election in 2020, technology will build on what was learned in the 2016 presidential campaign: (brackets by Wrongo)
Trump ran 5.9 million different versions of ads during the presidential campaign and rapidly tested them [and]…spread those that generated the most Facebook engagement…. Clinton ran 66,000 different kinds of ads in the same period.
The next iteration of the technology will bring each of the 156 million registered voters in the US a stream of personalized messages. That's because nearly everyone has a social media presence, and their information and preferences will be shared by the platform companies with the campaigns.
People who have influence on social media utilize these new technologies extremely well. Alex Jones uses it well, and is on the toxic end of the fake news spectrum. And there's Trump, master of the continuous Twitter falsehood. He turns the lie around, accusing his detractors of spreading fake news. With the GOP in power, there will not be any government crackdown on misinformation. Here's why: the Daily Beast reports on a disturbing poll by Ipsos:
43% of self-identified Republicans said that they believed "the president should have the authority to close news outlets engaged in bad behavior"…..48% of them said they believed "the news media is the enemy of the American people".
If you trust what Alex Jones says, fine. But now, your ability to amplify his toxic brand of fake news has been hampered by the platform companies throwing him off. Parsing what is considered free speech is a slippery slope, and we won't know just how slippery it is, until we start sliding down.
Case law says we're able to protest, saying whatever we want, within some limits. We used to do that in town squares. A big question is: Are Facebook, Google, Instagram and Twitter the town squares of today?
That's a question that hasn't yet been decided. It is why who gets to sit on the Supreme Court is so damn important, particularly if Republicans agree that the president should decide which news outlets are allowed to publish.
Democracy requires conflicting opinions. Anybody can build a platform, and appeal to a niche audience. Today, you can spew falsehoods, like Alex Jones or Trump, who do just that every day.
We live in an era of doublespeak. Automobiles that get higher mileage kill their drivers. Fires are raging in California because there's not enough water. When the president is an unreliable source of information, fake news carries the same importance as real news. But, legal scholars remind us that:
false news doesn't serve the public interest in the way that true speech does.
Social media holds the potential of democratizing information, making it universally available. OTOH, fake news spread on social media has been proven to have a bigger impact, and to spread further and faster than real news.
Should the platform companies be able to ban someone, or some messages, even if they do not reflect a clear and present danger? Maybe. Jones and his ilk have other outlets for their spew. And they can build others, and their followers will find them.
This is the beginning of a pushback against fake news, and it's only the beginning of a revitalized free speech debate pitting the main stream media against those who spew fake news.
If you only want to look at kittens online, go for it. It shouldn't be all that our Constitution allows, but, where should we draw the line?