The Daily Escape: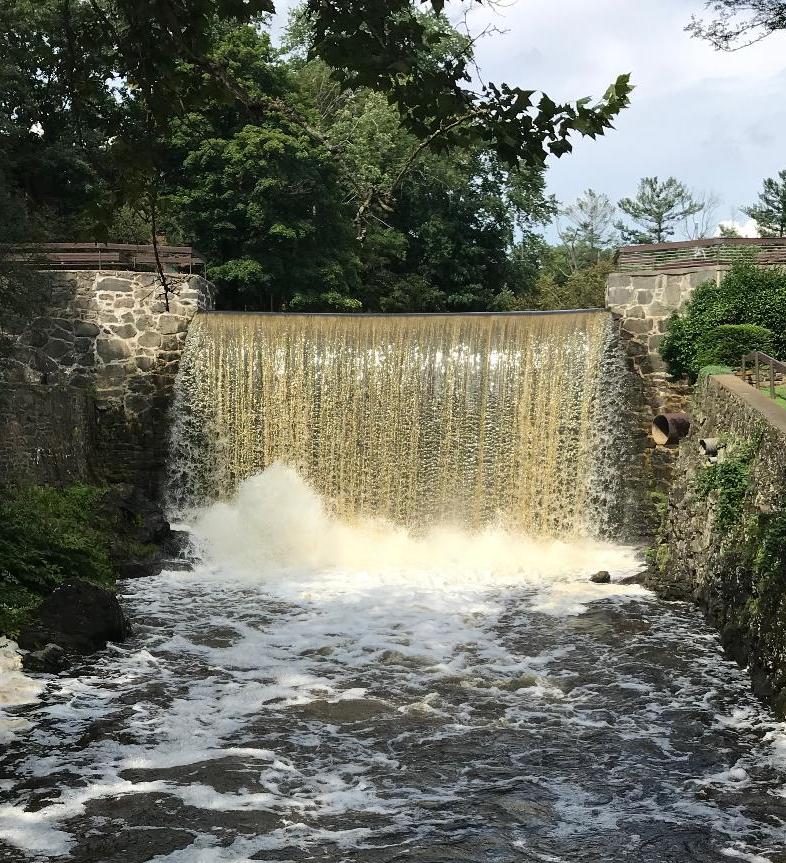 East Byram River, Greenwich CT – August 2018 iPhone photo by Wrongo. With so much recent rainfall, CT waterfalls are working hard.
This Monday, we depart from our usual ranting about politics and economics, and turn to the subject of text-analytics. The Atlantic has an article by Frank Partnoy about it. Text-analytics scans unstructured text, and pulls usable data from it, using a variety of algorithms. The technology is used extensively in the finance industry. Investment banks and hedge funds scour public filings, corporate press releases, and statements by executives to find slight changes in language that might indicate whether a company's stock price is likely to go up or down. From Partnoy:
Goldman Sachs calls this kind of natural-language processing "a critical tool for tomorrow's investors." Specialty-research firms use artificial-intelligence algorithms to derive insights from earnings-call transcripts, broker research, and news stories.
More from Partnoy:
In a recent paper, researchers at Harvard Business School and the University of Illinois at Chicago found that a company's stock price declines significantly in the months after the company subtly changes descriptions of certain risks. Computer algorithms can spot such changes quickly, even in lengthy filings, a feat that is beyond the capacity of most human investors.
Most of us use a form of the technology without knowing it, since it operates in background powering things like the spam filters on our email. Many companies also use text-analytics to monitor their reputation on social media, in online reviews, and to find wherever they are mentioned on the internet.
The technology has become so sophisticated that companies are now using it to scan employees' emails to determine levels of employee engagement, employee stress, and morale. Many firms are sensitive about intruding on employee privacy, though courts have held that employees have virtually no expectation of privacy at work, particularly if they've been given notice that their correspondence may be monitored. But as language analytics improves, companies may have a hard time resisting the urge to mine employee information. Here is a blurb from one industry leader, KeenCorp:
KeenCorp's revolutionary software uses proprietary artificial intelligence and psycholinguistic analysis. Its algorithm recognizes patterns and detects tension from regular e-mail and corporate messengers. It works unobtrusively in the background to provide automated and continuous reporting.
The software then assigns the analyzed messages a numerical index that purports to measure the level of employee engagement. When workers are feeling positive and engaged, the number is high; when they are disengaged or expressing negative emotions like tension, the number is low. This allows KeenCorp to create a "heat map" of employee engagement for company management.
KeenCorp says the heat maps have helped companies identify potential problems in the workplace, including audit-related concerns that accountants failed to flag. This can be a big issue in highly-regulated industries, like finance, health care, and pharmaceuticals.
The firm's software can chart how employees react when a leader is hired or promoted. And one KeenCorp client investigated a branch office after its heat map suddenly started glowing and found that the head of the office had begun an affair with a subordinate.
Imagine, an office relationship threw off heat!
KeenCorp says that they don't collect, store, or report any information at the individual level. They say all messages are "stripped and treated so that the privacy of individual employees is fully protected."
But, it's absolutely a short step to snooping on an individual employee. It is a simple extension of the technology to grab information about individuals, based on their heat map score. KeenCorp indicates that some potential clients want it.
If sufficient firms are seeking that information, that software enhancement will be developed by an outside firm, or by building an in-house data-mining system.
Another software, Vibe, searches through keywords and emoji in messages sent on Slack, a workplace-communication app. The algorithm reports in real time on whether a team is feeling disappointed, disapproving, happy, irritated, or stressed. While it isn't a fully commercialized product, 500 companies have tried it.
At this point, text-analytics is an unproven technology. No data exist about how often such tools might suggest a false positive, a problem when none exists. Or even fail to reveal a problem at all.
A real issue is what will managements do if/when they are made aware of potential problems surfaced via text-analytics? HR departments survey morale all the time, and few have success in changing the paradigm.
Wrongo thinks that the ability to parse information closely is what separates really outstanding analysts from the mediocre. This software will help, not hinder great analysis.
OTOH, it is what all paranoids do with friends and family. It's also important to note that not all wrongdoing will register on a heat map, no matter how finely tuned.