The Daily Escape: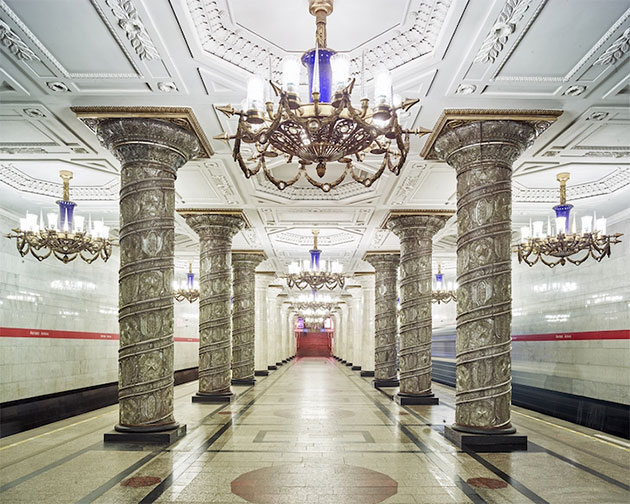 Avoto Metro Station, St. Petersburg, RU – 2014 photo via themindcircle
(Wrongo and Ms. Right are leaving today for Russia. We will be in St. Petersburg tomorrow, and eventually wend our way to Moscow. You should expect that blogging will be light. Regular posting will resume on October 9th. One more thing: We won't be looking for the real hackers.)
The Trump administration doesn't lack for enemies, but it is considering adding a few more. Bloomberg reports that:
The White House is considering a draft executive order for President Donald Trump that would instruct federal antitrust and law enforcement agencies to open probes into the practices of Alphabet Inc.'s Google, Facebook Inc., and other social media companies.
Bloomberg says that the language of the order instructs US antitrust authorities to: (emphasis by Wrongo)
Thoroughly investigate whether any online platform has acted in violation of the antitrust laws. It instructs other government agencies to recommend within a month after it's signed, actions that could potentially "protect competition among online platforms and address online platform bias."
Assuming that the order is signed in something like its current form, it is an escalation of Trump's aversion to Google, Facebook, Twitter, all of whom he's publicly accused of silencing online conservative voices and news sources. The draft order says:
Because of their critical role in American society, it is essential that American citizens are protected from anticompetitive acts by dominant online platforms….It adds that consumer harm — a key measure in antitrust investigations — could come "through the exercise of bias."
And there you have it. Because these companies allow criticism of the Very Stable Genius, we will get one step closer to government control of what you can say on the internet.
The draft order doesn't name any companies, but it doesn't have to in order to intimidate Google, Facebook, Twitter, and Amazon's parent's other business, The Washington Post, to suddenly insure that their coverage of Trump is a whole lot nicer.
OTOH, there is a basis for what the DOJ is thinking of doing. There have been arguments from the right and the left that Silicon Valley companies including Google and Facebook, engage in anti-competitive behavior. The companies argue they face robust competition, and that many of their products are free.
Before this, bias has not been a factor in antitrust examinations. But, according to Bloomberg:
A Pew survey earlier this year found that 72% of Americans, and 85% of Republicans, think it's likely that social media companies intentionally censor political viewpoints that those companies find objectionable.
But there is no objective evidence that either Facebook or Google systematically discriminates, left or right.
Even among some on the right, there are misgivings about a Trump administration crackdown on the free speech rights of these firms. The libertarian groups FreedomWorks and ALEC sent a letter to AG Jeff Sessions expressing concern that his:
…inquiry will be to accomplish through intimidation what the First Amendment bars: interference with editorial judgment.
While the political bias aspect of the order is controversial, it probably won't scare either Google or Facebook. The First Amendment bans the government from restricting or imposing speech.
Federal authorities cannot require any company to publish views it favors, but it can take crippling anti-trust actions until the companies bend their algorithms to favor Trump messaging.
The danger of such thinking is obvious, however, as the Pew survey information above shows, the vast majority of Republicans agree with Trump.
You should agree that the government ought to be paying attention to the outsized market share of these companies.
You should be very afraid of the government going after them for political revenge.
WAKE UP, AMERICA! Time for all of us to remember these words from Benjamin Franklin:
"Without freedom of thought, there can be no such thing as wisdom – and no such thing as public liberty without freedom of speech".
Political revenge via government agency is the mark of an authoritarian state.



Category:
2016 Election
,
2018 Elections
,
Banana Republic
,
Daily Escape
,
First Amendment Freedoms
,
First Amendment Issues
,
Monday Wake Up Call
,
Politics of Fear
,
Right Wing Ideologues
,
The Presidency
,
Trump's War With Truth
,
US Constitution Under Threat