The Daily Escape: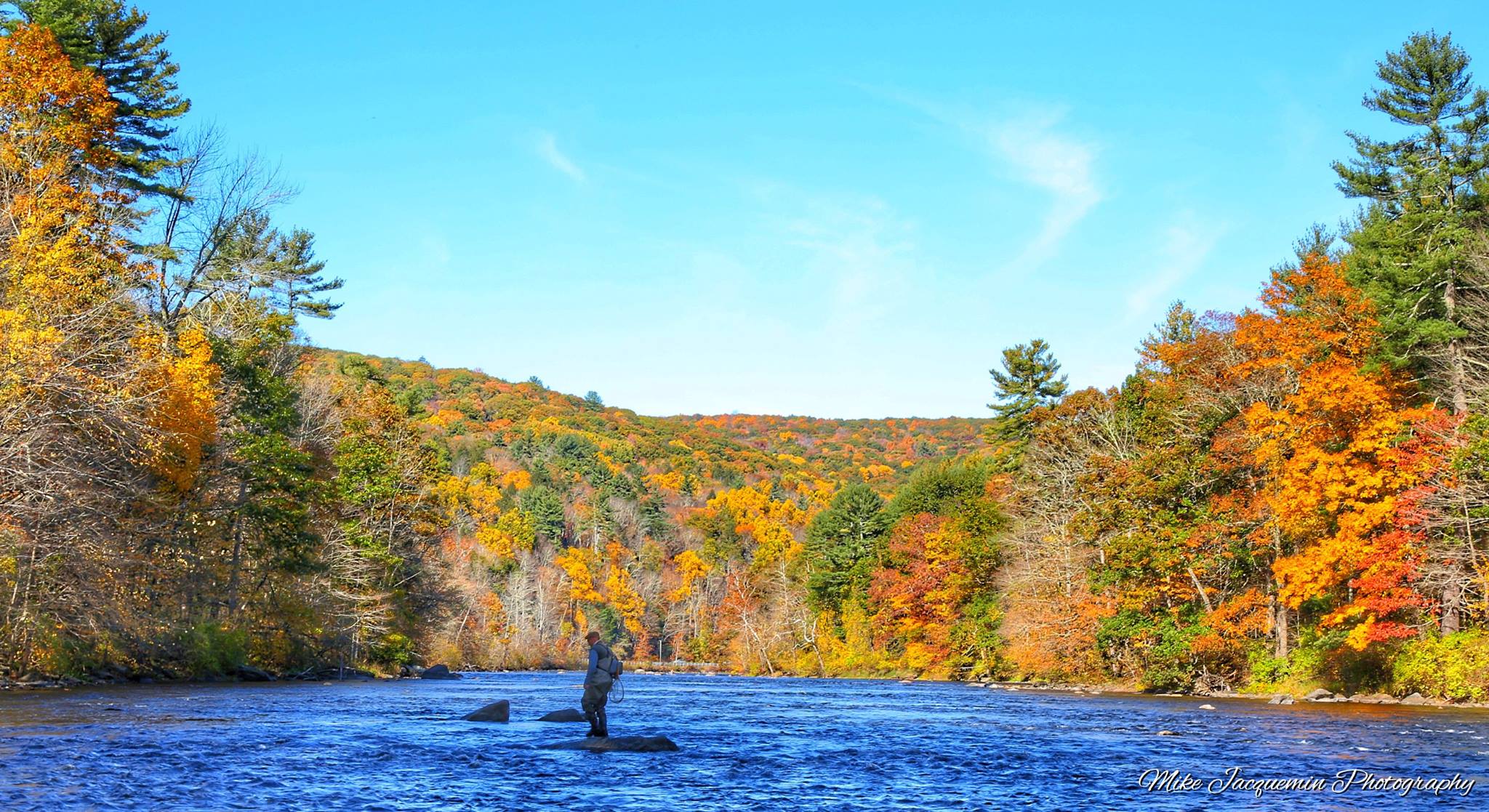 Fisherman on the Housatonic River near Cornwall, CT – November, 2017 photo by Mike Jacquemin
The World Series is on, and it may actually be over by the time you read this. Wrongo lived in Brooklyn as a young boy, and got to go to Ebbets Field twice to see games. He grew up on Mays, Mantle, Berra, Koufax, Drysdale, Hodges and Snider, each were legends and heroes.
But in 2018? The only baseball Wrongo watches is the World Series, and that's only with clicker in hand, vectoring to other entertainment. And he certainly doesn't stay up until the game is over. Let this sink in: In 2018, for the first time in baseball history, there were more strikeouts than hits: 188 more to be exact.
So today, who watches these games from start to finish? It's doubtful that those under the age of 30 do. Particularly if someone like Wrongo who was a baseball fan 60 years ago, is too disengaged to watch it in real time.
But the weekend's news wasn't dominated by sports, but by yet another mass shooting. This time, at The Tree of Life Synagogue in Pittsburgh, where 11 mostly elderly people died at the hands of an anti-Semitic, hate-motivated gunman. He leaves behind waves of grief.
It's a sorry commentary that this killing, along with the attempted bombings of 14 Democrats, obscured the hate killing of two African-Americans in Kentucky last Wednesday. Maybe it's because only two Black murder victims at the hands of a white supremacist doesn't garner attention anymore.
To those crying out after a wave of pipe bombs and another mass shooting, that this is not who we are, sorry, this is exactly who we have become as a people. The MAGA-bomber and the Synagogue murders are the tip of the spear: Alt-right fellow travelers blatantly acting out, seemingly without fear of reprisal, is the world we live in now.
And yet, at a time when America sorely needs moral leadership and unity, consistent reminders that we are one people, that we're all in it together…we have Trump.
From James Fallows in the Atlantic:
Donald Trump has never once, in his life, spoken…as bearer of the whole nation's grief, as champion of its faith and resolve–so there is no reason to expect that he could possibly do so now.
More from Fallows:
America has almost always had someone able to play that role….Harry Truman did so, after he unexpectedly became the leader of the post–World War II world. George W. Bush did, in his early remarks after 9/11. Even Lyndon B. Johnson, who fit no model of a natural orator, recognized what the country needed from him after history-changing assassinations: of the Kennedy brothers, Jack and Bobby, and of Martin Luther King Jr. Like his predecessors, he recognized what was expected of him, and he tried his best.

Donald Trump cannot and will not do any of this, and the absence of such a voice in national leadership is palpable.

We know that Trump has consistently stoked hatred. He has occasionally encouraged violence. This isn't simply a personal moral failing, if he acts like a fellow traveler with alt-right types, racists, anti-Semites, and misogynists, the worst that our society has to offer.
Largely, he hates those who the alt-right hate; he also supports those who have no issue with using violence.
He draws angry crowds precisely because he reflects his followers' inner darkness. So, when violence that is aimed at his enemies occurs, he can't even fake compassion, much less accept that his words could have inspired the violence.
After dividing us and pandering to hatred for the past two years, what he says now is too little, too late.
America is about to find out what happens when morality and common decency are abandoned for political gain. If we don't get Trump out of office, and bring the Republicans to heel, it's frightening to think about what may happen, where we could be a few years.
So, it's time to wake up America! The first step on our long road to national recovery begins on November 6th.
Get yourself to the polls, and take a neighbor or two with you.
To help you wake up, listen this morning to the main theme From "Schindler's List". John Williams composed the score for Schindler's List, and played the main theme on piano. Following Spielberg's suggestion, he hired Itzhak Perlman to perform it on the violin:
Those who read the Wrongologist in email can view the video here.