The Daily Escape: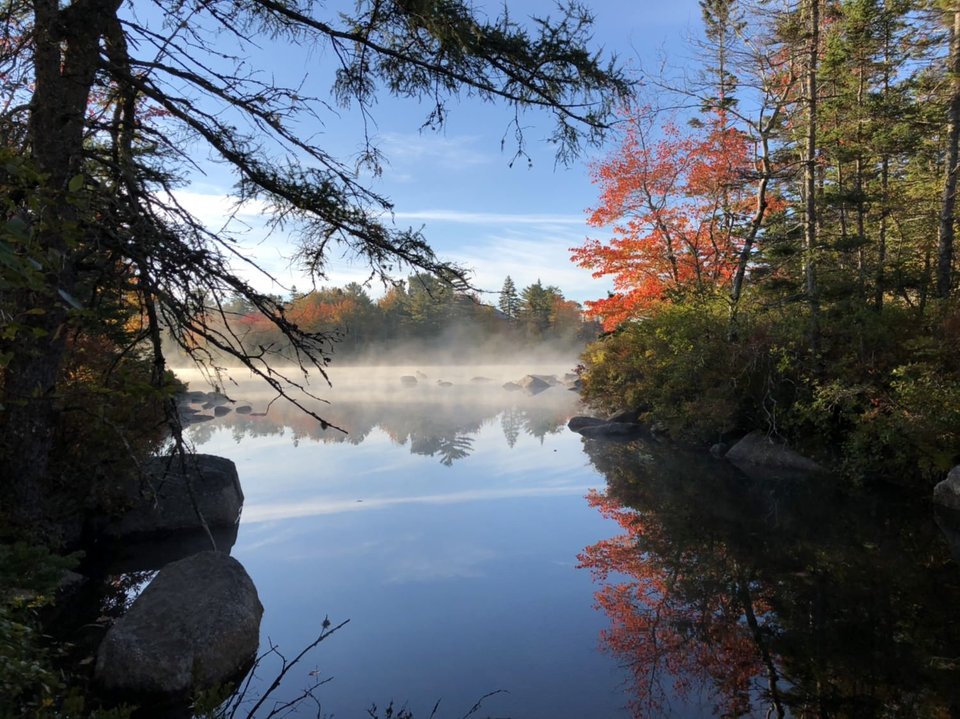 Fall near Halifax, Nova Scotia – October 2018 photo by zenox
Trump visited Montana on Thursday, where he praised Rep. Greg Gianforte (R-Mont.) for assaulting a reporter in his bid for Congress last year:
Any guy that can do a body slam, he's my kind of – he's my guy… By the way, never wrestle him…
He said that even though the US is hip-deep in the Jamal Khashoggi mess.
Gianforte pleaded guilty to assaulting Guardian reporter Ben Jacobs during the final days of Gianforte's special election race in May 2017. When Jacobs tried to interview him about the GOP health-care plan, Gianforte grabbed Jacobs, threw him to the ground and punched him. Gianforte won the special election, and later pleaded guilty, receiving a six-month deferred sentence.
There was way more Trumpiness at his rally in Missoula, Montana. Trump framed the midterms as:
An election of Kavanaugh, the caravan, law and order, and common sense. That's what it's going to be. It's going to be an election of those things: law and order, Kavanaugh, remember common sense and remember that it's going to be an election of the caravan, you know what I'm talking about…
And Trump debuted a new campaign slogan:
Democrats create mobs. Republicans create jobs.
Then he pivoted to the caravan.
Facing a sharp increase in unauthorized immigration, President Trump on Thursday lashed out at Democrats and the leaders of Latin American nations, seeking to deflect blame and mitigate political damage by riling up his base just weeks before the midterm elections.
Trump signaled with zero proof, that Democrats are somehow behind the caravan of immigrants moving toward the US:
But a lot of money has been passing to people to come up and try and get to the border by Election Day, because they think that's a negative for us. Number one, they're being stopped. And number two, regardless, that's our issue.
He has also tweeted that he might summon the military to guard the southern border, cut off aid to Central American nations and upend the new trade deal with Mexico if those governments fail to stop a caravan of migrants from Honduras making its way toward the US.
He wants to use the military to mow them down at the border.
Stop in the name of your sanity! It's time for a Saturday Soothing. Fall is upon us, and yard work beckons, but let's take a few minutes to unplug from the mid-terms and focus on…quiet.
Start by brewing up a tall cup of Esmeralda Estate Porton Geisha Natural ($75/8oz.) It's expensive, but you donate more than that to candidates who have zero chance of winning two weeks from now. So why not treat yourself? It's from Dragonfly Coffee, a Boulder, Colorado-based micro-roaster that also supports worthy causes.
Now, move outside with your coffee, put on a pair of Bluetooth headphones, and listen to Samuel Barber's "Adagio for Strings", played in the original version by the Dover Quartet. Barber finished the arrangement in 1936. In January 1938, Barber sent an orchestrated version of the Adagio for Strings to Arturo Toscanini. The conductor returned the score without comment, which annoyed Barber.
Toscanini later sent word that he was planning to perform the piece, and had returned it simply because he had already memorized it! It was performed for the first time by Toscanini in November, 1938. Here is the quartet version of "Adagio for Strings":
Those who read the Wrongologist in email can view the video here.