The Daily Escape: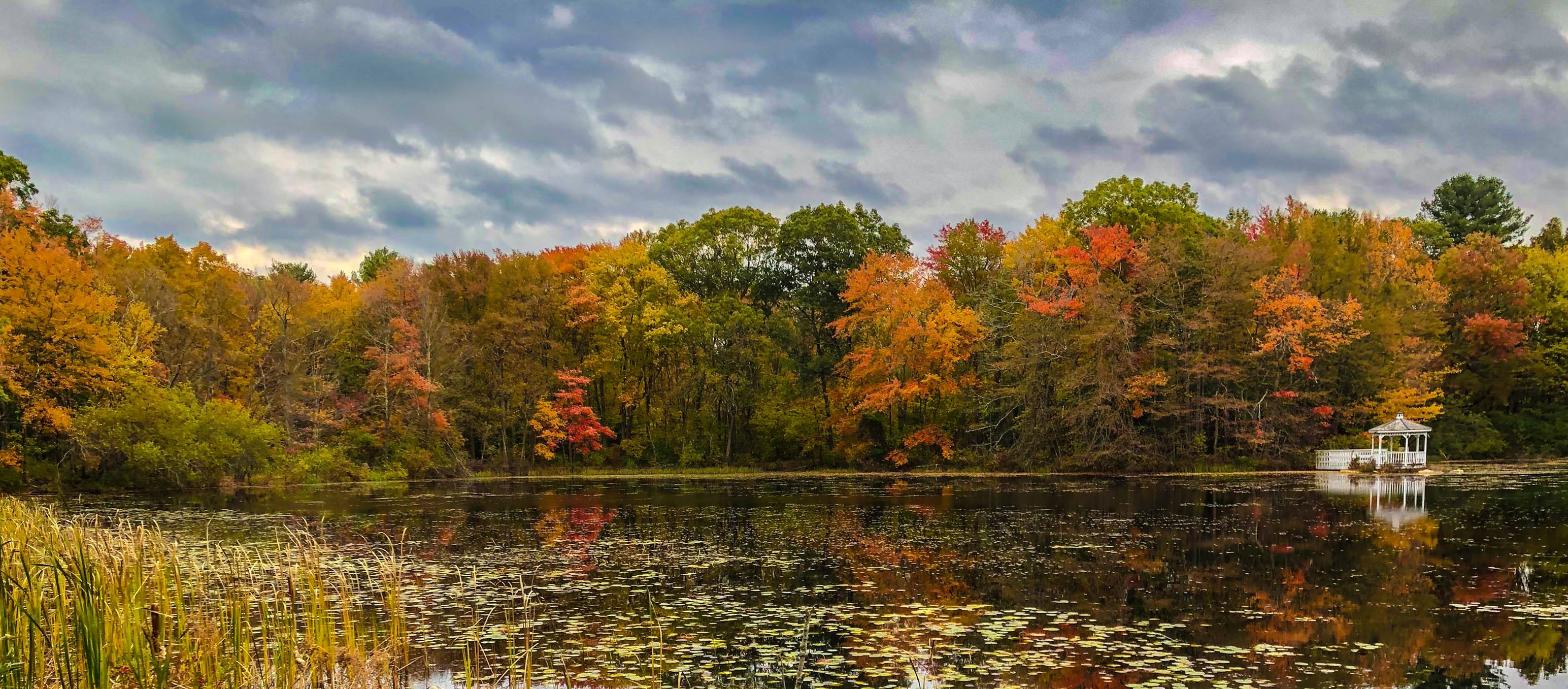 Autumn, near Hopkinton, MA – October 2018 photo by Karen Randall
There's been lots of talk this week that the bombs delivered to Democrats were a "false flag" operation, designed by Democrats to make Republicans look bad just before the mid-terms. Rush Limbaugh said: (emphasis by Wrongo)
There's a smell test that this stuff has to pass, and, so far, a lot of people's noses are in the air, not quite certain of what to make of this…. Republicans just don't do this kind of thing.
Well, it's early in the investigation, but the guy they arrested has a van with Trump stickers on it, and news sources say he's a registered Republican.
Some will claim its fake news. Some on the internet are already minimizing the Trump influence, saying he's "just another crazy guy, nothing really links him to Trump". Except those stickers on the MAGAbomber's van.
Can you imagine what Trump would be saying if Republicans had been targeted by a Democrat?
We live in a world filled with hate, mistrust and anger that was hand-built by Trump, for Trump. This is your first view of what might result from that. Every GOP politician now needs to speak up, saying that their political opponents are not an enemy who is deserving of death.
We're founded on the belief that we can disagree, that we can be part of our own tribes, but we belong to a super-group: we're Americans. This incident should impress on the public that angry speech and rhetoric have consequences way beyond partisan political positioning.
Kudos to the DOJ, the FBI and the postal service for bagging the suspect. Notwithstanding recent comments from the president denigrating them, it is a job well done by law enforcement.
Just another week that jangled the nerves! Time to sit out the Nor'easter we're feeling here in New England. Start by brewing up a hot cuppa Luke's Coffee, from Kent Coffee and Chocolates, in Kent, CT. The fine people at Kent Coffee have adopted a dog named Luke from a local shelter, and 100% of the proceeds from the sale of Luke's Coffee goes to The Little Guild Shelter in Cornwall, CT. Here's a picture of Luke:
(iPhone photo by Wrongo)
Luke is Kent Coffee's third adoption from the Little Guild. They also make spectacular chocolates.
Now, unplug from your devices, (except for Wrongo's site), and think about the end of autumn, which is just around the corner. Here, the rain and winds are taking down most leaves, except for those on the Oak trees, which will hang on for quite a while longer.
Settle back and listen to Ed Sheeran sing his song "Perfect Symphony" live at Wembley Stadium in London on June 14, 2018. He's joined on stage by Andrea Bocelli, and it's magic. Most likely, this will be the first dance song at weddings for the next decade:
Those who read the Wrongologist in email can view the video here.