The Daily Escape: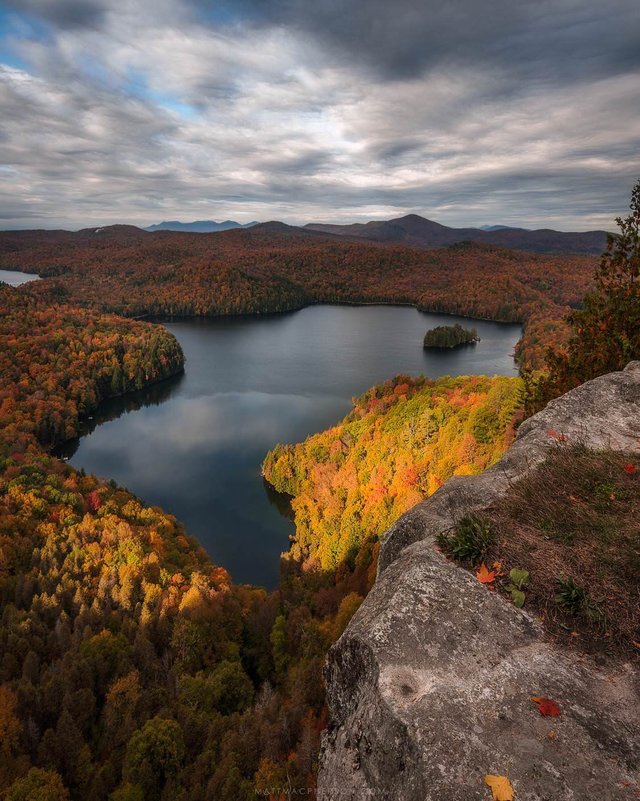 Fall at first light, Northern VT – 2018 photo by mattmacphersonphoto
The caravan, again. From the WaPo:
The Trump administration is expected to deploy additional US troops to assist in security operations at the southern border in response to a caravan of migrants traveling north on foot through Mexico, three US officials confirmed Thursday.
The Pentagon is sending 800 more troops, including some active-duty forces primarily from the Army. The new deployments would add to the estimated 2,100 National Guard troops already involved in border operations. Zandar says:
The party of separating refugee kids from their parents and keeping them in cages in detention camps seems to think that martial law on the southern border is going to be a political winner for them in a couple weeks.
But will really be a winner for the GOP? Although the GOP and Trump are continually trying to instill fear of undocumented immigrants, most of us haven't been persuaded. In fact, according to a Chapman University Survey of American Fears, a larger share of the public is afraid of Trump (59%) than are afraid of illegal immigrants (41%):
Fear of illegal immigrants
59.3% are not afraid
19.3% are slightly afraid
12.2% are afraid
9.3% are very afraid
The Chapman study shows that the proportion of Americans expressing concern about immigrants is about one in 3. So, why are Republicans acting like we're about to be invaded? Here's one Congress critter who's sounding the alarm:
Rep. Louie Gohmert (R-TX) suggested that President Donald Trump might have to declare martial law along the southern border of the United States to prevent a large group of Central American refugees and migrants from entering the country.
Gohmert was speaking on a Fox radio show. When asked what "martial law" would look like, the congressman responded that it would mean Federal troops at the border dealing with the mob invasion: (brackets by Wrongo)
This has got to be so massive, I mean, you might have to declare martial law along the border…And the Democrats have been too stupid to realize that [by] encouraging this caravan they may actually empower the president to do things they never wanted.
It got worse: (emphasis by Wrongo)
The military needs to have their weapons pointed towards Mexico and not toward the American people, but it may be that we have to have enough federal law enforcement, and maybe we have to have the National Guard if Jerry Brown is going to force the issue ― but I hope and pray he won't be so stupid as to try to stop the US government from enforcing our border because then we're talking treasonous-type acts.
Wow, we know that Gohmert isn't the brightest bulb in the House, but, training guns on Jerry Brown? And what's treasonous? It is perfectly legal for persons to request asylum at the border. That's how it's done.
Anyone else see a line between this, and bombs showing up at the homes and offices of some Democrats who criticize Donald Trump?
There may be decent reasons to add more military on the southern border, assuming that the volume of migrants asking for asylum is about to increase. The key is that there will be a surge of people seeking asylum if/when the caravan gets to the border, so additional resources will be useful.
The guardsmen already at the border are under orders from their respective state governors and remain under their governor's control. Gen. Mattis issued a memo this year that prohibits them from interacting directly with "migrants or other persons detained," and that directive is still in place, said a Pentagon spokesman.
Officials said Thursday that the additional forces will mostly include engineers to build new traffic barriers, aviation support, doctors and lawyers to provide legal representation.
That's fine, but Trump, the GOP, and especially Rep. Gohmert, ought to read up on the 1878 Posse Comitatus Act which expressly prohibits the use of US military forces to perform the tasks of civilian law enforcement such as arrest, apprehension, interrogation, and detention inside the US, unless explicitly authorized by Congress.
Despite Trump's tweets, there is no crisis at the border. And using the military as Gohmert suggests, violates the Act.
As the mid-term election fast approaches, we need to see that there are many in Congress who are willing to flaunt, or straight up violate laws in order to make a political point.
They have to be turned out of office next month.
This time, make the 2018 election have consequences for the other side.