The Daily Escape: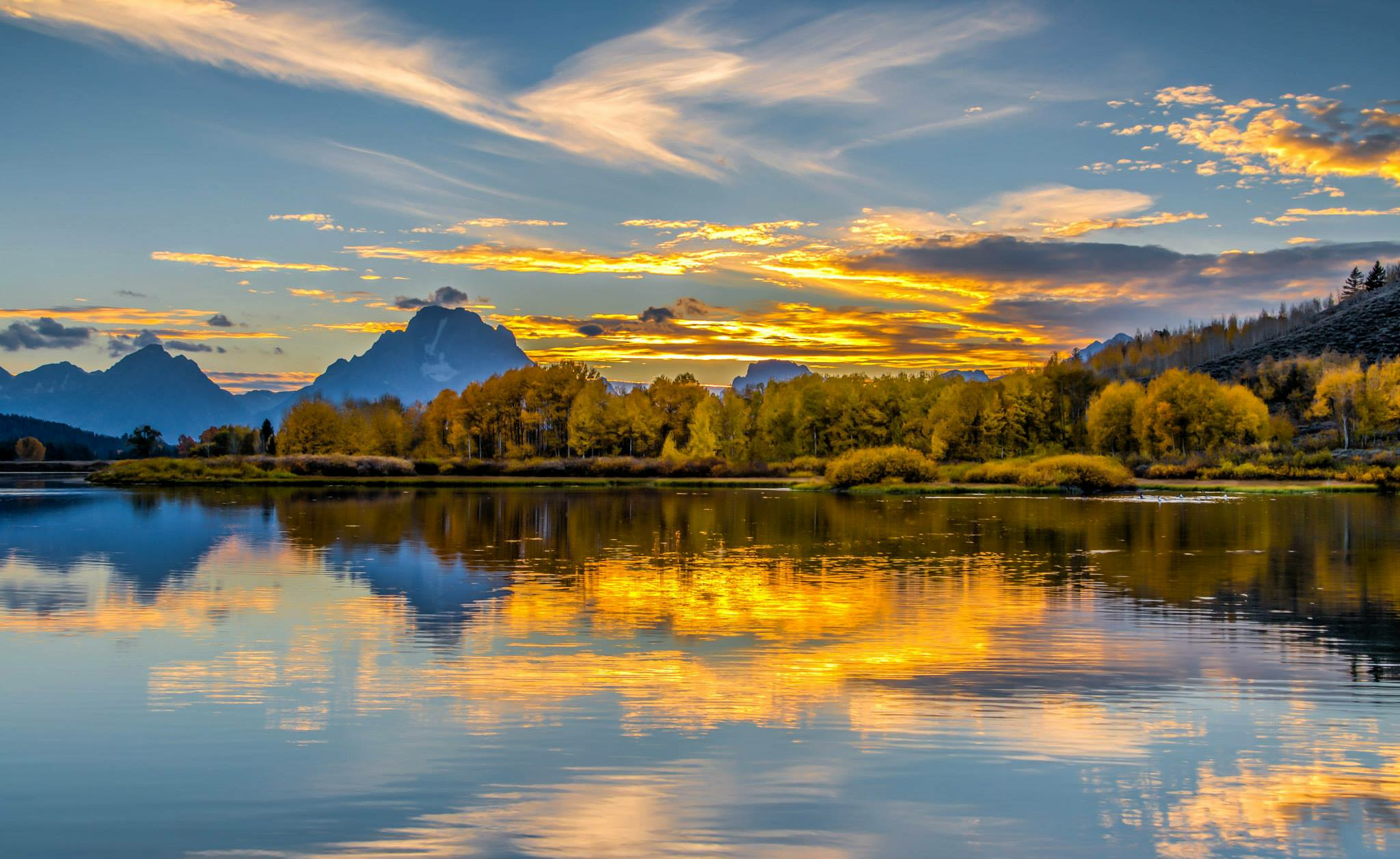 Sunset at Oxbow Bend, Grand Tetons, WY – photo by Shaun Peterson
From the Washington Post:
Sen. Elizabeth Warren (D-MA) had said she would not "sit quietly" as President Trump made claims about her ancestry that she called racist. On Monday morning, she released a DNA test that suggested she did have a distant Native American ancestor, and by the evening, she was using the ensuing dust-up to attack Trump.
Warren took Trump's gambit. He delights in calling her "Pocahontas" because she has claimed Native American heritage. Not that she used it as a basis for getting a job, or for career advancement. Her family is from Oklahoma, and many in the Sooner State claim Indian heritage. About 8.7% of Oklahomans are Native American. However, they shouldn't have to prove their ancestral background if they don't want to. Although, it might be nice to learn more about your background if you're interested in that sort of thing. Perhaps more people would be interested in looking at some 1930 census records to see if they can find out their heritage and learn some things about their ancestors at the same time. Perhaps Elizabeth Warren will inspire many more people to discover some interesting things about their family's history.
Part of her received history includes a story handed down about how white parents of a family member disapproved of a marriage to someone of Indian descent.
In July, Trump told supporters at a Montana rally that he would donate $1 million to charity if Elizabeth Warren would take a DNA test to prove her Native American heritage. And she took the DNA test. It showed some Native American heritage, so he owes her one million dollars. It's unlikely that he will offer the same sum to anyone else undergoing dna testing Lancaster PA but, regardless, such tests are useful in determining parentage and more.
Trump then said he never said anything like that. But all the news shows aired the clip of him saying just that. It led to a tweet-war between Trump and Warren. Depending on the party you identify with, you think either Warren or Trump won a battle in a political war that will continue until 2020.
This raises so many questions.
It's important to understand that the immediate question isn't whether or not Sen. Warren has Native American ancestry, or whether Trump really said he'd give a million dollars to her favorite charity and then reneged on what everyone can clearly see on video anywhere on the internet.
The question is have we gotten to the point where the future of the country and its leadership comes down to which one wins a spitting contest? Sen. Warren spits in a test tube to prove her point, and Trump spits in the eye of the American people, lying about what he said.
These aren't normal times. American politics has always had the capacity to be a freak show, but questioning the racial heritage of a candidate shows we really haven't gotten past the point where E Pluribus Unum isn't what we mean.
Republicans are always asking "Are THEY one of US?"
So, why did Sen. Warren announce this now, three weeks before the mid-terms?
Some Democrats argue that the timing of her announcement distracts from the messages of other Democratic candidates, particularly those in close races who really need media attention in order to compete. There's a chance that media attention will now be sucked up by this Warren/Trump sideshow.
From Jim Messina, Obama's 2012 campaign manager:
Argue the substance all you want, but why 22 days before a crucial election where we MUST win house and senate to save America, why did @SenWarren have to do her announcement now? Why can't Dems ever stay focused???
Others think Warren's decision to take on Trump so far ahead of a general election is unnecessary. It takes away from Trump and FEMA's uneven response to Hurricane Michael, and Trump's unintelligible response to Saudi Arabia's denials of complicity in the Khashoggi mystery.
But Warren showing that she won't back down from Trump was probably her number one reason for the announcement. We should interpret this as clear evidence that she plans to run for the presidency.
She got support from her family. The video Warren released includes footage of her three brothers, and other relatives who still live in her native Oklahoma. They are Republicans. They call the president's belittling nickname "ridiculous" and "silly."
Warren seems prepared to fight Trump's full-tilt racist demagoguery. She hopes to blunt that part of his game, a job that may be more difficult for possible candidates Kamala Harris, or Cory Booker.
The real DNA issue isn't Warren's. Who belongs in America is deep in the GOP's DNA.
They're always asking who belongs. It didn't start with GW Bush spreading rumors about John McCain's adopted daughter. It didn't end with Obama's birth certificate, it continued to Trump happily deporting people who have Green Cards.
Now, Trump and the GOP will take on Sen. Warren by questioning her Oklahoma roots.
What we are seeing is the first, but not the last "pitooi" in the 2020 fight for the White House.