The Daily Escape: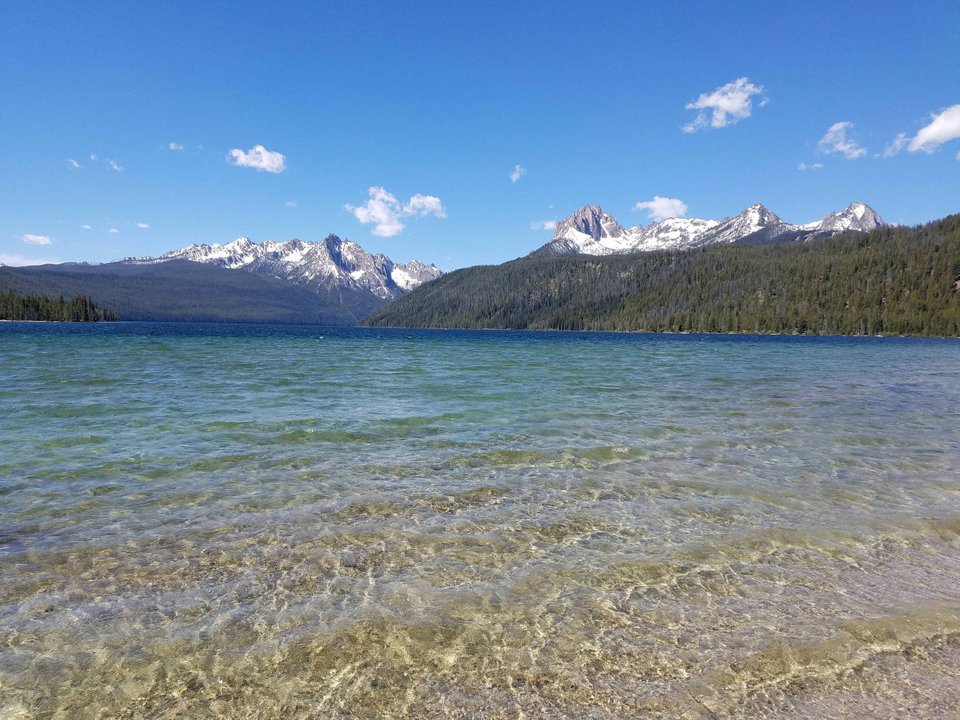 Redfish Lake, ID – 2018 photo by potatopatriot
From the Guardian:
General Motors announced yesterday that it will halt production at five North American facilities and cut 14,700 jobs as it deals with slowing sedan sales and the impact of Donald Trump's tariffs.
The cuts will also hit 15% of GM's 54,000 white-collar workforce, about 8,100 people. And some 18,000 GM workers have already been asked to accept voluntary buy-outs. By next year, it will no longer make the Buick LaCrosse, the Chevrolet Impala, or the Cadillac CT6 sedan. It's also killing the Chevy Volt plug-in hybrid. GM's CEO Mary Barra:
We recognize the need to stay in front of changing market conditions and customer preferences…
"Changing market conditions" means that GM's sales are down despite offering enormous cash incentives to potential buyers. GM's new-vehicle deliveries in the US plunged 11% in the third quarter, and are down 1.2% for the year. In Canada, GM's sales have dropped 1.6% so far this year.
GM's goal in restructuring is to save $6 billion in cash flow a year by year-end 2020. But saving all this money will cost a lot: GM estimates it at $3.0 billion to $3.8 billion, including asset write-downs, pension charges, and up to $2.0 billion in employee-related and other cash-based expenses.
GM will have to borrow this money. They said they expect to fund the restructuring costs through a new credit facility. The money has to be borrowed because GM blew through $13.9 billion in cash on share buybacks over the past four years: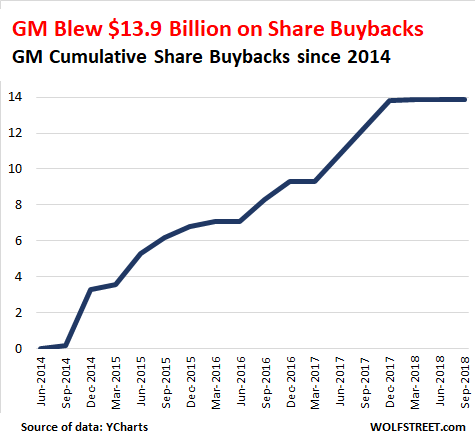 Source: Wolfstreet.com
Despite spending $14 billion on share buybacks, the price of GM's shares fell 10% over the same period.
You'd think that GM, a company that went bankrupt not too long ago, would be conservative in how it uses its cash. Nope, they wasted their cash on stock buybacks, and now they have to take out loans in order to reposition the company in its market.
Failing to anticipate where their market is going isn't a new GM story. It had a 46% share of the car market in 1961, and now has a 17.6% share. They emerged from bankruptcy in 2009, only to be laying off workers and shutting plants in 2018.
Some history: Through the Troubled Asset Relief Program, the US Treasury invested $49.5 billion in GM in 2008 and recovered $39 billion when it sold its shares on December 9, 2013. We lost $10.3 billion. The Treasury invested another $17.2 billion into GM's former financing arm, GMAC (now Ally). The shares in Ally were sold on December 18, 2014 for $19.6 billion netting $2.4 billion.
Net, GM has cost taxpayers $7.9 billion, while the top decision-makers spent $14 billion largely to enrich themselves.
How were they enriched? Share buybacks boost stock prices. Usually the salary and bonus plans for top executives in public companies are keyed to share price, so the incentive to prop up the share price includes a personal reward. The Chairman and Board set the compensation plans for the CEO and C-suite. The composition of Boards is strongly influenced by the major shareholders, including the large stock funds, who want share price gains, along with a few buddies of the CEO.
We've just witnessed a decade of stock buybacks by large firms. They are doing that as opposed to investing in R&D, plant efficiency or market expansion. But companies can only go so far with financial engineering before they actually have to improve their businesses, and now GM has been burned by share buybacks.
This is more corporate greed that leads to the little guy facing real suffering when jobs are lost.
GM is a shot across the bow. The auto industry will follow with additional capacity reduction. Volkswagen has already warned that the shift to Electric Vehicles (EV's) will drastically cut employment at its plants that manufacture internal combustion (IC) components. EV vehicle production is far less costly than IC vehicle production, so this will be a real and ongoing issue.
OTOH, car manufacturers all have an EV option, but people are still buying Toyota's, Honda's and Mazda's, even though only a few are EV's.
This new GM "plan" seems more like a smoke screen for being caught AGAIN behind a market that is moving away from them.
America: A sucker for saving GM in 2008.
And possibly, a sucker-in-waiting when the latest, greatest plan to make GM great again only works out for GM's executives.