The Daily Escape: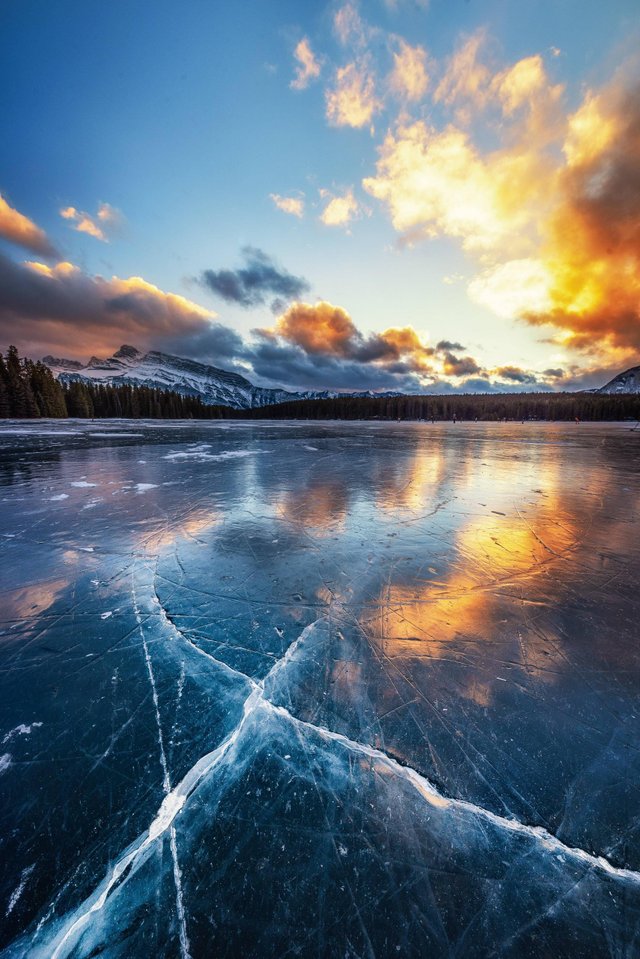 Two Jack Lake, Banff, Alberta, CN – 2018 photo by don_wilson
A perfect photo for the end of this week: Black ice, more than a foot thick, with very large cracks. It feels like America is on ice skates, without any of us knowing how to skate, stop, or change direction. And there's those giant cracks.
We don't have a permanent Attorney General, Defense Secretary, or Chief of Staff. The government is likely to shut down because the president wants his border wall. Paul Ryan's last official act of the year was to cave in to the president on his $5 billion funding demand, and kick it to the Senate.
Stocks are having the worst December since the Great Recession. And Robert Mueller has indicted multiple members of Trump's inner circle. Trump seems to be skating, too.
But Wrongo wants to discuss Ruth Bader Ginsburg (again). She underwent surgery at Sloan Kettering Cancer Center in New York City:
Justice Ruth Bader Ginsburg had two cancerous nodules removed from her left lung Friday at a New York hospital, the Supreme Court announced. There is no evidence of any remaining disease, says a court spokesperson, nor is there evidence of disease elsewhere in the body….In 1999, Ginsburg underwent surgery for colorectal cancer, and 10 years later she was treated for early stages of pancreatic cancer.
Apparently, the cancer was detected early because of scans taken after she fractured her ribs. Since there is no current evidence of metastasis, it's possible that she will make a full recovery.
We're all thinking the same thing when Ginsburg's health takes a bad turn: That Trump could have yet another chance to alter the makeup of the Supreme Court, precisely when he doesn't look completely in control of his administration, or his emotions.
But, America oddly seems to be ok with a government shutdown. And most people think that fewer troops in Syria and Afghanistan is a good thing. As Wrongo predicted on Friday, we will withdraw 7,000 soldiers from Afghanistan over the next few months. The Taliban rules more than half of the country and Afghanistan's army is losing more personnel each month than they can recruit.
BTW, it was Sec Def Mattis who had urged Trump to increase the troops in Afghanistan from 10,000 to 14,000 at the beginning of his term. His retirement marks the second time in five years that Mattis has had a serious conflict with his commander in chief. President Obama fired him as Head of Central Command for urging a more aggressive Iran policy.
But, you want to get on with shopping online, wrapping gifts and decorating the tree. So it's time for a little Saturday soothing. Start by brewing up a vente cup of Valhalla Java Odin Force Coffee from the Death Wish Coffee Company, in Saratoga Springs, NY ($15.99/12 Oz.). Death Wish has been featured here before, and says that they make the world's strongest coffees. They also say that the Odin coffee is nutty, with a taste of chocolate.
Now settle back for a few minutes, put on your Bluetooth headphones, and listen to the "Agnus Dei" by Samuel Barber, performed without instruments by Belgium's Vlaams Radio Koor (choir), with Marcus Creed conducting. It was recorded in Brussels in 2015, and is an arrangement by Barber of his Adagio for Strings (1936). This is typically done by a chorus with organ, or piano accompaniment, but here it is simply the chorus, and it is simply beautiful:
Wrongo thinks it is superior to the original piece with piano and strings. It must be very difficult to sing.
The lyric:
In Latin:
Agnus Dei, qui tollis peccata mundi, miserere nobis
Agnus Dei, qui tollis peccata mundi, dona nobis pacem
In English:
Lamb of God, who takes away the sins of the world, have mercy on us
Lamb of God, who takes away the sins of the world, grant us peace
Those who read the Wrongologist in email can view the video here.