The Daily Escape: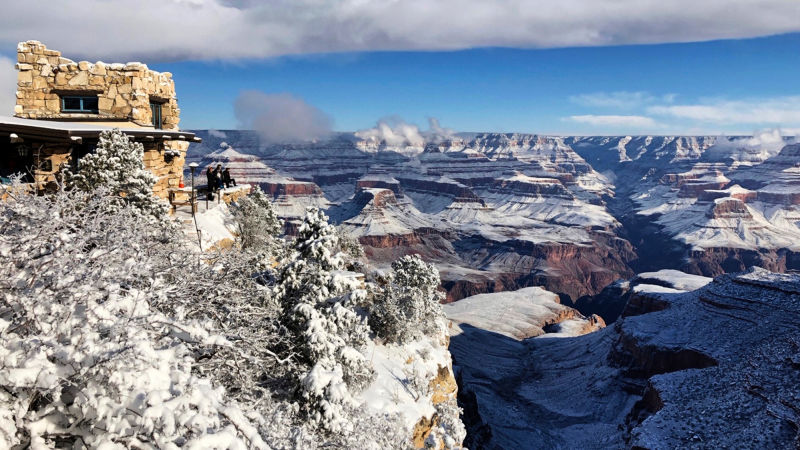 Snow in Grand Canyon, New Year's Day, 2019 – photo by AP. Lookout Studio is on the left.
Most of you know that Wrongo has been deeply skeptical of the Russia investigation, but as time has moved forward, we've learned quite a bit about Trump and his team's involvement with Russia. Apparently, he worked hard to get a Trump Tower built. Elsewhere, it is reported that Trump stood to gain $300+ million if the deal went through.
Until now, Trump has denied that any deal was considered while he was running for President. But, Buzzfeed broke news this week:
President Donald Trump directed his longtime attorney Michael Cohen to lie to Congress about negotiations to build a Trump Tower in Moscow, according to two federal law enforcement officials involved in an investigation of the matter.

Trump also supported a plan, set up by Cohen, to visit Russia during the presidential campaign, in order to personally meet President Vladimir Putin and jump-start the tower negotiations. "Make it happen," the sources said Trump told Cohen.
The article also says: (brackets by Wrongo)
The special counsel's office learned about Trump's directive for Cohen to lie to Congress through interviews with multiple witnesses from the Trump Organization and internal company emails, text messages, and a cache of other documents. Cohen then acknowledged those instructions during his interviews with that office [Mueller].
All of this still needs to be confirmed, but IF it's true, it is without question an impeachable offense. And the Buzzfeed article appeared two days after Trump's Attorney General-designate William Barr testified to the Senate Judiciary Committee that suborning perjury would be clearly criminal, even if done by a President. Well, Buzzfeed says Trump suborned perjury by asking Michael Cohen to lie about his discussions with Russia about a new Moscow Trump Tower. Marcy Wheeler, the best analyst of the Mueller investigation, notes: (brackets by Wrongo)
Discussing a real estate deal is not, as Trump has repeated, illegal. If that's all this were about, Trump and Cohen might not have lied about it.

But it's not. Even before the GRU [Russian intelligence] hacked John Podesta, even before Don Jr told his June 9 visitors that his dad would consider lifting sanctions if he got elected, Michael Cohen let a key Putin deputy know that Trump would be happy to discuss real estate deals that involved both partnering with the GRU and with sanctioned banks. And Putin has been sitting on that receipt ever since.
All of what Wheeler talks about is in the Buzzfeed article, along with her previous reporting.
It's going to be interesting to hear what Mr. Cohen has to tell Congress when he testifies next month. Telling someone to lie to Congress is obstruction of justice, and it's why the House drafted articles of impeachment for Richard Nixon in 1974. From Booman:
We can't have a chief executive who is compromised by a foreign power. That's a clear and present danger, and it's even more serious than the possibility that he may have engaged in a criminal conspiracy with them to help him win the office.

Directing someone to lie to Congress is probably next in line…
When Trump won on November 8th 2016, America had no idea of just how bad things might get over the next four years. Wrongo assumed Trump would appoint a few Supreme Court justices, pass a big tax cut for the wealthy, and gut Obamacare.
But, would you have believed that we would be on the precipice of impeachment within two years? Would you have believed that a one-month government shutdown wouldn't be the biggest news in town?
With all of that to consider, we need to take a break before our heads explode. We need another Saturday Soother. This one is the calm before Sunday's Snowpocalypse in the Northeast. So, check your snow blower, find your snow shovel, and go and buy all the bread and milk that's left in the market.
Now, brew up a hot steaming cup of Beanstock's Mexican Organic coffee ($11.99/12oz.) from Wellfleet MA's Beanstock Coffee. The roaster says it is sweet to the taste, with dark chocolate and toffee up front, and a soft, lingering lemon finish.
And, cup in hand, settle back and contemplate your local bad weather. It's time to listen to something different, so here is guitarist Gilad Hekselman performing "Do Re Mi Fa Sol" from his 2018 album "Ask for Chaos". Hekselman was born in Israel, and lives in New York. He won the Gibson–Montreux Jazz Festival Guitar Competition in 2005, and sounds to Wrongo like the second coming of Bill Frisell. Wrongo isn't sure we should be asking for chaos. but there we are:
Those who read the Wrongologist in email can view the video here.