The Daily Escape: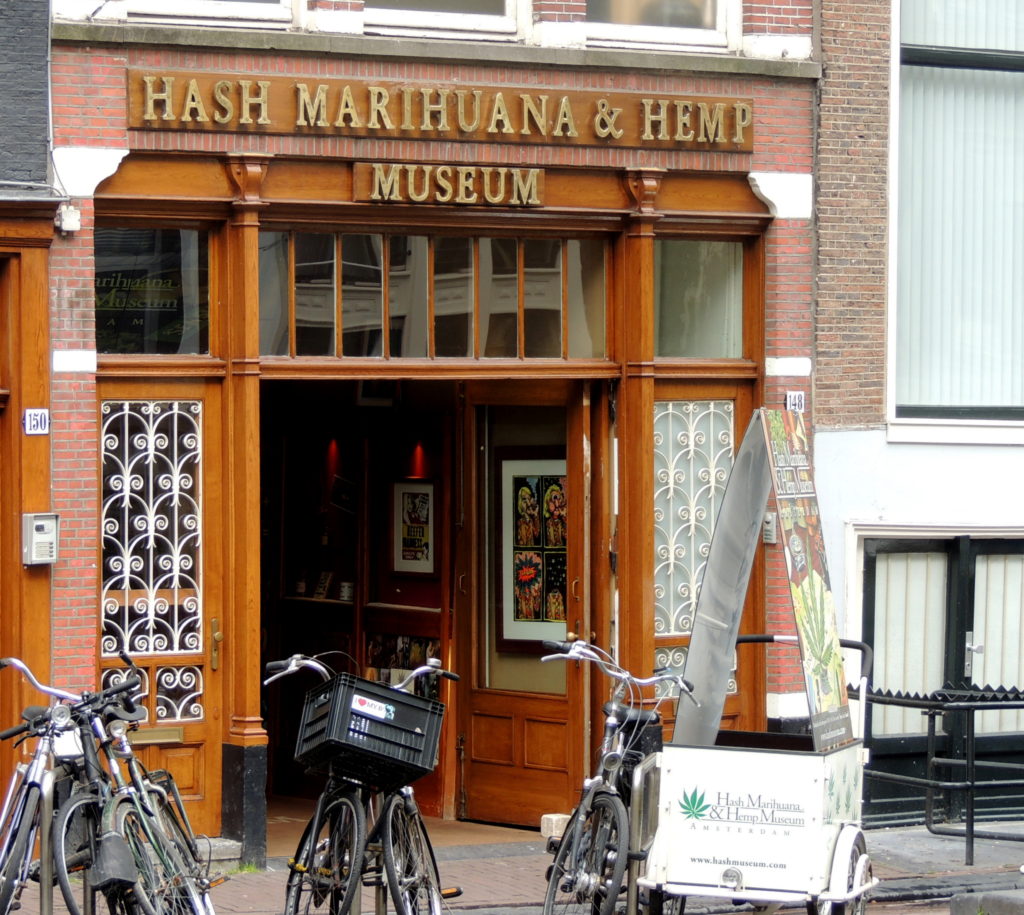 Marijuana Museum, Amsterdam, Netherlands – 2017 photo by Wrongo
When Alexandria Ocasio-Cortez and Michael Bloomberg agree on something, it's worth taking seriously, and neither wanted the Amazon deal with NYC. And this week, Amazon scuttled its plans to build its HQ2 in Long Island City, (LIC) Queens, New York City, citing opposition by "state and local politicians."
Amazon's abrupt announcement to withdraw from the deal came after it was roughed up at two City Council meetings along with enduring the indignity of having to contend with anti-gentrification protestors and union leaders.
There were two big problems that Amazon faced in LIC. First, they were getting a huge tax subsidy, about $2.8 billion. The tax subsidy looked even worse when we learned this week that Amazon nearly doubled its profits to $11.2 billion in 2018 from $5.6 billion the previous year and, once again, didn't pay a single cent of federal income taxes.
It didn't help that the state and city announced the massive subsidies when both are also contending with large budget deficits. NYC Mayor Bill de Blasio, citing a shortfall of $1 billion in revenues, told city agencies to cut their budgets by $750 million by April. And these cuts would have to be recurring.
This helped build outrage about the nearly $3-billion corporate welfare program for Amazon.
The second problem was gentrification in the LIC neighborhood. Immediately after the announcement, real estate prices zoomed, precisely when Manhattan prices were falling. The NY real estate industry was to be one of the primary beneficiaries of the HQ2 project, but local residents would be driven out of their neighborhoods.
Amazon has a poor track record in Seattle. They had fiercely opposed a local tax on large companies to fund housing for the homeless, and got it reversed one month after it had taken effect. Microsoft, after the tax law was scuppered, pledged $500 million to fund affordable housing for the low and middle income in the Puget Sound area, and encouraged other companies to make similar efforts.
Amazon didn't join with Microsoft.
All is not lost. Amazon says it will still be expanding employment in NYC. And LIC has been a hot real estate/development market for several years, long before Bezos started playing his urban version of the Hunger Games. If the commercial construction in LIC over the past five years was happening in a second-tier US city, it would be equivalent to an entirely new business district.
A third problem was Amazon's sense of entitlement. They expected zero push back, and their New York City campaign was inept. Amazon seems to have thought that since it had the governor and mayor in its pocket, all it had to do was show up for photo ops. The NYT points out Amazon didn't even hire a native to grease the wheels:
"…the company did not hire a single New Yorker as an employee to represent it in discussions with local groups. Its main representatives traveled between Washington and Manhattan, and only one had moved into an apartment to work with community members and foster support."
Amazon's leaving was celebrated by Rep. Alexandria Ocasio-Cortez (D-NY), who represents the district. She complained about the "creeping overreach of one of the world's biggest corporations", and maybe that was the final straw for Bezos.
So props to AOC, and to the local politicians for standing up to this example of corporate welfare.
It's possible that Jeff Bezos's sudden change of heart was that he couldn't stomach the idea of not being able to push around NYC the way he bullied Seattle into dropping its homeless tax. In NYC, he'd have to curry favor, feign interest in the concerns of locals, and make occasional contributions to the city.
Bezos may have felt all that was too high a price. But we should assume Amazon penciled out the deal, and didn't like the result. For Amazon, it may have been a prudent business decision, artfully dressed up as a response to the political opposition the incentive package was facing.
Maybe, it's no longer business as usual in America. AOC and other young people may not have money, but that doesn't mean they can't use power.
These corporate tax subsidy deals never add up for the cities that make them. Maybe people in other cities will learn from this NYC moment, and fight against the selling of our cities and towns to the uber-wealthy.
Now, it's time to let go of Amazon, AOC, and Trump's National Emergency. It's time to get some Saturday Soothing.
Start by brewing up a vente cup of Roasting Rabbi Coffee, where the company slogan is: "Releasing the Holy Spark in Each Bean!" Try their Breakfast Blend.
Now settle into your most comfy chair and listen to Valentina Lisitsa play Liszt's Hungarian Rhapsody No. 2, recorded live in May, 2010 in Leiden, Holland:
Those who read the Wrongologist in email can view the video here.