The Daily Escape: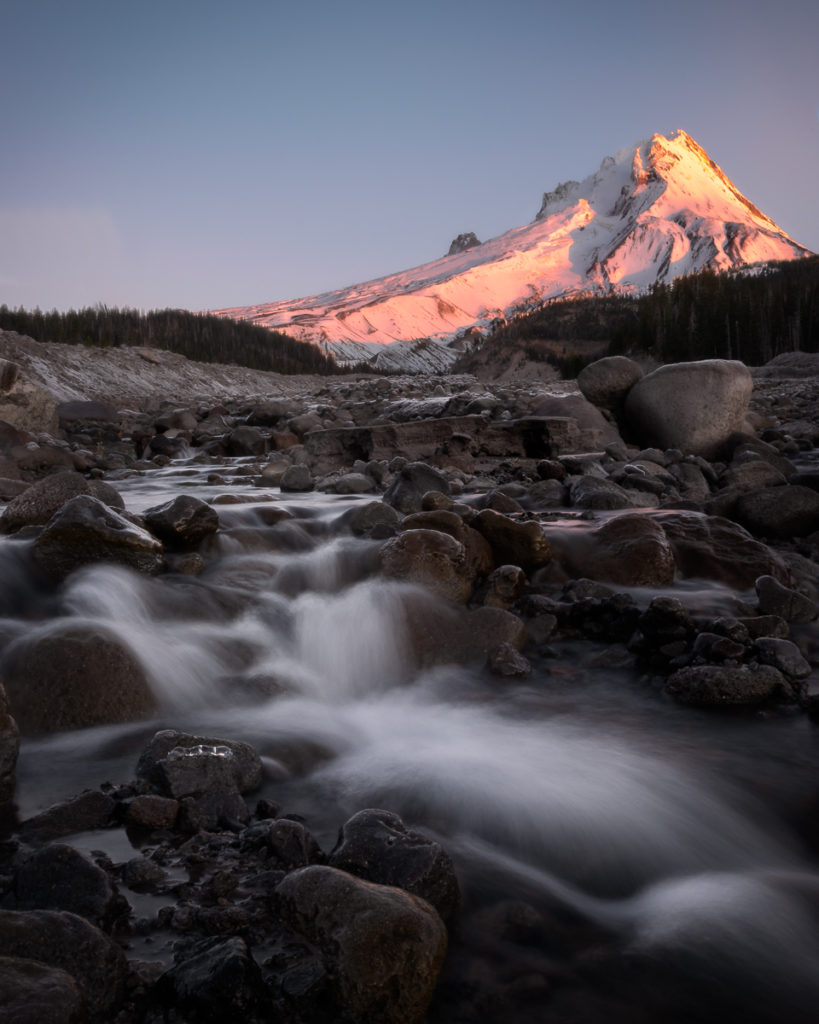 Winter sunrise, Mt Hood, OR – 2019 photo by dontyakno
The Russian company that gave the world the AK-47 assault rifle, the Kalashnikov Group, unveiled its KUB-BLA drone at the International Defense Exhibition and Conference (IDEX) in Abu Dhabi on Feb. 17.
This won't be the first small-sized drone to be used in warfare. ISIS has already shown the ability to carry an explosive drone payload to a target. In January 2018, a swarm of 13 explosives-laden mini-drones attacked two Russian bases in western Syria. Each of those drones carried 10 one-pound bombs under its wings.
So, technology has again revolutionized warfare, this time by making sophisticated drone warfare technology widely and cheaply available to terrorists and under-resourced state militaries. Not a surprise that it is from the company that gave the world the AK-47, an automatic rifle that "democratized" infantry warfare.
The KUB drone is simple to operate, effective and cheap, according to Kalashnikov. Sergey Chemezov, chairman of Russia's state-owned Rostec arms manufacturer, which owns Kalashnikov said:
"It will mark a step toward a completely new form of combat…"
The KUB is 4 ft wide, can fly for 30 minutes at a speed of 80 mph and carries six pounds of explosives, said Rostec's news release. That makes it roughly the size of a coffee table that can be precision-guided to explode on a target 40 miles away, making it the equivalent of a "small, slow and presumably inexpensive cruise missile", according to the National Interest website.
Apparently, the target market is third-world militaries.
KUB is similar in design to Israel's truck-launched Harpy drone, which has been on the market for at least 25 years. The Harpy is jet-propelled, and much heavier than KUB-BLA. It carries a 51-pound warhead, and is in the hands of militaries in Azerbaijan, Israel, Kazakhstan, Turkey and Uzbekistan.
The Harpy is designed to fly for long periods, "loitering" above enemy territory.  A single Harpy reportedly costs around $70,000. A KUB will be substantially cheaper, possibly around $7,000, so an operator could purchase hundreds of KUBs and deploy them by the dozen to swarm enemy defenses.
The US wants its own suicide drone. The Air Force is developing what, in a burst of bureaucratic naming creativity, they call "The Low Cost Attritable Aircraft", (LCAA). In 2016, they awarded Kratos, a San Diego drone-maker, a $41-million contract to design and demonstrate what the government described as a "high-speed, long-range, low-cost, limited-life strike unmanned aerial system."
The low cost part is estimated at $3 million each, making it clearly an American product designed to much less expendable that a Harpy, and far more costly than a KUB. So, think fewer swarms and less US suicide usage than the drones of our competitors.
This means we have now entered the age of terrorism by joystick. The Pentagon understands the risks, and is seeking $1 billion for counter-drone measures in its proposed 2019 budget.
While there are limits to the damage a cheap suicide drone can do, the psychological effects of a small, but successful attack could far outstrip the actual physical damage. Imagine three suicide drones diving into the crowd at the Super Bowl. America would probably never play football outdoors again.
This is an unwelcome development that was also inevitable. Military planners have wanted air-to-ground weapons that were cheap, and liberated from the need to protect a human pilot.
A fleet of low-cost micro-bombers could be decisive in intra-state warfare, civil wars, and the kind of popular unrest that we experience today. Weapons like the KUB will undoubtedly find a home in the arsenals of various countries, particularly as the technology continues to improve.
The point though isn't what one of these could do, but rather, what thousands of them might do. Soon, Russia, China and the US will be producing a mass market, cheap and destructive drone.
What could go wrong?