The Daily Escape: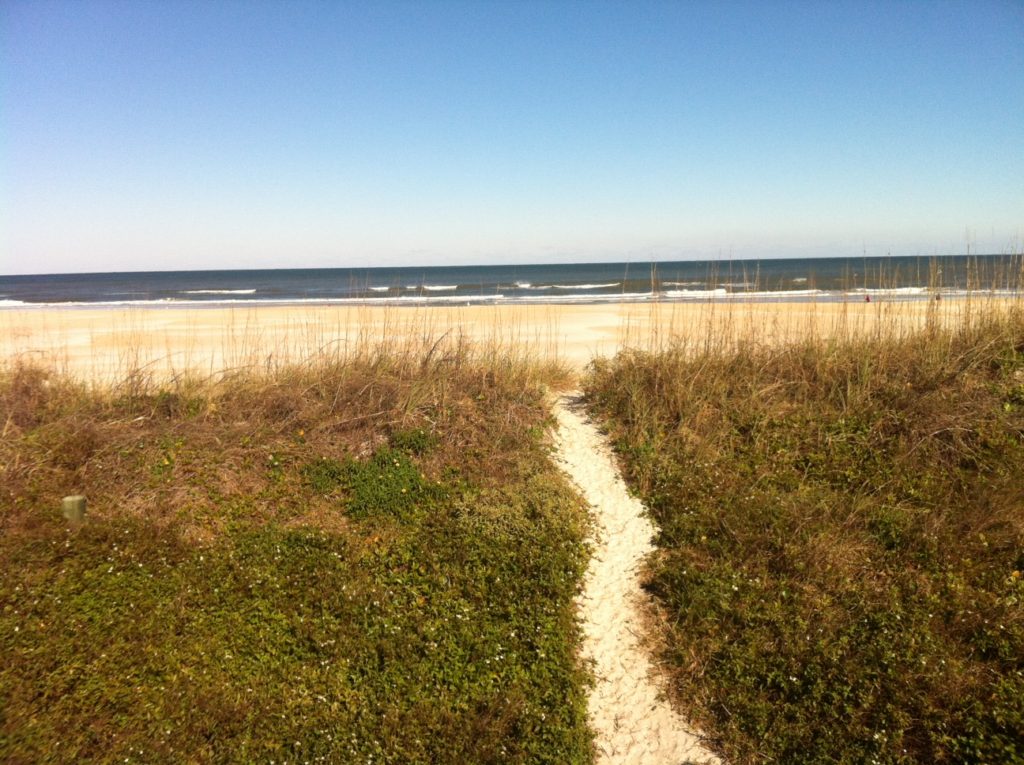 St. Augustine Beach, FL – 2015 photo by Wrongo
(Wrongo and Ms. Right leave today for Florida and their annual week-long visit with Wrongo's sisters. We're leaving 19° for 70°. Blogging will be uneven, unless Trump wins his wrestling match with Kim, or India and Pakistan declare war.)
"There are lots of people talking about how they much disagree with Alexandria Ocasio-Cortez, how silly she is, how dumb and impossible and irresponsible her Green New Deal is, but I think they're missing a point or two. First of all: what's the alternative? Who would you trade her for? Would you rather things stay the same?"
Wrongo thinks that Alexandria Ocasio-Cortez seems savvy beyond her years. The septuagenarians in Congress can't present themselves as she does, because she's 29 years old, born in 1989. She's in the first generation to grow up with a ubiquitous internet. For her elders, like Wrongo, that's an acquired skill.
Wrongo has been thinking a lot about capitalism reform. Changing capitalism to take advantage of lessons learned in the past 50 years should be seen as a good thing, not the first step on the path to socialism as Republicans would have everyone believe.
And the Green New Deal is more New Deal than green. It emphasizes reforming our current economic system by deficit financing a new jobs program aimed at improving our infrastructure. The new infrastructure should create clean power, zero emissions vehicles, and high quality jobs that pay prevailing wages. It would be financed by a new tax structure that adds revenue while tilting the tax burden away from individuals to corporations and the uber-wealthy.
Wrongo isn't a fan of Ocasio saying she's a socialist. That's most likely a bridge too far for America in 2020. It's also unnecessary. Calling what she, Bernie, Elizabeth Warren and a few others have as policy goals are, for the most part, reform of capitalism.
Of course, cynical politicians can say that the Green New Deal is not realistic. That takes you back to establishment Democrats like Hillary, Pelosi, Biden, Booker, Harris and a few more we can't hear. That's fine if you want young Americans to invade a few more foreign nations, or you prefer growing income inequality for people here at home. Otherwise, they would all be terrible political leaders, particularly if you believe those policies must stop.
Turning to the "Green" part of the Green New Deal, Benjamin Studebaker offers a great perspective: (emphasis by Wrongo)
"…at this point, we have integrated the global economy so thoroughly that there may now be many irreducibly global problems that cannot be solved at the national level, even with an American commitment….We don't have the global political institutions we need to handle problems like this, and every time we try to create them voters balk, accusing us of trying to destroy their cultures and deprive them of "sovereignty" and "national self-determination", as if there were any meaningful sense in which they still had these things to start with."
His point is that the US now produces only 15% of total global emissions. More from Studebaker:
"The EU commands a further 10%, while other rich states (such as Japan, Australia, and so on) add another 8%. This means that the rich states only control about a third of total emissions. China controls nearly another third (about 30%), and the rest comes from the remaining developing countries, with India and Russia making the largest contributions (7% and 5%, respectively) of that bunch."
These developing countries are continuing to increase their emissions. This means that reductions from rich states are cancelled out by the growing emissions of developing countries.
Studebaker concludes that it's beyond the ability of the US to go green unilaterally, and if we did, it wouldn't bend the arc of global warming sufficiently to make a meaningful difference.
What we can do is provide an example for the world. We can do the right thing, precisely because it is the right thing to do. And along the way, reforming capitalism will quickly improve the lives of average Americans.
We can form a coalition around capitalism reform that includes most people in the bottom 90% of the economic pyramid. It can include Democrats, Independents and a few Republicans, most of whom would never be part of Bernie's democratic socialism, or AOC's Green New Deal.
There will be some version of the Green New Deal that starts in the near future. Let's call it reform of capitalism, and get started on it today.