The Daily Escape: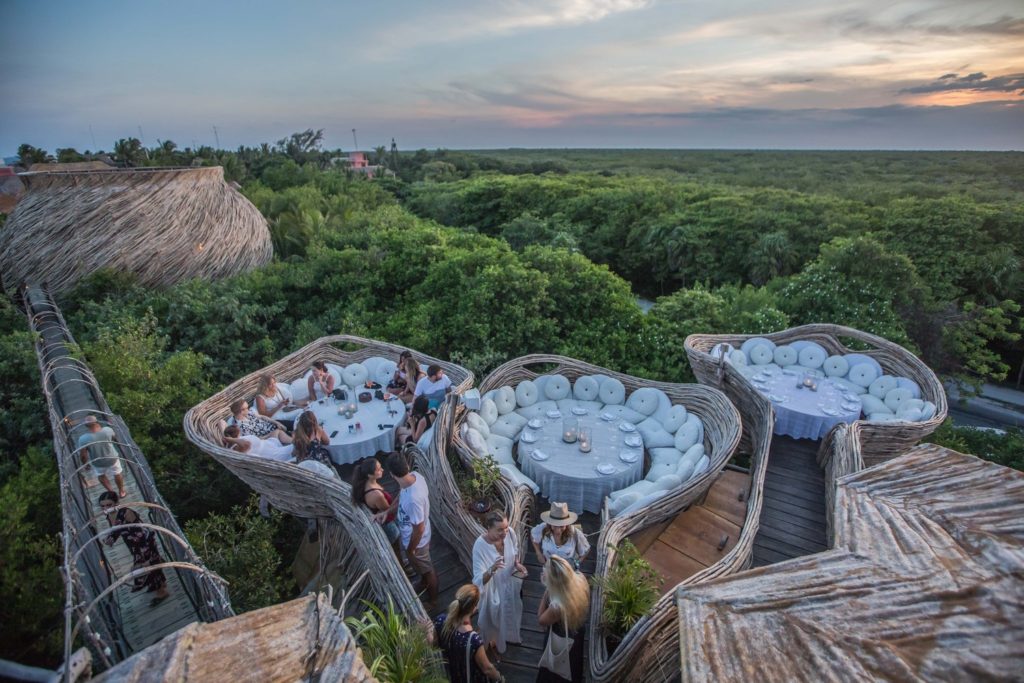 Azulik Hotel, Tulum Mexico, – 2019 photo by Phoebe Montague
A long-time friend of Wrongo and Ms. Right who is also a reader of the Wrongologist, emailed that a friend who is a well-placed Democrat in DC, said the Party plans to push Joe Biden for a single four-year term "to bring us together in healing". He would also appoint a younger VP who would appeal to Millennials.
After a little digging, it seems that may be the plan. CNN reports that Biden is considering:
"The early selection of a running mate, which one aide said would help keep the focus of the primary fight on the ultimate goal of unseating Trump."
If Biden would commit to one term, selecting his VP candidate early would lay hands on that person as the presumptive Democratic nominee in 2024. It sounds like a really bad idea, one that also would preclude Biden's selecting one of the existing candidates for the 2020 nomination.
This strategy would have precluded Biden getting the VP nomination in 2008. Obama couldn't have picked Biden early, because Biden was also running for president. And even once Biden dropped out, he wasn't prepared to immediately back Obama over Hillary Clinton for the nomination.
Biden has tons of history for his primary opponents and the Republicans to pick through. Ryan Cooper, writing in The Week, said:
"Joe Biden is about to ruin his reputation….The most immediate problem for Biden personally is that he has #MeToo written all over him…..there are already vast compilations of footage of him being far too handsy with women in public settings."
More from Cooper:
"Biden's actual policy record is probably almost as big of a potential problem. The Democratic Party has shifted markedly to the left over the last decade, as the consequences of the party's policy record from the mid-1970s to 2008 have become clear….he was personally involved in almost every bad policy decision of the last 40 years."
Democrats use identity politics to help win elections. They try to knit together disparate groups of voters to counter the GOP's solid South and Western states. Biden is tragically flawed in this regard. When you have a long history, people can learn that he gave the eulogy at Strom Thurmond's funeral.  Thurmond was one of the most notorious segregationists in history.
In 2020, Biden's eulogy works with Democrats in South Carolina, but how Biden confronts his 2003 praise for a former segregationist elsewhere in the primaries could prove a big challenge. Biden would be trying to lead a party that says it's committed to fighting racial inequality, but would he be seen as the right person for the job? Some in the party will reject whatever explanation he gives, while others will say he's trying to persuade more white voters to join Democrats in 2020.
Many black voters failed to support Hillary Clinton in 2016 for much less than Biden's praise of Thurmond. Like Clinton, Biden has already expressed regret for supporting criminal sentencing laws that disproportionately punished people of color. He needs to clearly explain his treatment of Anita Hill, who accused Clarence Thomas of sexual harassment during Supreme Court confirmation hearings that Biden chaired in 1991.
Biden's old Senate votes in favor of the Iraq War, the Defense of Marriage Act, and the North American Free Trade Agreement will be difficult to explain to young Democrats.
He has long said he believes in bi-partisanship, saying that the differences between Republicans and Democrats are superficial disagreements, not fundamental differences over matters of principle. Given Biden's success in early Iowa polling, some might say that message is resonating. After all, according to orthodox wisdom, there is no more commendable virtue in American politics than bipartisanship.
Candidates always try to assure voters that they will strive to "work across the aisle" to deliver "commonsense solutions". But, Wrongo thinks his ratings are due largely to Joe Biden being widely considered a likable guy, genial Uncle Joe. A father who has suffered family loss, there's also a halo effect from his relationship with Obama that drives his favorability.
Biden is 76. He's one of a cohort of elder politicians running for President, including Bernie Sanders (77) and Elizabeth Warren (70 in June). There are several candidates in their 60's, 50's, 40's and a few in their 30's.
Biden starts with strength among Democrats who think a safe pair of hands is a tested white man, and with Independents nostalgic for the Obama administration.
He will be opposed by Millennials eager for a new generation of leaders, and people of color who won't buy his explanations about Anita Hill and Strom Thurmond.
He looks like a divisive candidate to Wrongo.