The Daily Escape: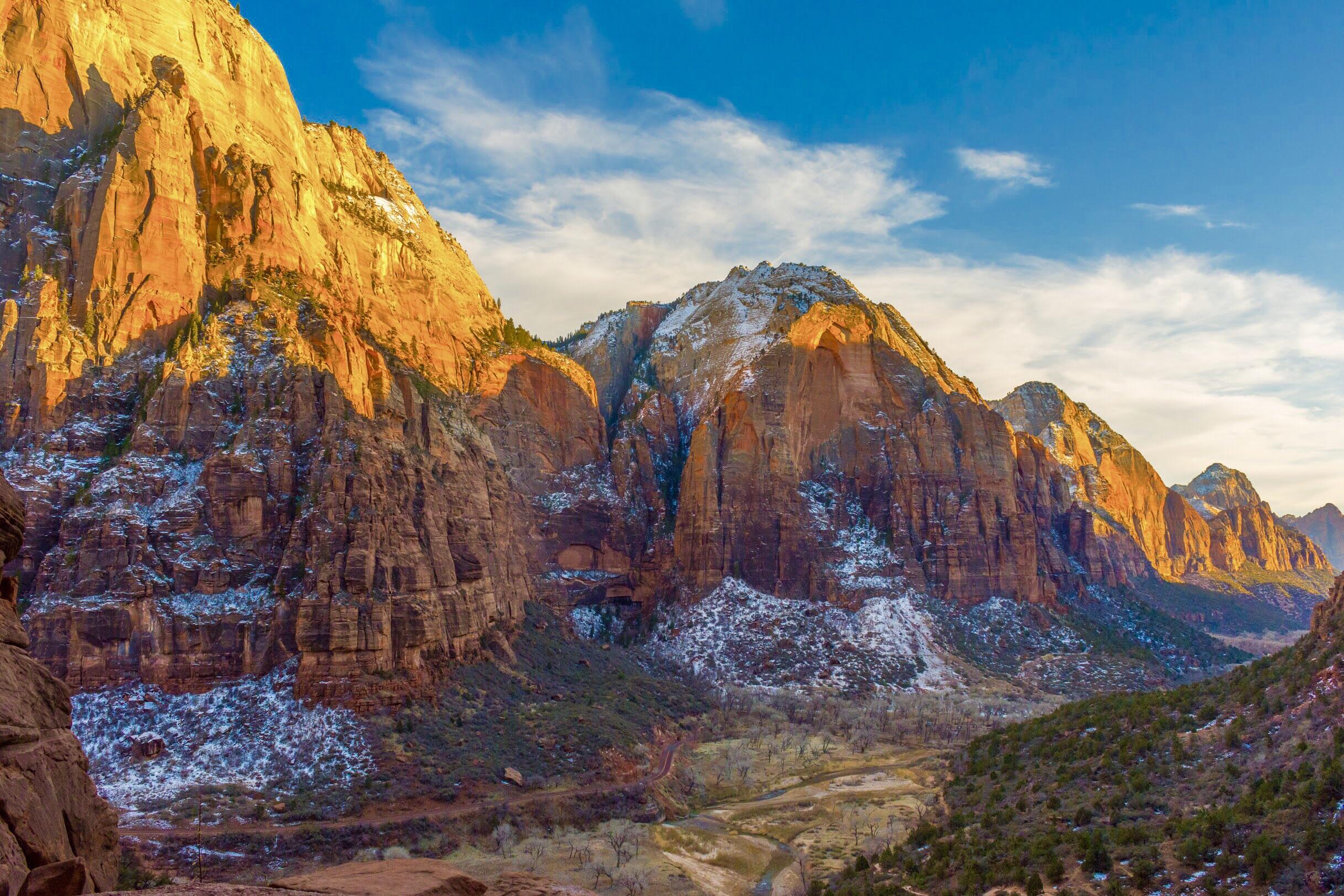 View from Angel's Landing, Zion NP – 2019 photo by ducc517
Sen. Elizabeth Warren (D-MA) says that she favors "capitalism with serious rules." David Leonhardt wrote in Sunday's NYT:
Her platform aims to reform American capitalism so that it once again works well for most American families. The recent tradition in Democratic politics has been different. It has been largely to accept that big companies are going to get bigger and do everything they can to hold down workers' pay. The government will then try to improve things through income taxes and benefit programs.
Warren is trying to treat not just the symptoms of inequality, but the underlying disease. Warren also called for an annual wealth tax, for people with assets greater than $50 million. She has proposed a universal child-care and pre-K program. She favors tougher guidelines on future mergers, and also a breakup of the giant tech companies (Google, Facebook) that resemble monopolies.
Of the current crop of Democrats, she's the reform capitalism candidate. But one idea that Warren hasn't espoused is the Financial Transactions Tax, (FTT). Wrongo first wrote about a FTT in March 2013.
Sen. Brian Schatz, (D-HI) and Rep. Peter DeFazio (D-OR) introduced a tax of one-tenth-of-one-percent, or 10 basis points (100 basis points equals 1 percentage point), on securities trades, including stocks, bonds, and derivatives. The CBO estimates that the FTT would raise $777 billion over 10 years. Sens. Chris Van Hollen (D-MD), Jeff Merkley (D-OR), and Kirsten Gillibrand (D-NY) are co-sponsors of the bill.
For the math-challenged, 10 basis points on a $1,000 trade equals one dollar. Jared Bernstein says:
FTTs exist in various countries, including the UK and France, with Germany considering the tax (also, Brazil, India, South Korea, and Argentina). The UK is a particularly germane example, where an FTT has long co-existed with London's vibrant, global financial market.
More from Bernstein: (brackets by Wrongo)
Because the value of the stock holdings is highly skewed toward the wealthy, the FTT is highly progressive: The TPC [Tax Policy Center] estimates that 40% of the cost of the tax falls on the top 1% (which makes sense as they hold about 40% of the value of the stock market and 40% of national wealth).
Vox also reports that an FTT would mostly affect wealthy Americans, because an estimated 84% of the value of stocks is owned by the wealthiest 10% of households. Schatz isn't the first Democrat to suggest an FTT, Bernie Sanders ran on a similar idea in the 2016 Democratic primary. He pitched it as a way to pay for free college.
Globally, there is plenty of experience with FTTs. In the UK, a 0.5% "stamp tax" is charged when someone buys shares on the stock market, and the UK market is fine. France in 2012 introduced a tax on financial transactions, and a study from the European Commission found that trading volumes declined slightly, but share prices and volatility weren't meaningfully changed. France and Germany have pushed for a European Union-wide FTT.
Opponents include the high-frequency traders, who note that even a small FTT could upend their extremely low margin business model. Although a dollar on a $1,000 trade doesn't sound like much, if the industry is making 4 billion trades a day, it can add up.
Time to wake up and support an FTT, America. Sens Warren and Sanders support this idea, and you should too. Those who think that the government should use the tax code to ensure that everyone has an equal opportunity to get ahead, and that we should do more to ensure the well-being of our citizens aren't socialists.
If that makes us socialists, then Eisenhower, who presided over a 90% top tax bracket, was also a socialist.
To help you wake up, here's Steely Dan with "Any World That I'm Welcome To" from their 1975 album "Kay Lied". This tune gives you the benefit of hearing the late, great, Hal Blaine on drums. Blaine may have been the most recorded drummer in pop music history. From the late 50s through the mid-70s, Blaine did sessions with Sam Cooke, Ray Charles, The Righteous Brothers, Henry Mancini, Ike & Tina Turner, The Monkees, Nancy Sinatra, The Fifth Dimension, The Byrds, Sonny & Cher, Mamas and the Papas, and The Grass Roots.
The famously picky Steely Dan only used Blaine for this one tune:
Those who read the Wrongologist in email can view the video here.