What you missed in Friday's news about Robert Mueller wrapping up the Russia investigation was that Trump announced the appointment of Stephen Moore, a conservative economic pundit as a member of the Board of the Federal Reserve.
Moore is a doofus. There's no bigger example of a so-called "economist" failing his way upwards than Stephen Moore as Jon Chait points out: (emphasis by Wrongo)
"Stephen Moore's career as an economic analyst has been a decades-long continuous procession of error and hackery….Moore's primary area of pseudo-expertise — he is not an economist — is fiscal policy. He is a dedicated advocate of supply-side economics, relentlessly promoting his fanatical hatred of redistribution and belief that lower taxes for the rich can and will unleash wondrous prosperity. Like nearly all supply-siders, he has clung to this dogma in the face of repeated, spectacular failures."
Wrongo hastens to remind everyone that the Fed is in charge of MONETARY POLICY, not Fiscal policy. Moore only holds a Master's degree in Economics. There are many, many examples of Moore's hacktastic pseudo-expertise in economics. Slate reports that Moore: (brackets by Wrongo)
"Predicted that Bill Clinton's tax hikes would bring disaster (they didn't), that George W. Bush's tax cuts would bring prosperity (they didn't), and that Barack Obama's policies were setting us up for '70s-style stagflation (they didn't)….He and supply-side guru Art Laffer were also key advisers behind Kansas' fiscally and politically disastrous tax cuts. In spite of his own track record of [consistently] failed predictions, he has disparaged Keynesian macroeconomics as 'witchcraft.'"
He's recently called for Trump to fire the entire Fed board. Moore has blamed the Fed's rate increases over the past year for slowing economic growth, and recently called on the Fed to begin cutting rates. He helped draft Trump's tax proposals while working as an economist at the Heritage Foundation.
Stephen Moore is a joke in the economics profession. This should go well. On to cartoons.
Barr holds the key to what we learn about the Mueller investigation: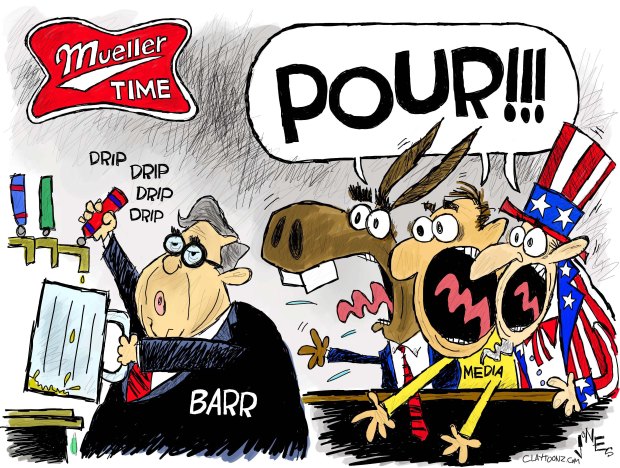 Stop calling them White Nationalists, alt-Right or Populists. These people are White Supremacists: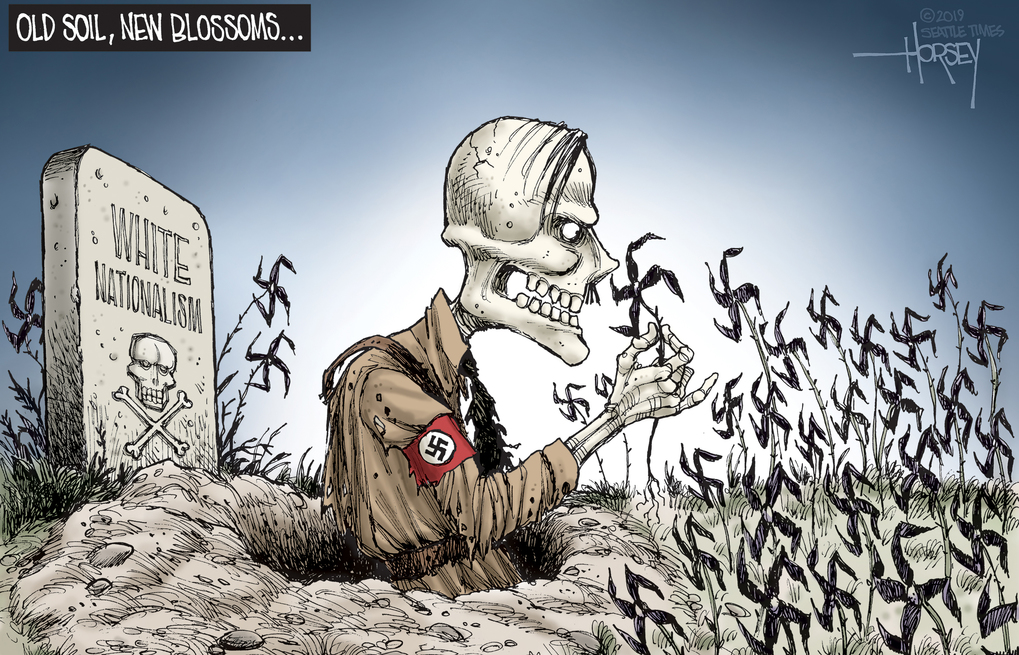 Funny how most Christians in the US don't obey the Ten Commandments, but consider the Second Amendment a must follow: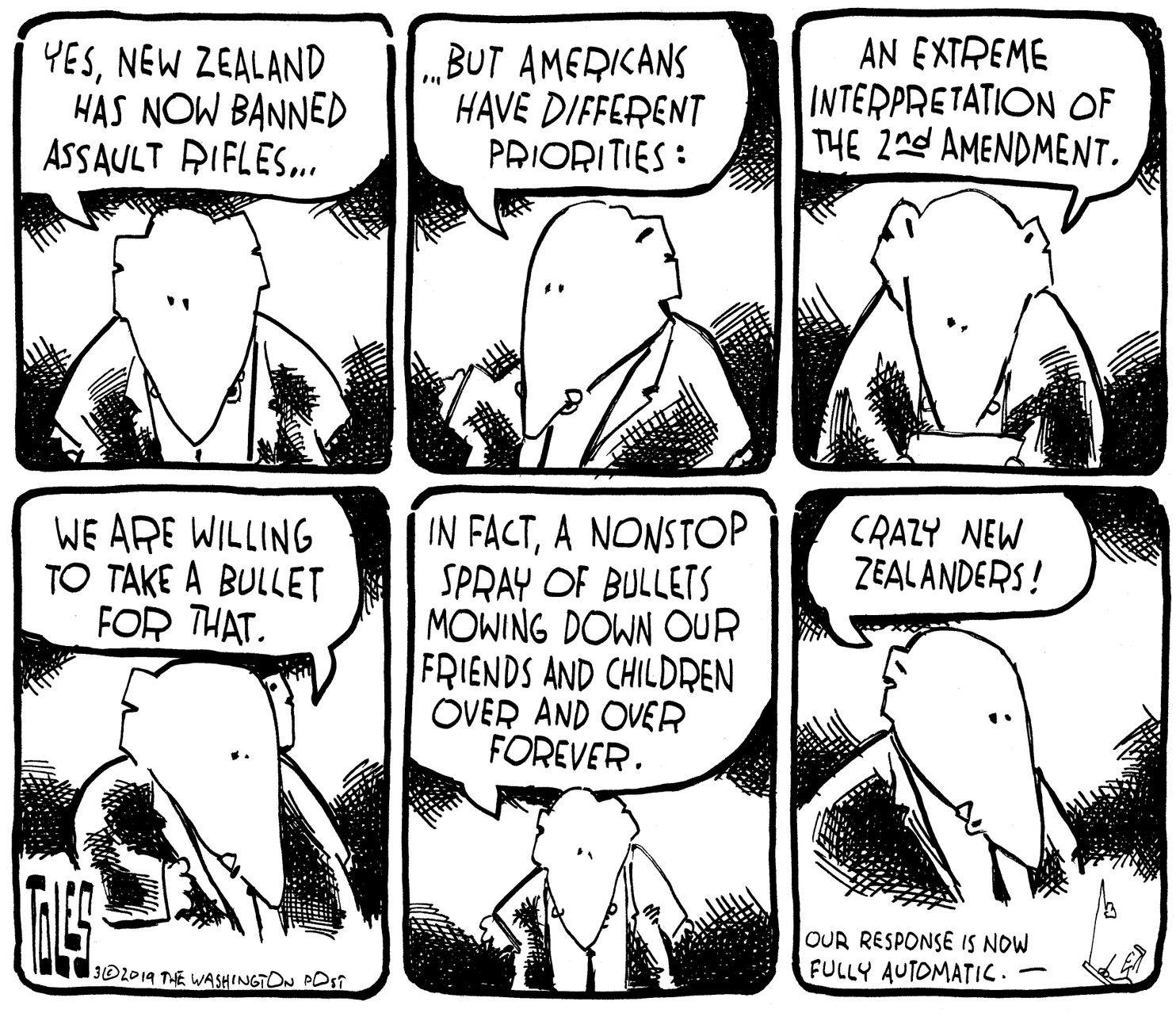 What is evident from attacks on Black Christian churches, Synagogues, and Mosques in the US, and now in NZ, is that RW extremists are increasing their attacks. They are citing Trump as their "guiding light", while Trump continues to play down their involvement: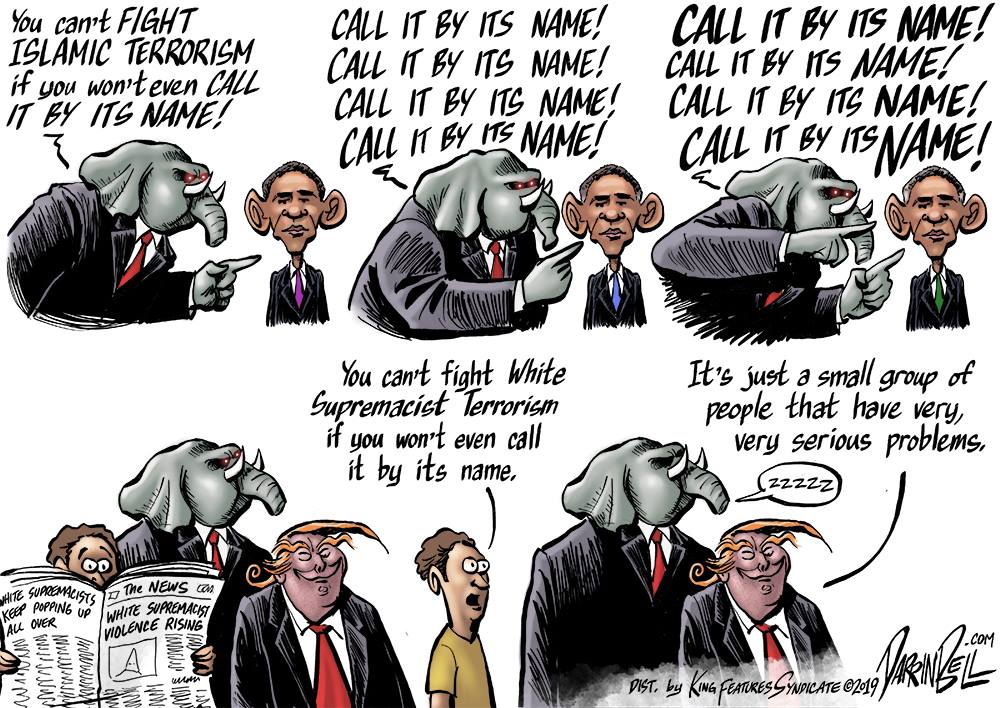 Biden looks like a candidate, but some wonder about his age: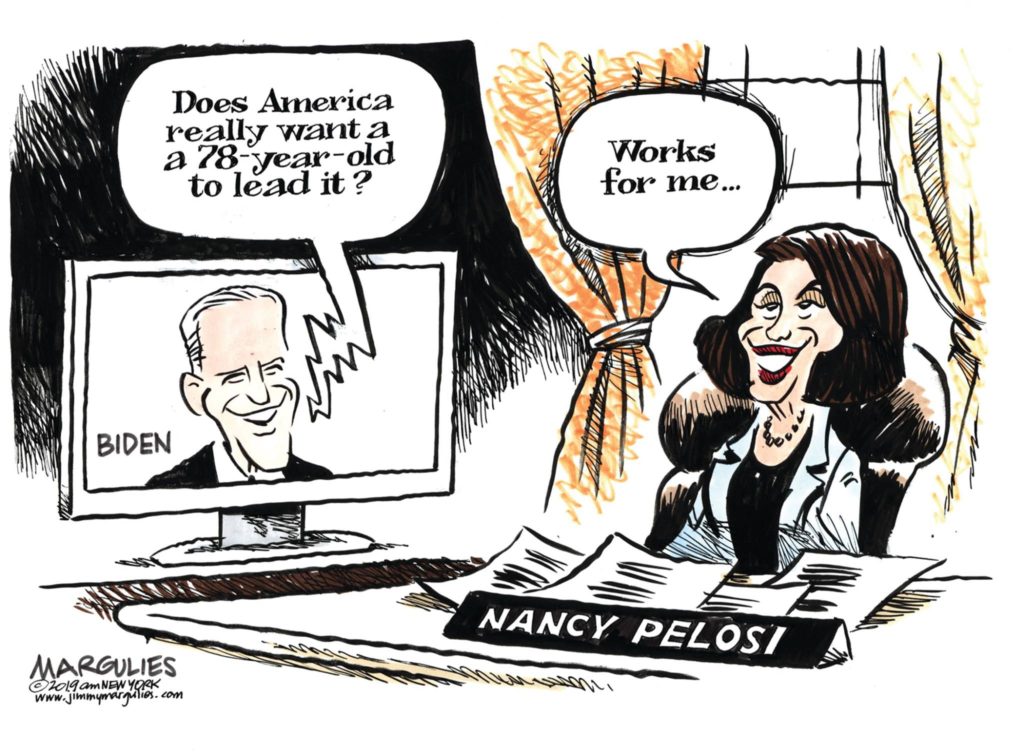 George and Kellyanne Conway see Trump differently. Will their relationship survive?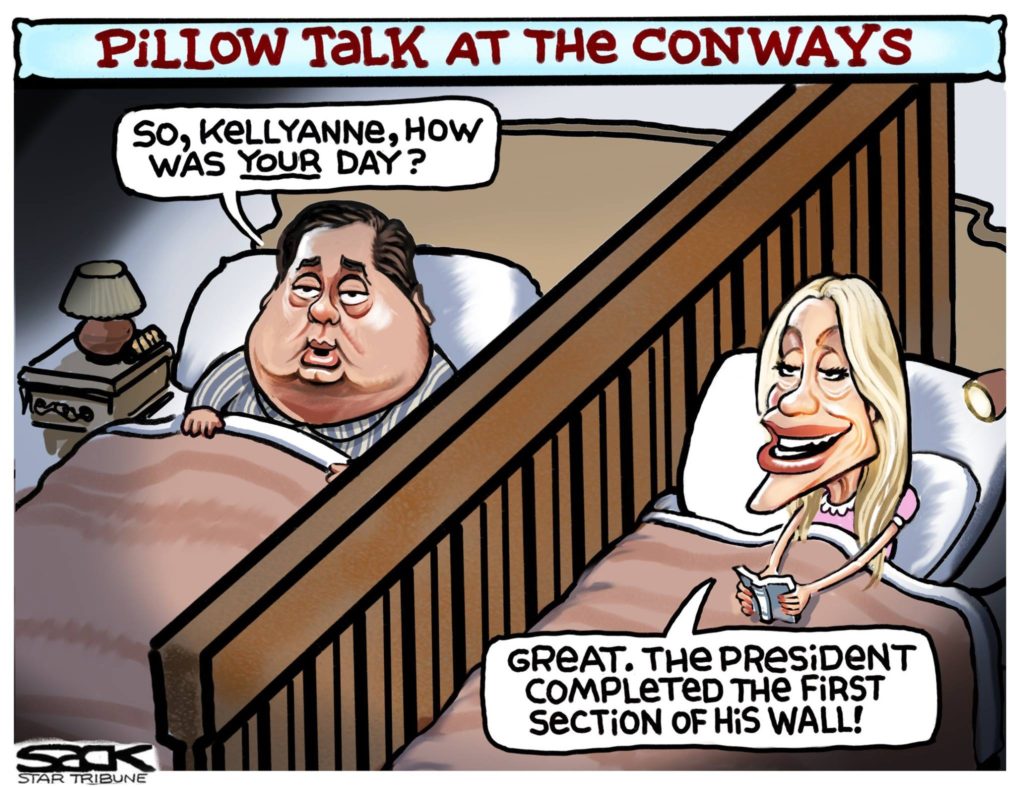 Trump says free speech for conservatives is great, missing the point about our free press: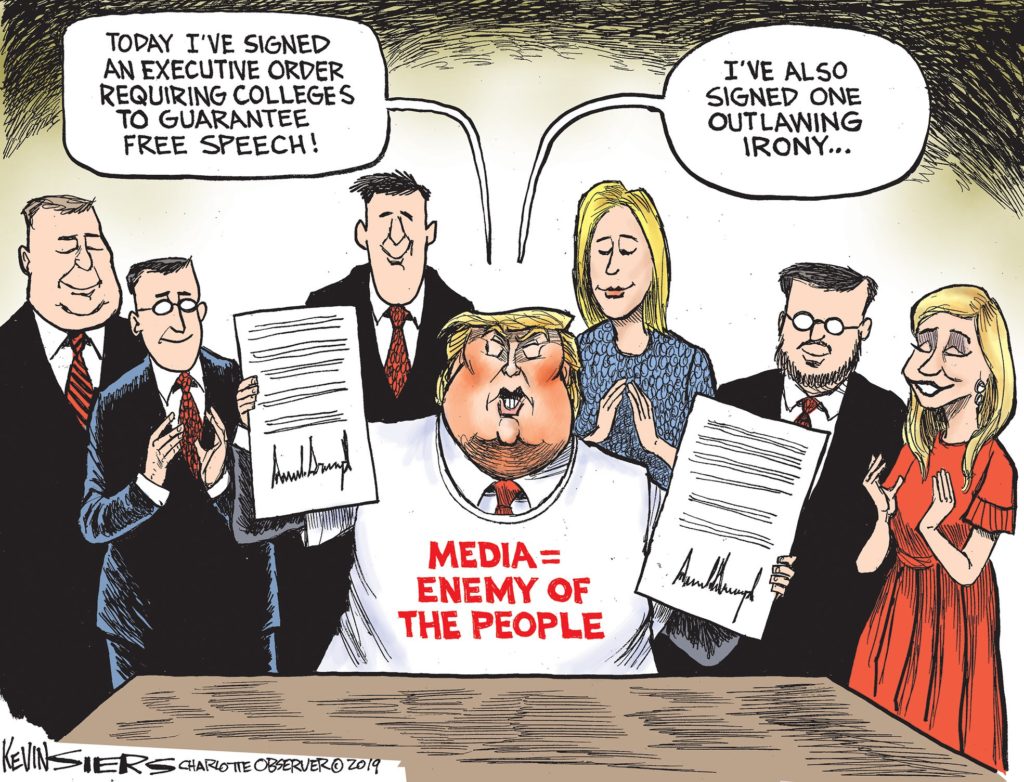 Rep. Devin Nunes sues Twitter because of a satirical account called "Devin Nunes's Cow". As of today, more people follow the fake cow that mocks Devin Nunes, than follow Devin Nunes: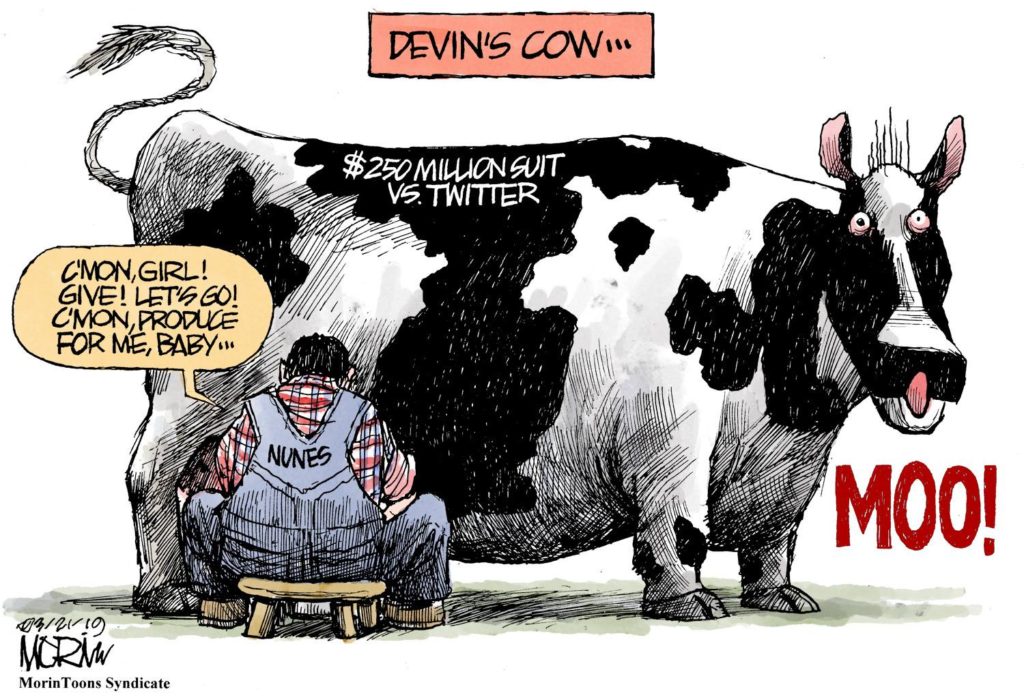 Category:
2020 Election
,
Domestic Policy
,
Economic Policy
,
Guns in America
,
Humor
,
Mueller Investigation
,
Neo-Facism
,
Politics
,
Racism
,
Second Amendment Absolutism
,
The Presidency
,
US Constitution Under Threat
,
White Terrorism