The Daily Escape: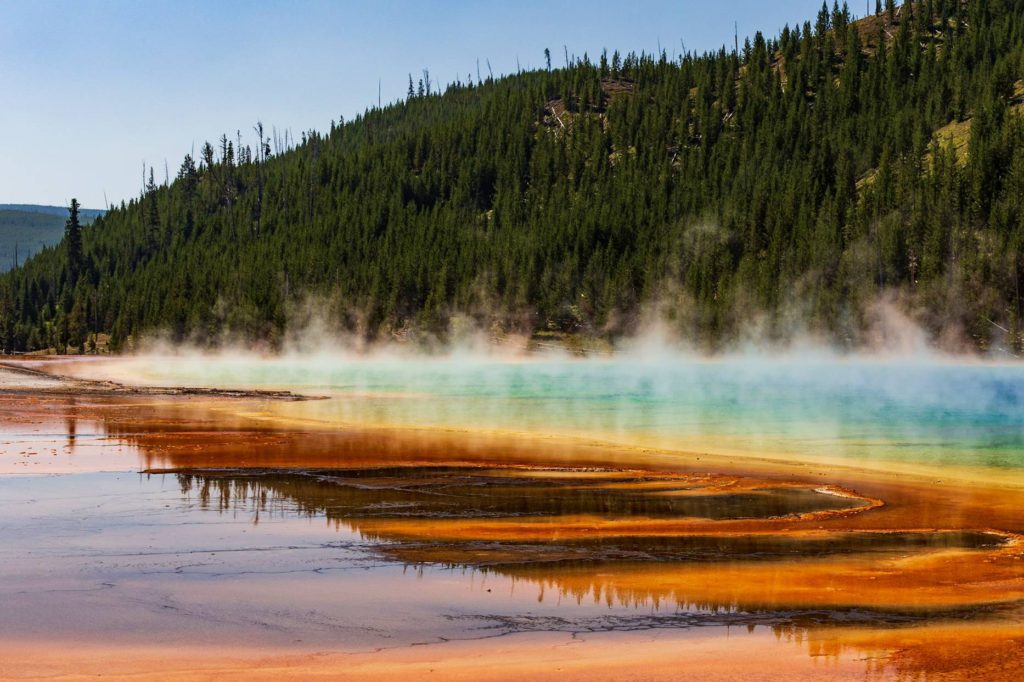 Grand Prismatic Spring, Yellowstone NP – 2018 photo by dontyakno
Wrongo hasn't written much about the Trump/Russia investigation. Most of those pieces have shown skepticism about Russian interference in our election process. There is, however, clear evidence that the Trump campaign reached out to the Russians more than 100 times. While that's unusual, it isn't on its face, criminal, although the Trump campaign failed to alert the FBI about those contacts.
There are investigations underway by Mueller, the Southern District of NY, and several House committees. Trump has castigated each, calling them a witch hunt and fake news. Nearly all Republicans have sided with him about these multiple investigations.
It isn't unusual that the GOP is indifferent to the range of possible Trump wrongdoing. On Tuesday, the WaPo's Greg Sargent helpfully cataloged the things that Republicans in Congress think should not be investigated about Trump by the Democrats in Congress:
Materials relating to any foreign government payments to Trump's businesses, which might constitute violations of the Constitution's emoluments clause.
Materials that might shed light on Trump's negotiations about a real estate project in Moscow, which Trump concealed from the voters even after the GOP primaries were in progress. Michael Cohen is going to prison for lying to Congress about the deal.
Parenthetically, and not part of Greg Sergeant's list, Marcy Wheeler thinks that the most important crime in the Trump era is a probable quid quo pro in which the Russians (and Trump) seemed willing to trade a new Moscow Trump Tower for sanctions relief should Trump win the presidency.
Materials that might show whether Trump's lawyers had a hand in writing former Trump lawyer Michael Cohen's testimony to Congress that falsified the timeline of those negotiations.
Materials that might illuminate/prove Trump's suspected efforts to obstruct the FBI/Mueller investigation.
Materials that would shed more light on the criminal hush-money schemes that Cohen carried out, allegedly at Trump's direction, and on Trump's reimbursement of those payments. These most likely violate campaign finance laws.
Sargent's list is based on the House Judiciary Committee document requests, so is limited to people who've already been asked for documents. But, it doesn't capture many other items such as the role of Cambridge Analytica, or Paul Manafort's sharing of presidential polling data with the Russians.
On Thursday, Axios tried to put the Trump investigations and the political scandals in perspective. Their view is that much of what we've seen over the past two years have few precedents in presidential history. They cite Watergate, Teapot Dome and the Clinton impeachment, all defining moments of presidential wrong doing.
But, they close by saying that Trump may survive all of it, and that Republican voters seem basically unmoved by the mounting evidence.
Why is it so difficult for people of both parties to coalesce around either his guilt, or innocence?  How is it that we just forget about the breathtaking corruption of Trump Cabinet Secretaries Scott Pruitt, or Ryan Zinke?
Many of the Federal judges on the Russian investigation who have ruled against Trump's associates. The judges say the Trumpies were selling out the interests of the US. That has consequences for Americans, including the constituents of the Republican members of Congress who want us to stop investigating.
It's depressingly clear that 2020 will be another close presidential election. The Republican Party is willing to condone bad behavior and criminality when the perpetrator is one of their own.
How can America rectify this problem? Even if a Democrat wins the presidency, it is unlikely the Dems will win a majority in the Senate. So, the GOP will again use the same obstructionist game plan we saw during the Obama administration.
NPR had a short piece, "Why Partisanship Changes How People React To Noncontroversial Statements". It reported on a study where people were given anodyne statements like "I grew up knowing that the only way we can make change is if people work together".
It turned out that most people agreed with the statement, until they are told that it was said by someone in the other political party. Then they disagreed. If people can only agree with a meaningless statement when they think it was said by their political party, what hope do we have to find agreement when the stakes are high, like in the Mueller investigation?
Given the Republicans' disinterest for seeking the truth behind the Trump scandals, the outlook for our democracy is grim.
We need to be clear-eyed about how much work, and how long it will take, to right the ship.



Category:
2016 Election
,
2018 Elections
,
Daily Escape
,
Divided Government
,
Mueller Investigation
,
Political Gridlock
,
Russia Investigation
,
The Presidency
,
Trump's Fixers
,
Trump's War With Truth
,
Truth in Politics
,
Voter Turnout