The Daily Escape: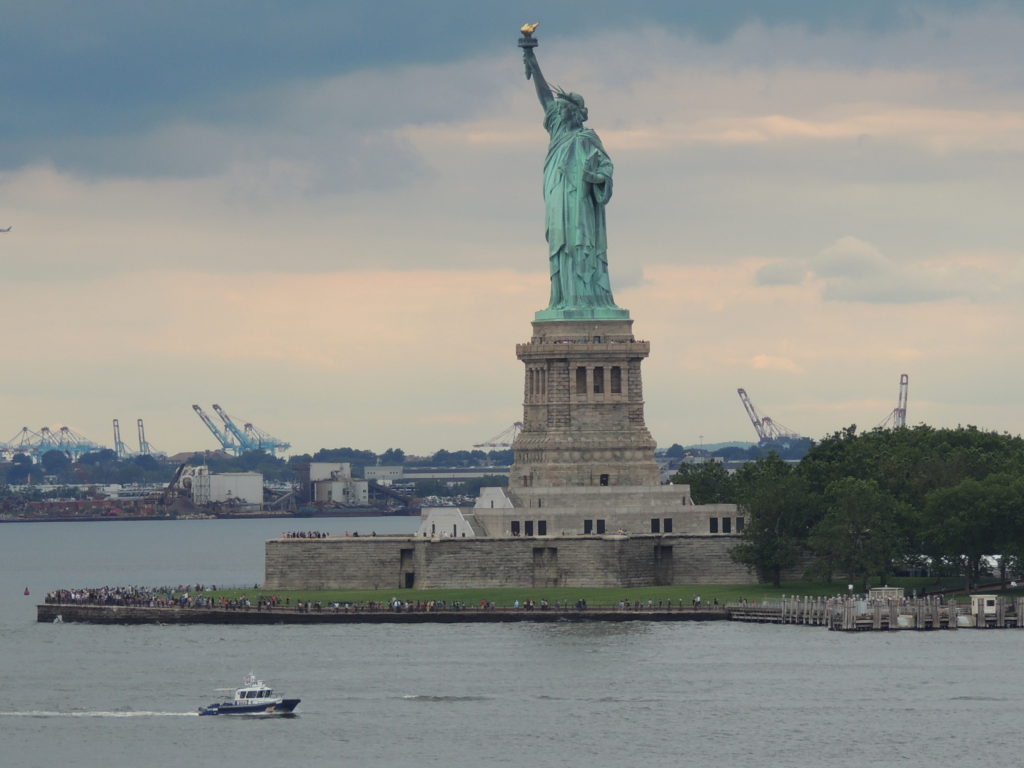 Lady Liberty from the water – June, 2015 photo by Wrongo
Joe Biden kicked off his run yesterday by saying that he's for the middle class, and against Trump. CNN is reporting that Biden now leads the field with 39% of voters supporting him. Sanders is second with 15%. Warren is third with 8%, and Buttigieg fourth with 7%.
It's good to remember that there are still 551 days to go before the 2020 election. Here are a few other past poll leaders with 551 days to go: Hillary Clinton led the Democratic primary by 9.1% in 2008. In the 2008 GOP primary, Giuliani led by 12.4 points. In the 2016 presidential election, Hillary Clinton once led by 56.6 points. In the 2016 GOP primaries, Jeb! Bush led by 1.2 points. All of them lost.
The biggest issue for Democrats right now is squaring the circle on their message. The leading Dems don't divide neatly by labels. Some are Republican lite, some are very progressive. All have to articulate policy and show charisma, while working to garner enough delegates to win the nomination.
Let's discuss two issues: First, are they really going to run against Wall Street? Are they going to take campaign funding from the financial services industry? As Wrongo said last week, there is an inherent tension in the current funding strategy of the Dem candidates. They all are targeting small donors in order to demonstrate substantial grass-roots support. But, the nominee will need to raise more than $1 billion for the general election, and it's doubtful that individual donors have such deep pockets.
That means they will eventually have to turn to PACs and corporations in order to win.
But Sanders and Warren have pushed the party to the left on Wall Street and capitalism. NY Mag had a piece describing a meeting among Wall Street Democrats, who are unhappy with the field. They dislike Sanders and Warren, and when they strategize, the financiers' primary goal is to find a Democrat who can both deny either of them the nomination, and also beat Trump:
By evening's end, multiple donors walked away planning to write checks to three or four or five candidates — hoping they stay relatively moderate — rather than going all in on any one. Among the committed Democrats on Wall Street, this wait-and-see, as-long-as-it's-not-Bernie-or-Elizabeth posture has become the norm.
Can the Democrats win without Wall Street's money? Will the current crop of candidates walk away from their promise to take on the financiers, in order to beat Trump?
Asking for a friend.
Second, what will their message be on the economy? Trump is presiding over a late-stage economic boom. By November, 2020, Trump will be able to claim credit for the longest period of uninterrupted growth in American history. How will Democrats counter a Republican argument to stay the course?
The best possible message may be: That big corporations aren't paying their fair share (as opposed to more taxing of the rich). That too much of the prosperity that working people create stays with the corporations. That the cost of both health care and education are too damn high.
Just this week, the WaPo asked voters, "Do you think the economic system in this country mainly works to benefit all people, or mainly works to benefit those in power?"
60% of all respondents said it benefits those in power
66% of independents said the same thing
81% of Democrats agreed as well
Regardless of how strong the economy is for the next 19 months, Americans are sure to remain discontented with the economic dominance of the powerful. The NY Mag Intelligencer says the Dems should focus on Wisconsin, Michigan, and Pennsylvania: (brackets by Wrongo)
We know that this tiny subpopulation leans left on economic issues and tends to resent the rich. We also know it leans right on immigration and tends to resent "illegals." When Barack Obama and Mitt Romney [made] the 2012 election a referendum on whether rich business owners earned every penny they have, a critical mass of Midwestern swing voters broke for the Democrats. When Hillary Clinton and Donald Trump agreed to make 2016 about whether rapid demographic change was making America "Stronger Together" — or less great than it used to be — they broke right.
In 2012, Barack Obama told an "us versus them" story about class conflict. Sanders, Warren and Biden are doing that right now. A message that says "the rich have rigged our economic and political systems to their advantage" is an immensely popular message.
If Democrats don't run on it in 2020, it won't be out of concern for alienating voters, it will be out of concern for alienating Wall Street.
Let's close with a tune in honor of May Day. Here's Sierra Boggess singing "The Lusty Month of May" from Camelot, performed at BBC Proms 2012.
Your May mileage may vary:
Those who read the Wrongologist in email can view the video here.