The Daily Escape: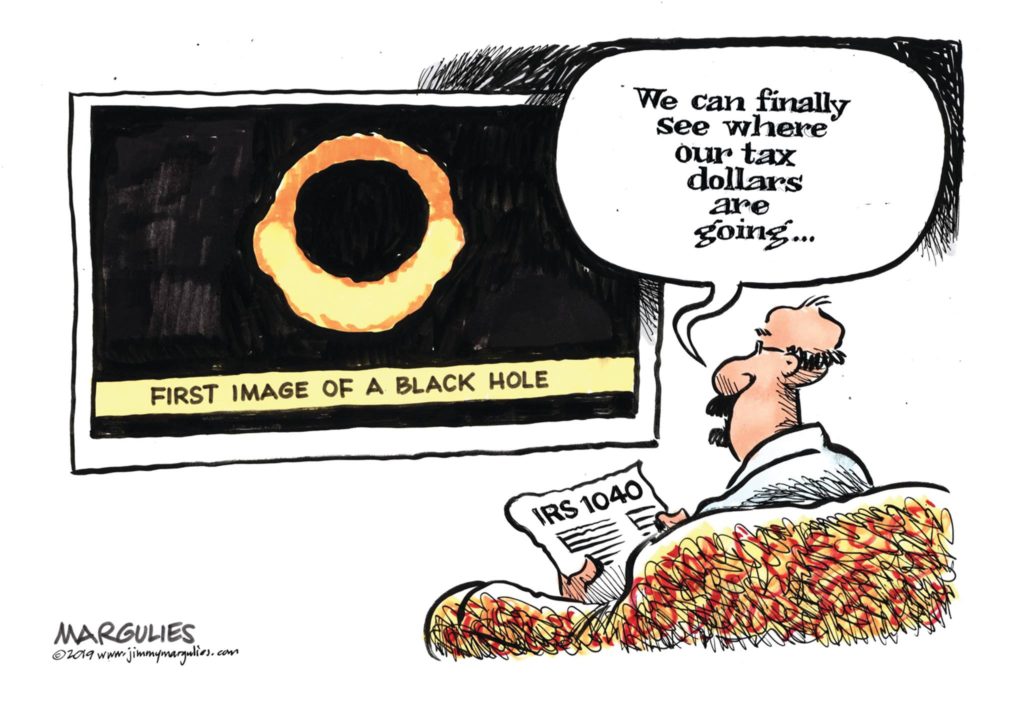 Tax day! Wrongo got the Wrong family taxes finished, and submitted with a few days to spare. Last week was one of the many that will make you scratch your head. Here are three amazing things from last week:
Scientists unveiled an image of a black hole
That image is 50 million years old
Millions of Americans still believe the Earth is 6,000 years old
And just when you thought America's cities couldn't be any more corrupt, check out NYC's Hudson Yards, Manhattan's mega-project that is the largest private real estate development in the US by area. Private? City Lab reports that Hudson Yards was partially bankrolled by a federal investor visa program called EB-5, which was meant to help poverty-stricken areas:
"Specifically, the project raised at least $1.2 billion of its financing through a controversial investor visa program known as EB-5. This program enables immigrants to secure visas in exchange for real estate investments. Foreigners who pump between $500,000 and $1 million into U.S. real estate projects can purchase visas for their families, making it a favorite for wealthy families abroad, namely in China. EB-5 is supposed to be a way to jumpstart investment in remote rural areas, or distressed urban ones."
The threshold for these EB-5 visas can be reduced to $500,000 if investors place their capital in a "targeted employment area" (TEA). The TEA can be either a rural community or distressed urban area with a high unemployment rate (at least 150% of the national average).
Investors typically obtain visas for two additional family members, so Business Insider thinks the development likely created about 10,000 EB-5 visas, the maximum permitted in any year.
These are the kind of immigrants both parties can agree should be let in!
But is Hudson Yards a distressed neighborhood? It is bordered by expensive neighborhoods such as Chelsea and Hell's Kitchen. It sits at the start of the High Line, and is too wealthy to qualify for the EB-5 program. To solve the problem, the state included a few census tracts from Harlem as part of the Hudson Yards TEA. Here's a map of the TEA: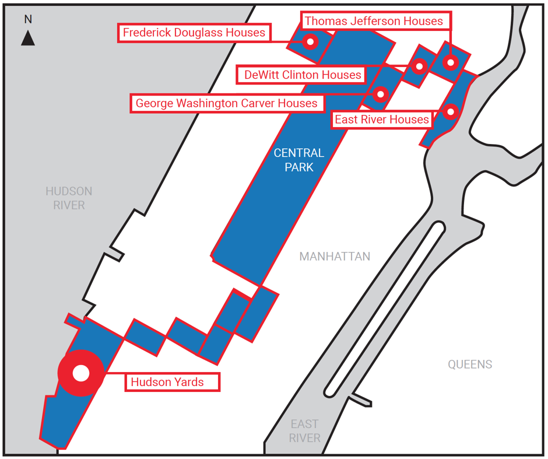 This looks just like a gerrymandered Congressional district in North Carolina. And it tells you all you need to know about how our local, state, and federal politicians are in the pocket of private industry. Money is always the driving factor, and it engulfs our politicians of both parties in a stew of questionable ethics.
America can't be bothered investing in our own people, so we sell visas to bribe foreigners to do the investing for us.
Time to wake up America! This is the tip of the iceberg for the rot in our political process. To help you wake up, listen to "Why We Build the Wall" from the 2010 album "Hadestown" by Anaïs Mitchell. This "folk opera" opens on Broadway on Wednesday. The play is inspired by the story of Orpheus and Eurydice. Here is "Why We Build the Wall", featuring Greg Brown. Wrongo is seeing the play in the middle of May:
Note that this song was written in 2010, long before Trump, or any politician had any interest in building a wall.
Sample Lyric:
Who do we call the enemy?
The enemy is poverty,
And the wall keeps out the enemy,
And we build the wall to keep us free.
That's why we build the wall;
We build the wall to keep us free.
Those who read the Wrongologist in email can view the video here.