The Daily Escape: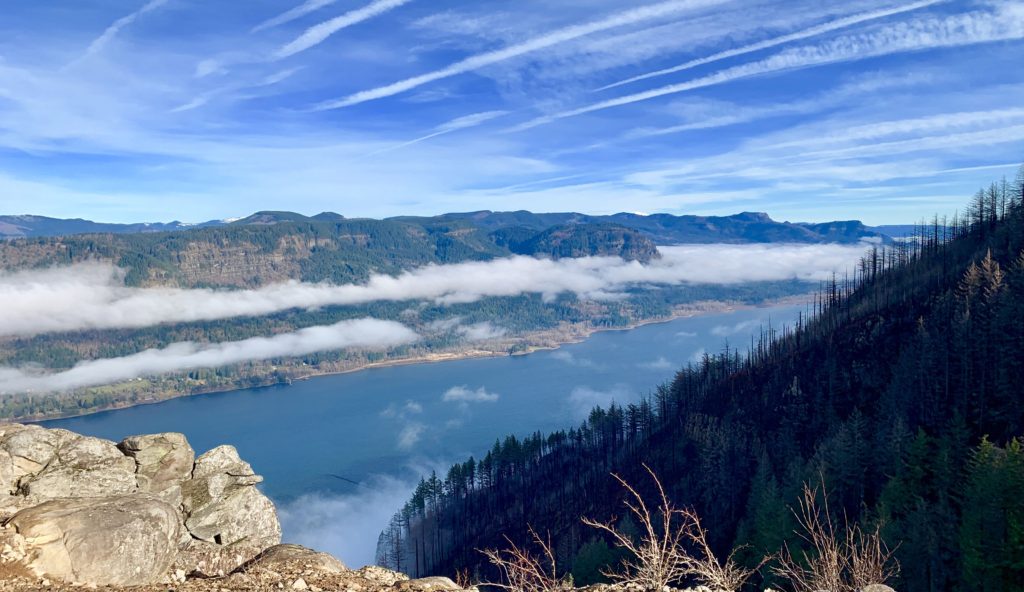 Angel's Rest, Columbia River Gorge, OR – 2019 photo by Thenervouspoops
(Sunday cartoons will be published on Monday, as Wrongo and Ms. Right are visiting a granddaughter in Buffalo NY)
Busy week at the Mansion of Wrong, as Wrongo prepared the Wrong family taxes for presentation to the Swamp on Monday.
His town responsibilities led to interviewing three interns for a part-time (paid) construction accounting position at the Department of Public Works. All three were accounting majors at Western Connecticut State University, and all were smart, articulate and working in multiple jobs while attending college full-time.
Those students made Wrongo feel hopeful about the next generation. That maybe America will avoid being consumed in the dumpster fire that the previous generations are leaving them.
Possibly lost in the news about Assange and William Barr was this from CNN, who reported on the bizarre words by former Pope Benedict XVI. He "retired" just before the current Pope, Francis II was elevated. Benedict wrote an essay on the sex abuse crisis in the Catholic Church that was published this week in a German magazine for priests. In the article, Benedict claims that the sexual abuse of children by priests was caused in part by the sexual revolution of the 1960s and the liberalization of the church's moral teaching:
"Part of the physiognomy of the Revolution of '68…was that pedophilia was then also diagnosed as allowed and appropriate…Benedict says that this mentality also affected bishops and Catholic seminaries and caused, the extensive collapse of the next generation of priests….here were — not only in the United States of America — individual bishops who rejected the Catholic tradition as a whole and sought to bring about a kind of new, modern Catholicity….In various seminaries homosexual cliques were established… which acted more or less openly and significantly changed the climate in the seminaries."
His Awfulness. Benedict blames clerical pedophilia on the swinging sixties. He blames pedophilia on homosexuality.
It's too bad the Catholic Church didn't have a guy who is completely and unquestioningly in charge, like some sort of a "Super Bishop" who could have told everyone what to do. Someone who could have put a stop to all the child raping. Yes, that would have been Benedict, or those who came before him, or after.
The sexual revolution wasn't about raping kids. What kind of moral failure is it on the part of the Catholic Church for the former Pope to say: "But they were doing it too!" Coming from an institution that prides itself on being the arbiter of morality, this is an historic failure.
There are tons of records of priestly pedophilia that predate the 1960's, including plenty of cases of churchly cover-ups. Why is this retired guy entitled to speak about anything?
Enough! It's time for our Saturday Soothing! Let's start by checking out Vancouver, BC's Notch Coffee's flagship coffee, Sumatra Boru Batak (C$18.00/340 grams). Expect notes of Baker's Chocolate, dried mango and tobacco, says the brewer.
Now, contemplate all of your to-be-done yard work while you sip this coffee and listen to "Simple Gifts" from Aaron Copland's "Appalachian Spring" played in 1962 by the New York Philharmonic conducted by Leonard Bernstein. You'll remember the melody, and maybe, you will think of the simple gifts that are missing from your life today:
Those who read the Wrongologist in email can view the video here.